Creative Thinking and Sustainable Design are Part of the Plan at Serendipity School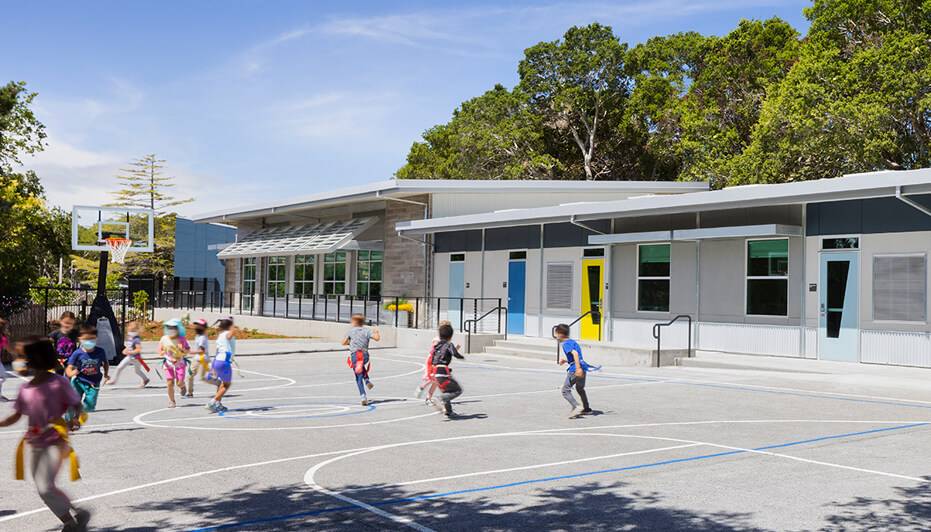 Outdoor learning, creative design and environmental stewardship are naturally entwined at Serendipity School, a progressive Bay Area elementary school that brings the inside out and the outside in to enrich learning.
First graders amble along the boardwalk, soaking in the warm California sun. Classmates tend edible gardens that provide healthy food for school lunches. Others relax in a reading nook with their iPad or attend class in the outdoor learning pavilion, surrounded by native landscaping and sheltered by a canvas sunshade.
When the weather is uncooperative, students gather in the spacious multipurpose room for indoor recreation or a rainy day lunch.
The vision—years in the making—is now a reality for Serendipity School, which opened its new Arts and Enrichment Center for the new school year. A family-owned, private TK-5 school in the Bay Area community of Belmont, Serendipity encourages exploration, discovery and experiential learning, along with stewardship of the environment—a key factor that plays a big role in the school's curriculum.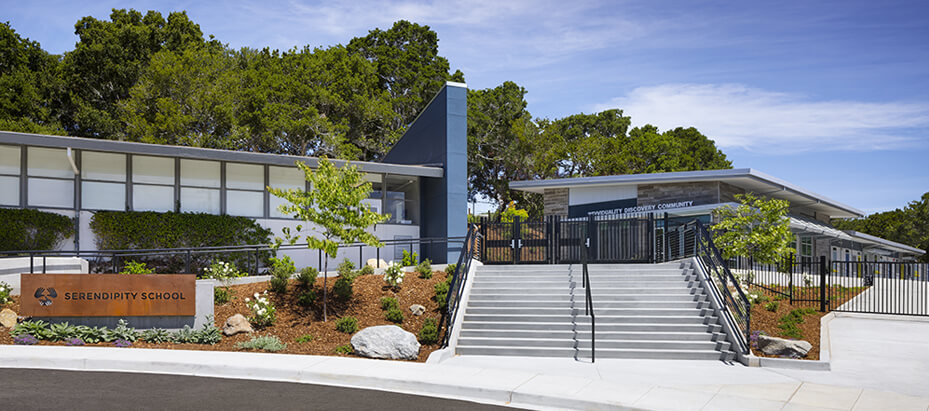 A Small School That Dreams Big
While the school is intentionally small—only 140 students—it's big on creativity. And it encourages students to dream big, too, with space to nurture a love of learning and discover their passions in a warm, supportive environment.
The new 4,800-square-foot GEN7 modular building supports Serendipity's progressive curriculum with much-needed auxiliary space, including an art studio, technology/innovation lab, library, staff lounge, storage space and restrooms, plus the centerpiece—a large multipurpose room with vaulted ceilings.
It's an approach that blends creativity, sustainability and innovation with a sense of place that's uniquely Serendipity.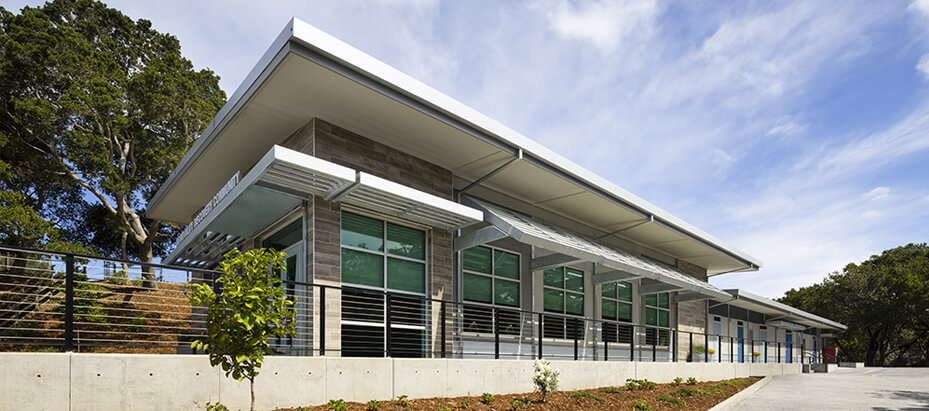 Beautifully Sustainable Modular Design
While serendipity factors in good luck, Serendipity School's innovative design leaves little to chance, thanks to the school's clear vision and meticulous planning.
The Carr family—Serendipity's owners—worked with the design team, led by AMS and Studio W Architects, to create a phased design that organically connects indoor and outdoor elements into a cohesive sustainable environment where students can explore the outdoors, connect with nature and find creativity and inspiration in simple things.
Modular was the ideal solution, giving Serendipity the flexibility to create a visionary design that reflects the school's character in a beautiful building that keeps costs in line with budget.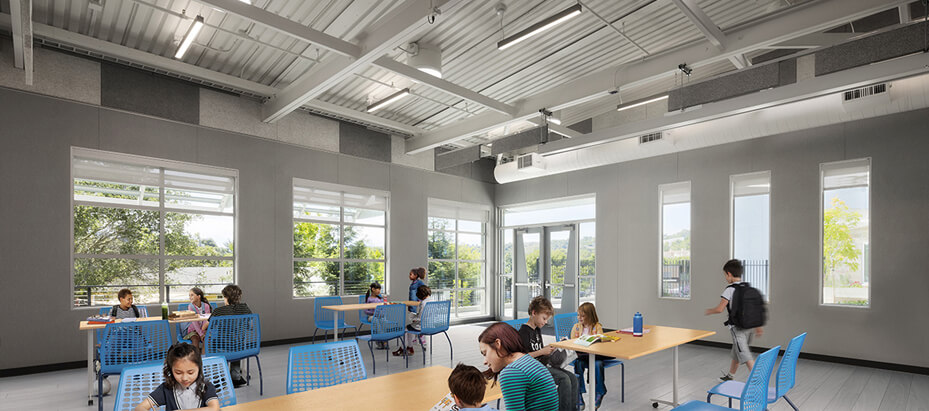 High-End Design. High-Performance Building.
The design is place-based, blending beautifully with the tranquil, woodsy setting—an oasis in a quiet community just a half hour away from cosmopolitan San Francisco.
The building is a GEN C Series—a fully-custom design paired with highly sustainable features, systems and construction—tailored to meet Serendipity's unique goals.
The focal point of the building design is the 60' x 32' multipurpose room, a wide-open space that accommodates indoor recreation and physical education, pinch hits as a rainy day lunchroom and serves as a school and community gathering space for meetings and events.
The 21' tall roof feels sky high inside, with vaulted 14' ceilings and operable clerestory windows that flood interior spaces with natural light and are sensor-controlled to automatically open when fresh air is needed. Storefront windows overlook landscaped play areas, providing expansive nature views.
The airy, free-flowing design gives students and teachers the flexibility to move freely from space to space. Solatube skylights filter light into the art and technology labs—warm, nurturing makerspaces where young students are encouraged to create and cultivate their passions.
The building is the hub of a meandering configuration of outdoor spaces that invite exploration and discovery, encouraging the school's young students to interact, learn and be inspired by nature in an abundance of green spaces.
Key Design Features
Serendipity's fully-custom design is both student- and eco-friendly, with every material, feature and system thoughtfully selected to prioritize the health and safety of both people and the environment.

Sustainable Innovation Inside-Out
Serendipity's vision includes a strong focus on making the surrounding landscape an integral part of the curriculum. The building was sited to take advantage of the natural setting, using solar power to save energy and carving a series of learning areas out of the adjacent acreage to encourage students to embrace learning through creativity and connections with the environment.
Even indoors, nature is just a glass away, with woodland views and sunlight filtering into learning spaces at every level. Sliding interior and exterior glass NanaWalls open to the outdoors, seamlessly transitioning into a series of outdoor learning spaces connected by a raised boardwalk flanked by native, drought-tolerant landscaping.
Front and side elevations are customized with low-maintenance tiles that look like weathered wood—an aesthetic choice that organically connects the building to its serene backdrop of woodsy rolling hills.
Photovoltaic (PV) panels rest on metal shade canopies, part of GEN7's solar-ready design, harnessing the energy of the sun to power the building—another step toward the energy independence that will further reduce Serendipity's environmental impact.
Indoors and out, Serendipity's Arts and Enrichment Center lives its mission—enriching life and learning for the families and communities it serves.
How can sustainable modular classrooms enrich learning in your community? Let's talk! Our AMS team will help you find the right solution.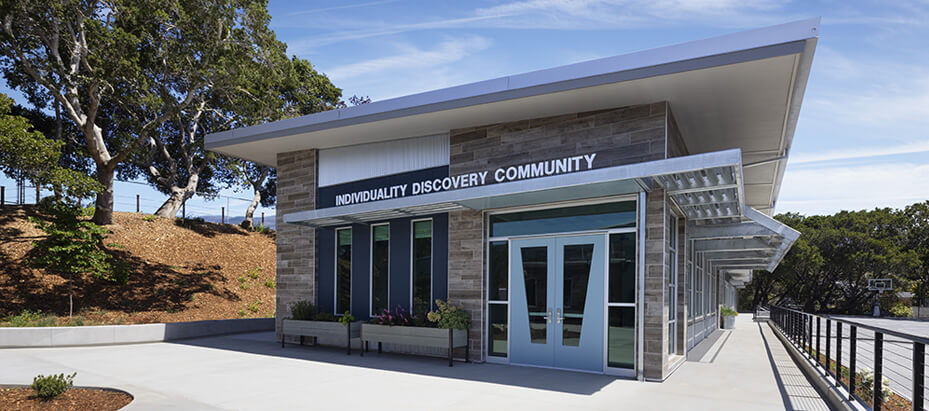 Learn more about GEN7 classrooms.
Browse our gallery of sustainable projects.
Ready to build? — Request a Quote.