The Great Renovation: Transforming Our Workspace into a Work CommunityThe Great Renovation: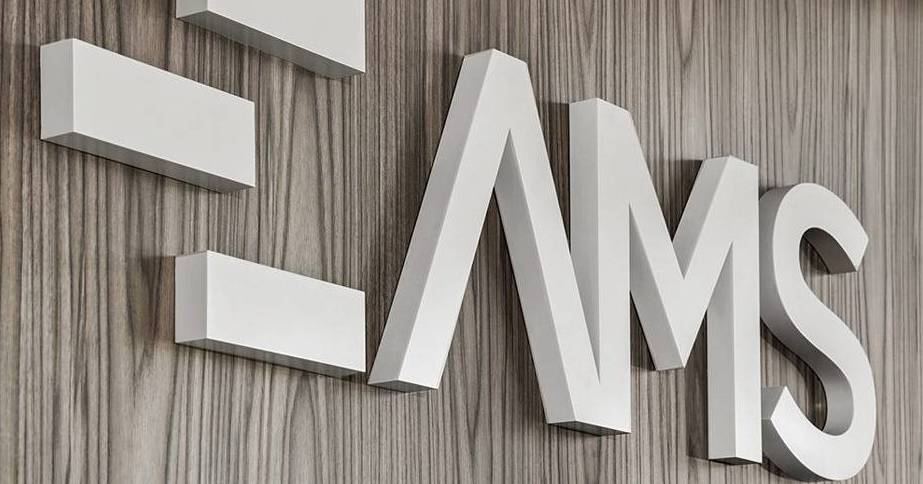 In 40 years, we've seen a lot of changes in how and where we work. We've updated our AMS offices and factories many times, but none have embodied our culture more than the modern makeover that takes us into 2023. Come, tour our new work community.
Welcome to The Great Renovation!
In the midst of The Great Resignation, AMS started a multi-phase modernization that reimagines every square foot of our Manteca offices, upgrading our existing building, adding new space for growth, enhancing sustainability and using technology to create a healthier workplace that offers a better work-life balance for our 300 employees.
In just a few years, we've transitioned from traditional to remote to hybrid offices where employees work in different ways, from different locations. The role of the office has changed, from providing structure to providing support, bringing people together productively, wherever they are. Making space more agile and work more flexible is a forward-thinking mindset AMS VP of Operations Tony Sarich finds pivotal to both company and employee growth.
A major office reno while other companies are going remote might seem counterintuitive, but it's in step with AMS' vision of continuous innovation. In times of uncertainty, when the world hits pause, visionaries accelerate. Others wait and see, innovators push forward, anticipating what's needed and constantly improving what already exists.
For AMS, pushing forward is transforming our workspace into a work community where we can connect and create in inspirational spaces that empower our best work.
Take a Tour of Our New Work Community
Four decades of experience designing schools has taught us lessons about creating the kind of environment that makes people feel safe, comfortable and included—a place where they want to be.
The office reno is the culmination of our AMS rebrand, an initiative we started in 2019 and ramped up during the pandemic. Phase 1 optimizes our existing office footprint, redefining and reflowing spaces for collaboration and community building with individual workspaces for independent tasks.
It's a modern vision of a cohesive work community designed to build teamwork, spark creativity and support a diversity of work styles and experiences in an empowering environment accessible to everyone and inclusive to all.
We're excited to share it with you, so come along on a photo tour of our AMS work community!
Welcome to AMS! We want to create a positive connection from the minute you walk in the front door. The first thing you'll see is a focal wall with 3D art of our AMS logo, the centerpiece of our rebrand and the face of our company. It's sleek and modern with elegant, clean lines—just like our buildings.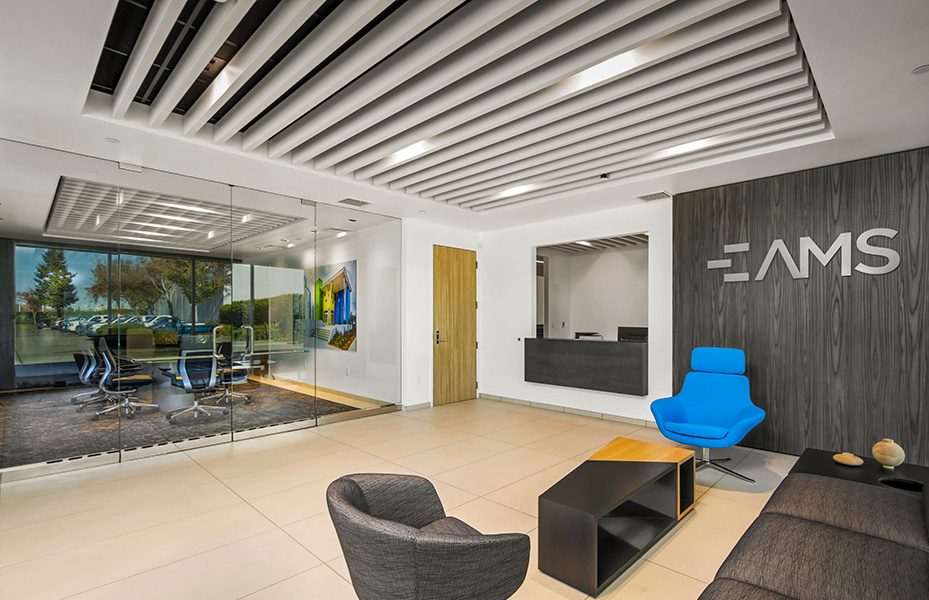 Our main lobby is warm and inviting with high ceilings, a wall of natural light and LED lighting that casts a soft, ambient glow. The reception area is a timeless mix of comfortable furniture in our signature colors—neutral graytones with pops of AMS blue. Good design sets the mood, and we want everyone to feel welcome and appreciated. This is our work home, and we're happy you're here.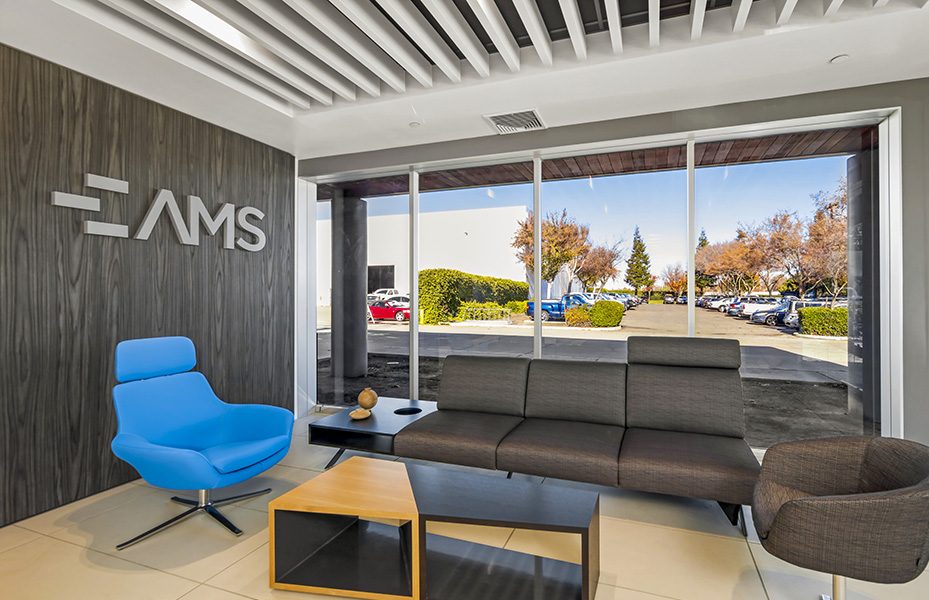 A key goal of the reno was to designate spaces that help us communicate, create and problem-solve in a variety of collaborative environments, each with a different feel, unified by a cohesive aesthetic. A large glass-front conference room is an inspiring space for client meetings and group presentations. A long custom glass table puts our branding center stage, a personal touch that reflects the attention to detail we bring to every endeavor. Project posters showcase some of our most innovative buildings.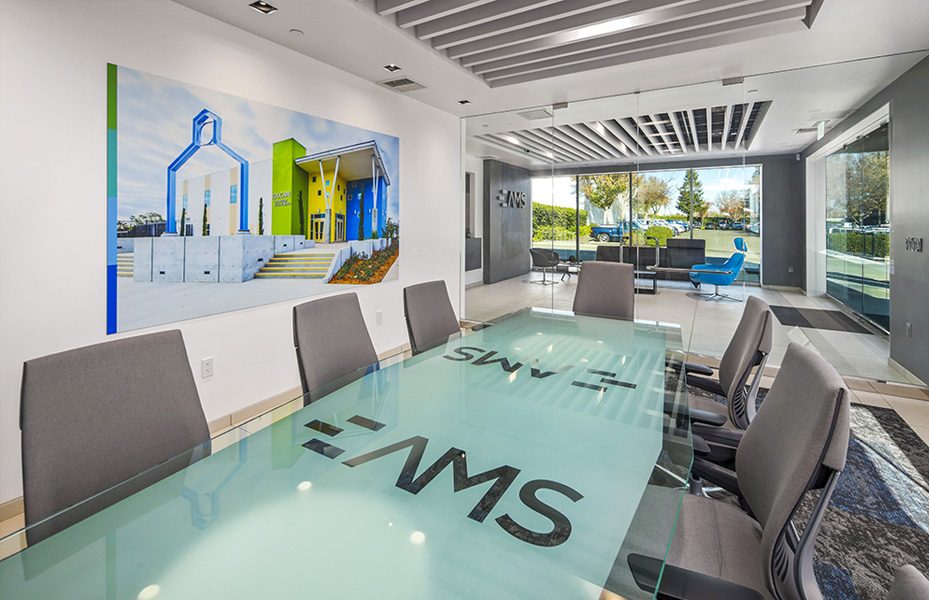 A huddle room creates a cozier small-group setting, perfect for breakout meetings, project work and team brainstorming. A round table invites discussion and one-on-one connections. It's also a convenient gathering spot for taking a break, socializing or lunching with co-workers.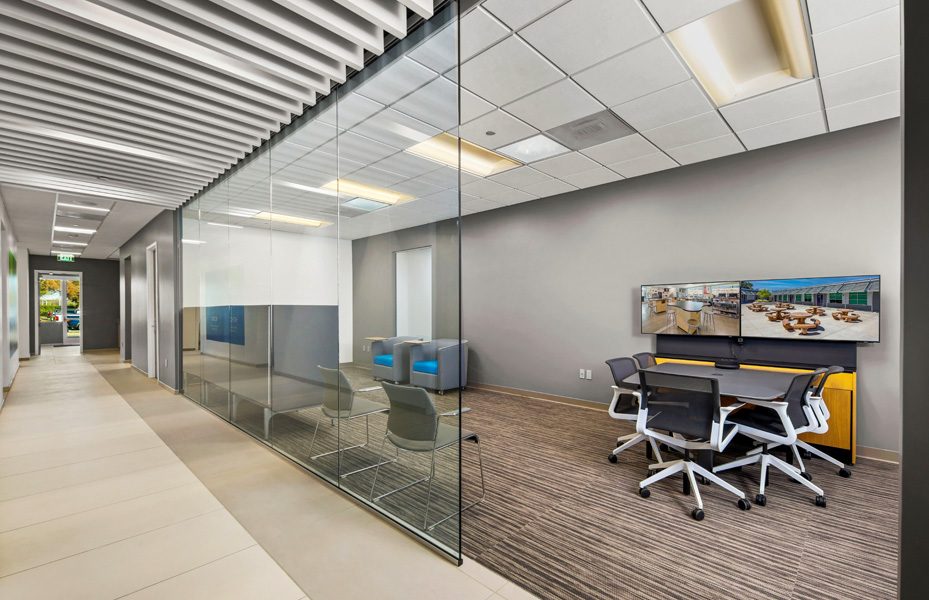 Flexible hubs blend open design and integrated technology for the many ways we work—individually, in teams, in-person or virtually with remote employees, partners and clients. Mobile furniture rearranges easily to fit needs. Upholstered carrels have privacy dividers and tray tables with power outlets for multiple devices, giving employees space for independent tasks while staying connected to co-workers.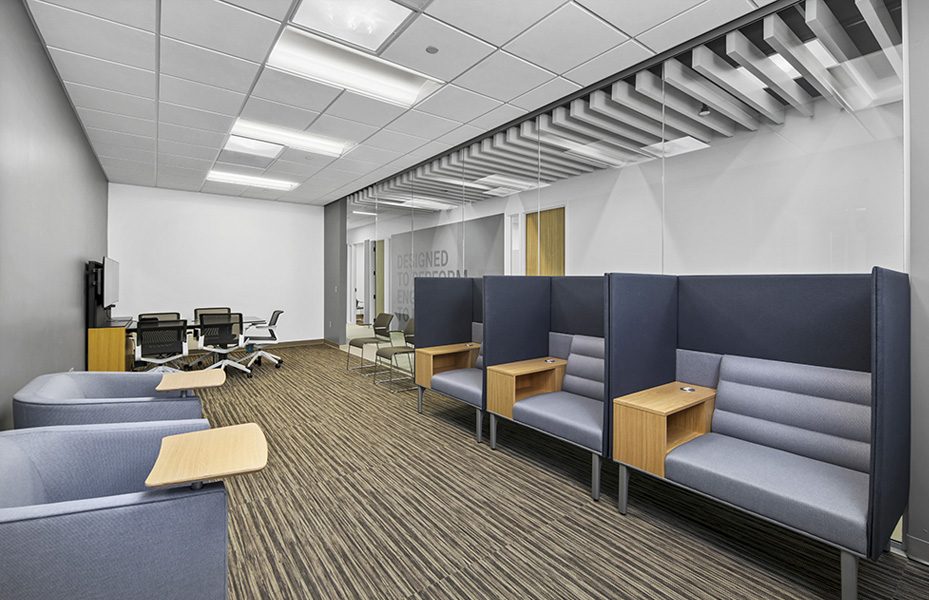 Our revamped layout blends the modern and the traditional, incorporating private offices into the building's collaborative design. Architectural glass fronts are clean and contemporary, blocking out quiet areas for focus work while softening boundaries and sharing light between spaces. The visual transparency embodies our open, inclusive culture where everyone feels valued and included.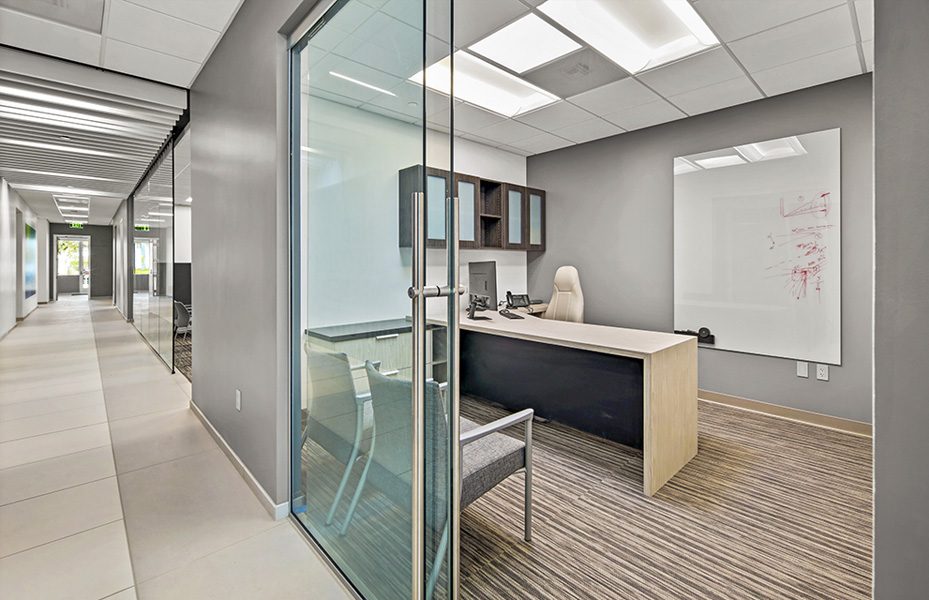 Natural light is critical to a good working environment. Daylighting lowers our energy usage, making our office building more sustainable. Light-filtering motorized shades automatically adjust to the amount of sunlight and heat entering the space, optimizing each office for greater comfort and productivity.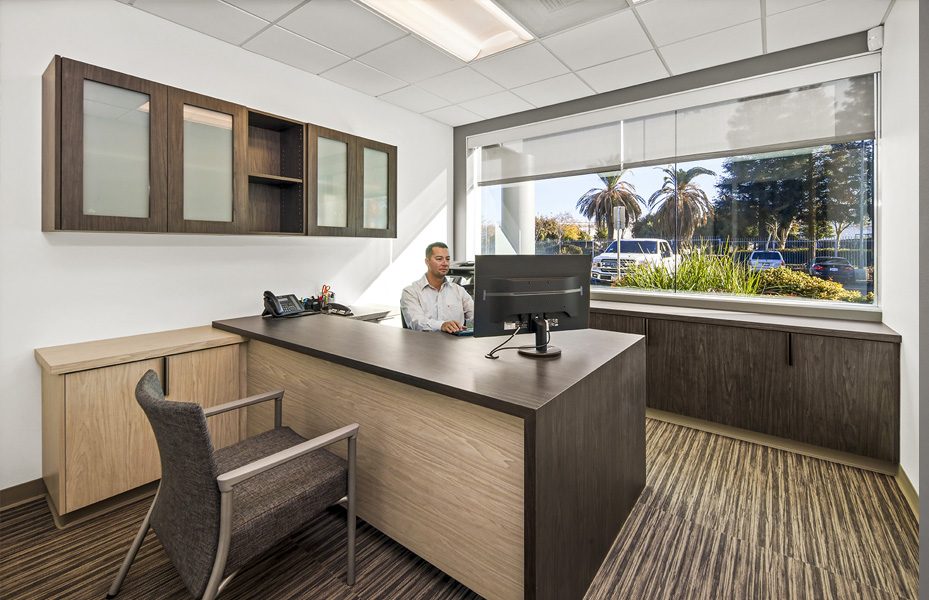 Wide hallways allow unrestricted flow, giving people room to interact as they transition between spaces. We selected durable, eco-friendly materials for high-traffic areas—large-format tile flooring and wear-resistant carpet tiles that are stylish and have performed reliably in our school buildings. Light wells and recycled content baffle ceilings infuse interiors with natural light and provide sound control.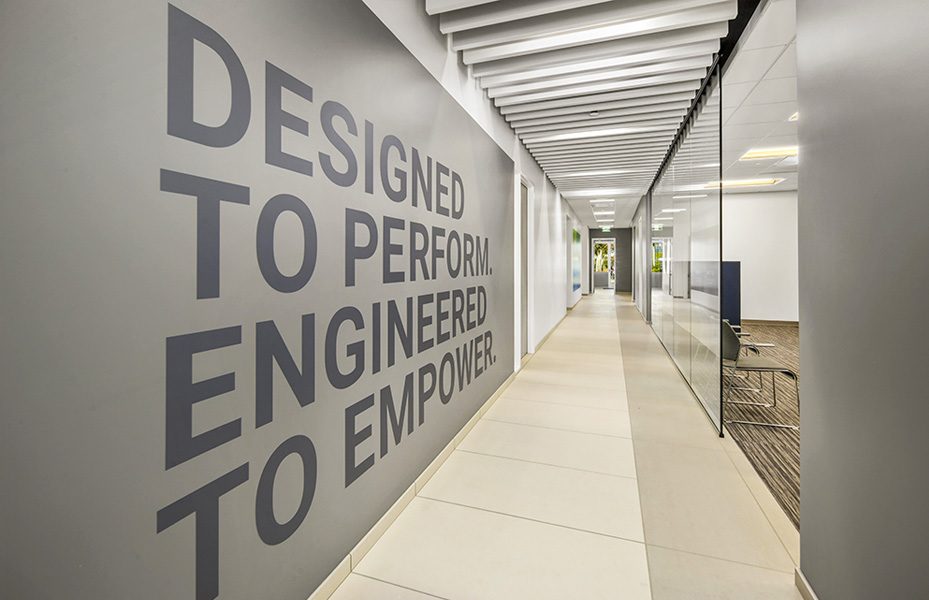 Our offices are filled with custom touches that shape our brand identity—none more impactful than the unique graphics that line the hallways of our new offices. They're more than art; they're an affirmation of what we believe in and who we are as a company. Our Values Wall is a creative way to articulate our core values, define our culture and share our vision with visitors.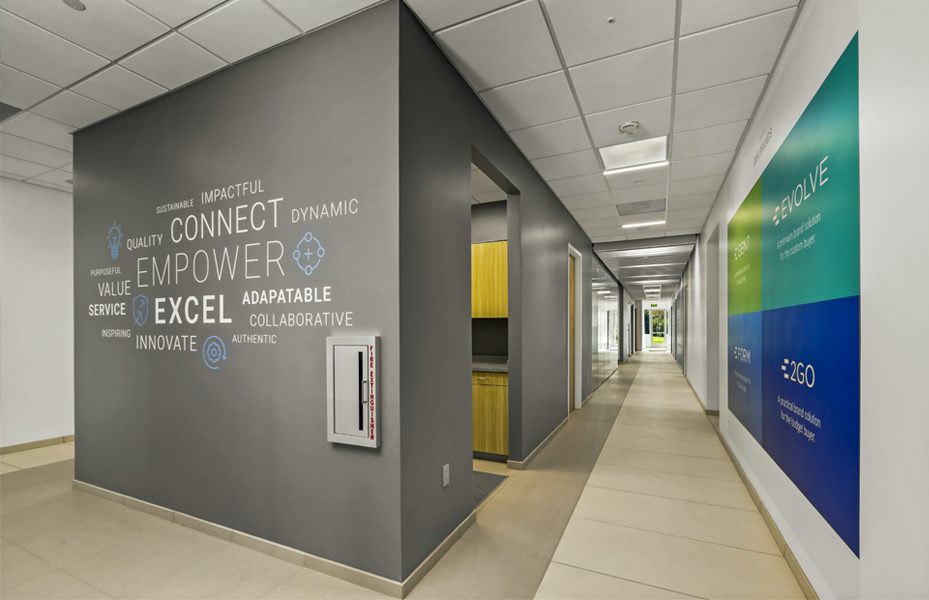 Across the hall is a large mural of our four brands—a colorful rendering of the building solutions we offer every client. The nature-inspired palette is carried throughout the building, connecting different spaces with our AMS shades of sky blues and fresh greens, grounded with neutral grays and white.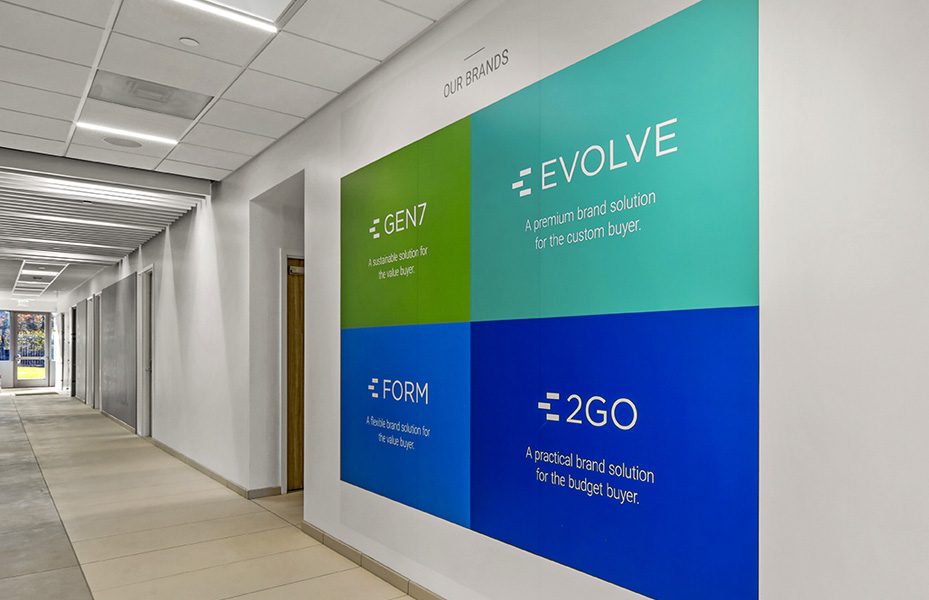 One of our favorite parts of the reno is a floor-to-ceiling photo of our employees, a life-size reminder that we're a family as well as a company. Hundreds of hands contribute to every AMS building. Together, we've built an inclusive culture where everybody feels part of something bigger.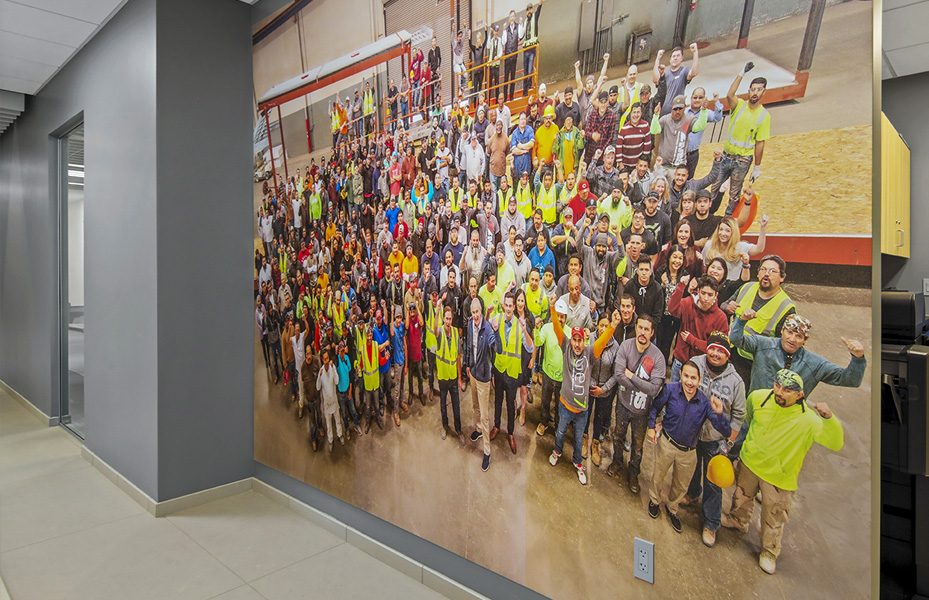 Transforming How We Work Today… and Tomorrow
We hope you enjoyed a glimpse of life in our brand new office! We love our new space, and if you're in the area, we'd love to show you around.
Now that Phase 1 is finished, we've started Phase 2, a versatile addition that will house our engineering and product development departments and expand common areas to include a new kitchen and event space.
As our modular buildings become more complex and the demand for premium, large-scale projects continues to grow, AMS is growing, too. We've tripled our engineering team and are focused on design innovations that will create new kinds of spaces with new features and technologies to meet the evolving needs of our schools and communities.
Things are changing, and we're proud to be at the forefront of progressive change that moves us all forward. Next-level space will take us to the next level.
We want our new office to be the next step in the evolution of our company and our brand, a representation of the caring, collaborative culture we've worked hard to build. We want it to be inspiring, empowering, accessible and inclusive—a place where creativity flourishes, people thrive and great ideas have room to grow.
Most of all, we want it to be a great place to work.
Join us in celebrating 40 Years of AMS.
See the innovative Projects that inspired our wall art.
Visit us and see how AMS can help you — Schedule a meeting.