40 Years of AMS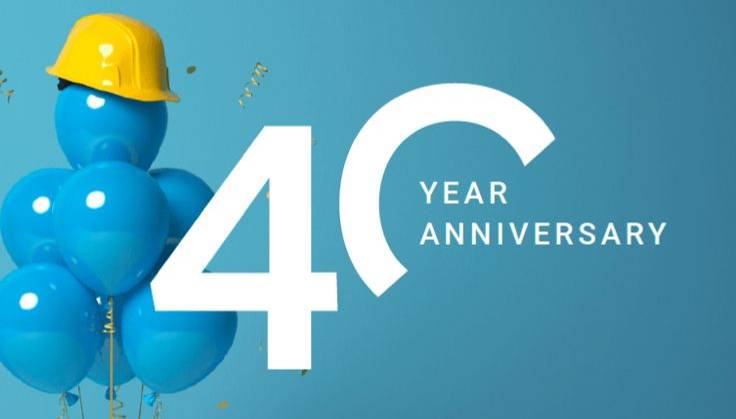 In four decades, AMS has revolutionized modular construction. We've introduced new kinds of buildings, developed groundbreaking technology and delivered more than 25 million SF of healthy, sustainable schools—more than anybody else, faster than anybody else. And that's just the beginning.
We've done a lot in 40 years.
We've changed how modular buildings look, feel and perform, reshaping 21st century learning space for new generations of learners.
We've created a more robust technology infrastructure, making classrooms safer, healthier, more comfortable and more connected to improve student productivity and well-being.
We've become the fastest-to-market solution for smarter, more sustainable buildings that allow students to learn anywhere, any way, on any digital device.
We've grown from a handful of employees to more than 300. From a small factory to the largest on the West Coast. From a small family business to California's leading modular manufacturer, delivering more than 5,200 buildings to hundreds of school districts throughout the state.
Many companies talk about making an immediate impact but creating something lasting takes time—decades of learning, training, innovating, raising standards and elevating expectations.
We do it by focusing on the things that ground us while driving us forward. The things that inspire us, lead us to innovate. The things that matter. Make us who we are.
For us, that's three things.
Three Things That Define AMS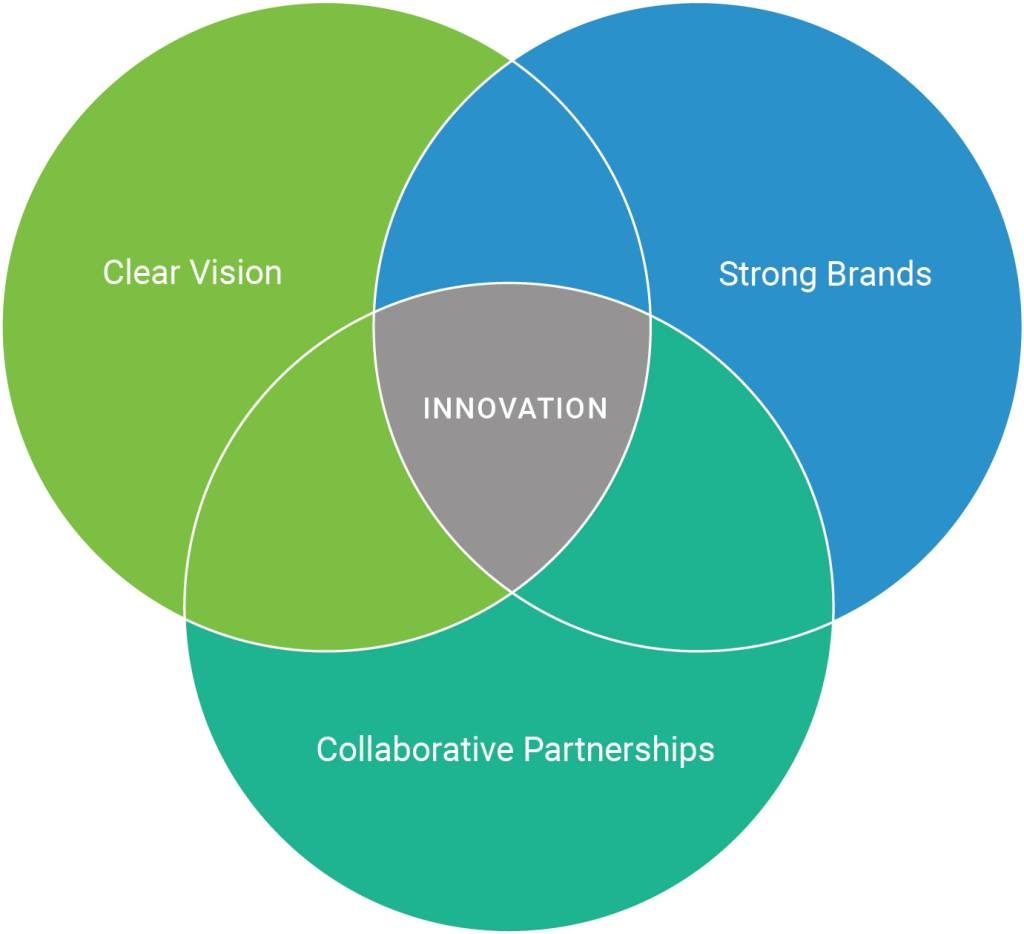 Clear vision. Strong brands. Collaborative partnerships.
For 40 years, these three things have shaped everything we've done. And will continue to do.
Together, they create a commitment to innovation, a push to create better schools, better experiences, a better quality of life and a better future for the families and students in our communities.
Continuous innovation leads us to evolve—one idea, one opportunity, one project at a time.
Every project starts with a vision. Clients come to us with a dream and together, we bring it to life.
Our company started the same way. Back in 1983, Sam Sarich founded AMS with a vision of creating innovative learning environments for students of all ages. We believed one small company could make a big difference—that together, we could create positive change for all.
Over the years, so many of you have shared our vision. It lives in the buildings we've built, visionary buildings that continue to set new standards that redefine how, where and what students learn.
For two decades, Serendipity School has carved out creative spaces for the arts, music, phys ed and technology. The school's vision was to bring them all together in a building that's uniquely Serendipity, one that reflects the independent school's commitment to the environment, community and enrichment learning in special spaces that inspire exploration and discovery, inside and out.
The Serendipity Arts and Enrichment Center opened in August 2022. The fully-custom GEN7 C building is warm and welcoming, cultivating individual interests with an art studio, innovation lab and library. The design setpiece is a tower housing a large, clear-span multipurpose room that functions as recreational, meeting and gathering space, as well as a rainy day lunchroom for the school's TK-5 students.
The 4800-square-foot design lives large, filled with innovative features like a custom 21' cool roof and 14' floating acoustical ceiling with open beams. Solar panels lessen the building's environmental impact. Sliding glass NanaWalls bring in sunlight and fresh air while connecting to a series of outdoor learning spaces. It's a progressive building that lives its mission, enriching life and learning for the Bay Area community it serves.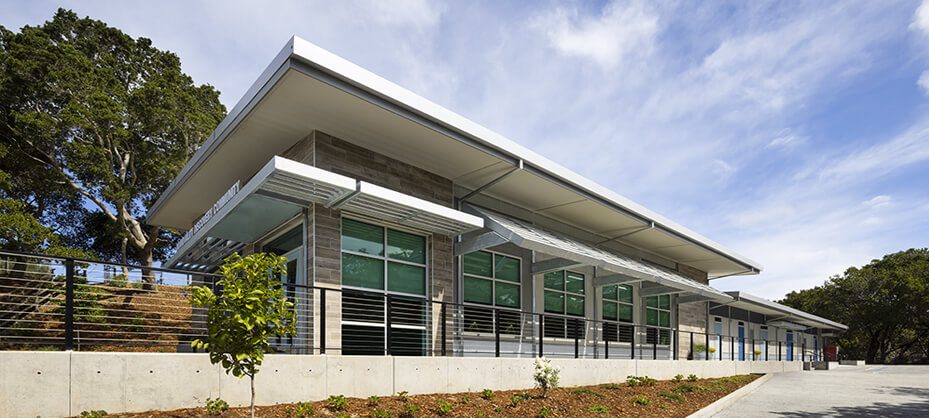 State Center Community College District envisioned a hybrid campus like no other—one that would unite fire and police academies in a state-of-the-art facility that uses cutting-edge VR technology to provide real-life emergency response training.
The First Responders Center will open in 2023-24 at Fresno City College. The sophisticated design mixes modular and traditional buildings, creating 23 fully-custom indoor/outdoor environments that integrate advanced technology for simulated experiential learning. The self-contained AMS EVOLVE campus meets every need in a 42-acre, 44,672-square-foot facility that includes workout and fitness space, meeting and conference rooms and social areas where cadets can gather and decompress between classes.
The new center is the first in California, serving as a template for other first responder programs across the state and beyond. It's an aspirational facility, providing the highest level of training and support to create a skilled essential services workforce that will save lives and positively impact California communities for many years to come.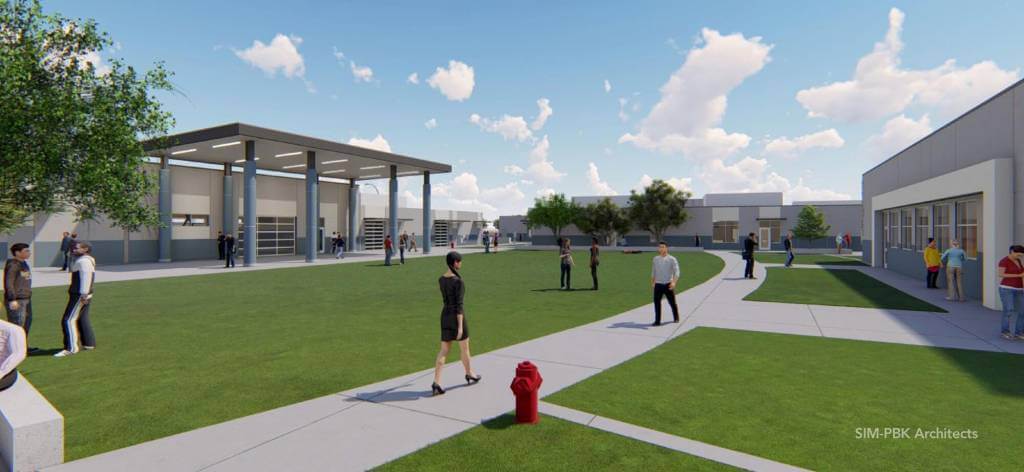 Lemon Grove Early Education Center at the Palm Campus
Transitional kindergarten has transitioned from a wish list to a mandate the past year. AMS has been designing TK classrooms for more than a decade, but San Diego's Lemon Grove School District had a vision for a different kind of TK facility—a consolidated TK campus that will serve as a leading example for early learning, supporting students, staff and the surrounding Lemon Grove community.
The new center will feature around 30,000 square feet of premium modular classroom and support buildings, plus adjoining outdoor recreational areas. Flexible learn-play spaces will create a variety of developmentally-appropriate experiences for active 4-5-year-olds, teaching Lemon Grove's "little learners" essential social, emotional and academic skills in a safe, stimulating environment.
Adapting a DSA Pre-Check design makes it affordable for the district to provide an amenity-rich campus that meets the needs of TK students, teachers and the diverse community. The large-scale, multi-building project, currently in design, offers staff training and development, a family resource center and meeting/conference space for educational and local events.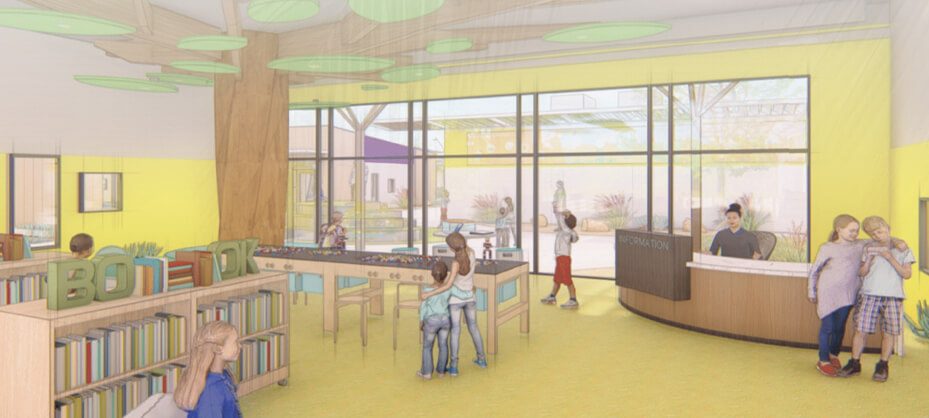 From the beginning, our goal was to build the strongest brand possible—one that would provide a solution to client problems and elevate the quality, integrity, design and performance of every building that carried the AMS name.
In 1983, our company was synonymous with our brand. The AMS brand embodied our commitment to providing superlative craftsmanship and service for every client, every project and every building. The AMS brand became the flagship of our company. We grew from there, expanding our brand portfolio to offer new building solutions to meet shifting demands and emerging needs.
GEN7: A Model for Healthy, High Performance Schools
Sustainability has always been an important part of who we are—a responsible builder that prioritizes the health and well-being of people and the planet. In 2009, we took sustainability to the next level with the launch of our GEN7 brand, a model for turnkey sustainable design.
Our vision for GEN7 was clear: make beautiful buildings sustainable, creating a healthier, high performance modular option for schools. The technology we needed didn't exist, so we spent years developing it and finding ways to integrate it into a 21st century modular building. We sourced the safest, cleanest materials and combined high-efficiency systems with high-impact features to ensure superior IAQ, abundant natural light and year-round thermal comfort in a sleek, modern design.
GEN7 is the most sustainable, technologically innovative modular building on the market. The standard solar-ready design is LEED Silver-compliant, exceeding California energy code by up to 70%. With solar photovoltaic panels, GEN7 can achieve Zero Net Energy, paying back schools in lower energy costs over the building's 50-year lifecycle.
Every GEN7 building is beautifully sustainable, helping us leave the world better than we found it.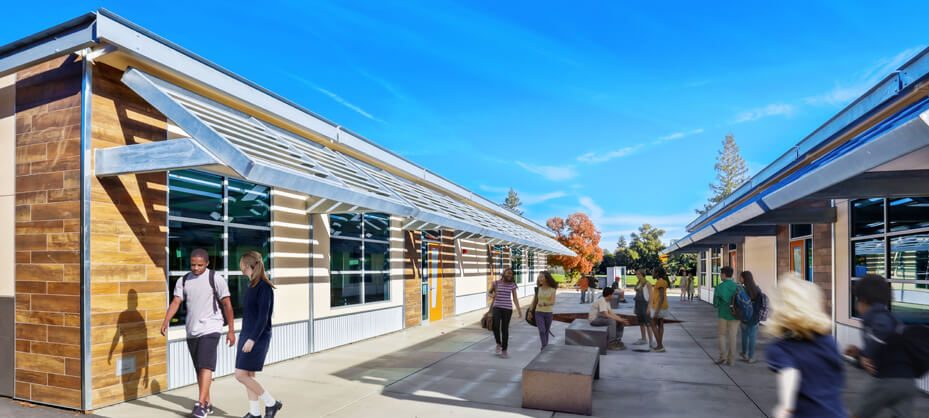 3
A Family of Branded Building Solutions
Education has been changing rapidly in the past decade. Students and teachers interact differently, creating a need for different kinds of learning spaces. School districts want more options, and AMS wanted to be proactive in offering them.
In 2020, we completed a comprehensive AMS rebrand to reposition the company to meet the evolving needs of our schools and communities. We expanded and strengthened our brands to better serve our clients, introducing three new brands, AMS 2GO, AMS FORM and AMS EVOLVE, and extending our GEN7 line to include three distinct series.
Four strong brands position our AMS brand family to meet any budget, schedule, functionality and aesthetic, providing greater flexibility for schools and school districts looking to modernize facilities to fit the dynamic needs of 21st century learning.
Two classes of AMS brands can be adapted to meet a full spectrum of needs.
Premium Brands offer full customization, giving districts the option to create visionary buildings that tailor every feature, amenity and detail to a singular aesthetic and performance standard.
Value Brands combine economy, function and versatility to give schools a higher quality building at a lower cost, serving students for decades while providing efficiencies to budget-minded districts.
Building something lasting, something that can evolve while staying true to its vision takes purpose and intentionality. It takes people united by a shared passion, working toward a common goal.
AMS builds relationships as well as buildings, creating a community that grows and strengthens over time. Our collaborative culture empowers everyone to share ideas and solve problems together, creating new opportunities, trying new things and finding better ways to build faster, safer, smarter and more sustainably.
Success has many partners. Many hands touch every AMS building, and every hand has a vital role in the success of our schools.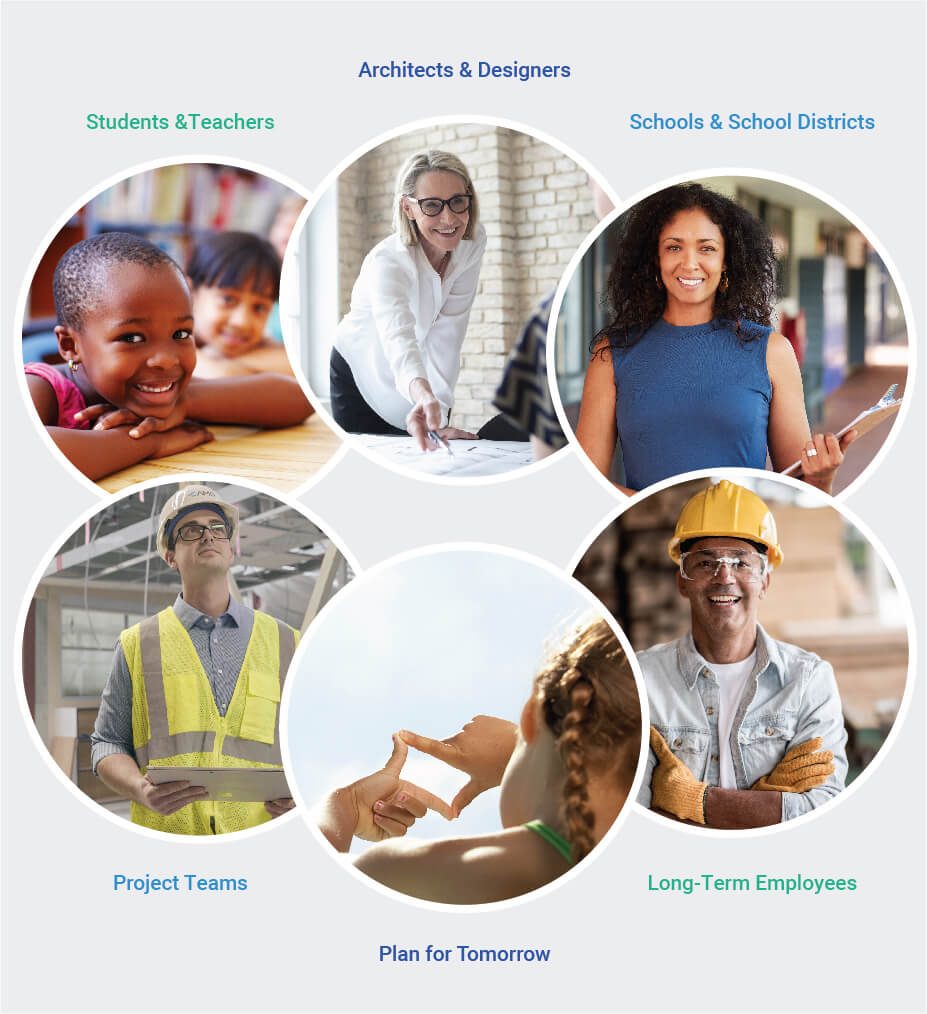 We work closely with schools and school districts, assessing current and future needs and finding the best building solution for their budget, schedule and site. Their vision becomes our vision, their buildings the pride of our communities. From childcare to higher education, we make building simple, providing a single point of contact for fast, convenient modernization.
We partner with architects to find the right design parameters for each project, balancing scalability with the flexibility to customize each building to specific needs, maintaining consistently high quality to maximize value. As collaborators, we push the limits of modular to create visionary buildings that balance cutting-edge design with cost-efficient delivery.
We listen closely to students and teachers who tell us how to make our buildings more comfortable, rewarding places to be. Teachers provide perspective on making space more functional, flexible and student-centered. Students who love where they learn are happier and more productive, leading to better outcomes—improved attendance, higher test scores and greater success, in school and life.
We tap into the expertise of our diverse project teams. Contractors, construction managers and project managers keep every project running smoothly for on-time, on-budget delivery. Engineers develop new technologies and optimize systems to make our buildings safer, healthier and more affordable. We value-engineer every project, preserving our clients' vision while saving them time and money.
We invest in people—their training, their growth and their future. In a time of high turnover, AMS has a veteran workforce, filled with full-time employees who've spent years—often decades—gaining the experience and perfecting the skills to build superior quality modular buildings. They care about what they do, take ownership in what we build and bring exceptional craftsmanship to every AMS project.
We're part of our communities, sharing in their growth and helping plan for tomorrow. We take pride in our schools and the accomplishments of students who learn in our classrooms. Our buildings connect people in meaningful ways, providing value for school districts, hope for families and opportunities for the next generations.
The Next 40
What will the next 40 years hold? What will the world be like in the back half of the 21st century?
Here on the threshold of 2023, 2063 seems very far away—as 2023 must have seemed 40 years ago. Now, like then, we're excited to shape the future and are already envisioning the many opportunities it will bring. The projects that will take innovation to new heights. The schools that will redefine learning for new generations. The challenges that will test us and inspire us to search for progress in ways we have yet to imagine.
How will we make schools better in 2023? How can we improve the learning experience for students and teachers? Help students succeed at every level… get our early learners off to the best possible start… build a foundation for lifelong learning?
We'll find the answers in three things. Three ways we can make a difference.
The same three ways we always have.
Clear vision. Strong brands. Collaborative partnerships.
We'll clarify our vision to create new opportunities and strengthen our brands and partnerships to empower success for all parties. We'll innovate forward, using our experience to make quality learning environments accessible to all students by making them affordable for all schools. We'll work together to improve the quality of life and learning in our schools and communities.
We'll create the change we want to see.
Hello, 2023. Welcome! And 2063—we have big plans for you, too. We'll see you in 40.
Don't miss our next blog—"The Great Renovation"–a look at our AMS office makeover, a phased reno that reboots our workspace for the future. Subscribe now and we'll email you when it's live.
Why is AMS more than a builder? Watch our Vision Video.
Want to see our 40-year history unfold? Share Our Story.
Let's bring your vision to life! Request a Quote.