Innovative Campus Mixes Modular, Traditional and High-Tech for Emergency Response Training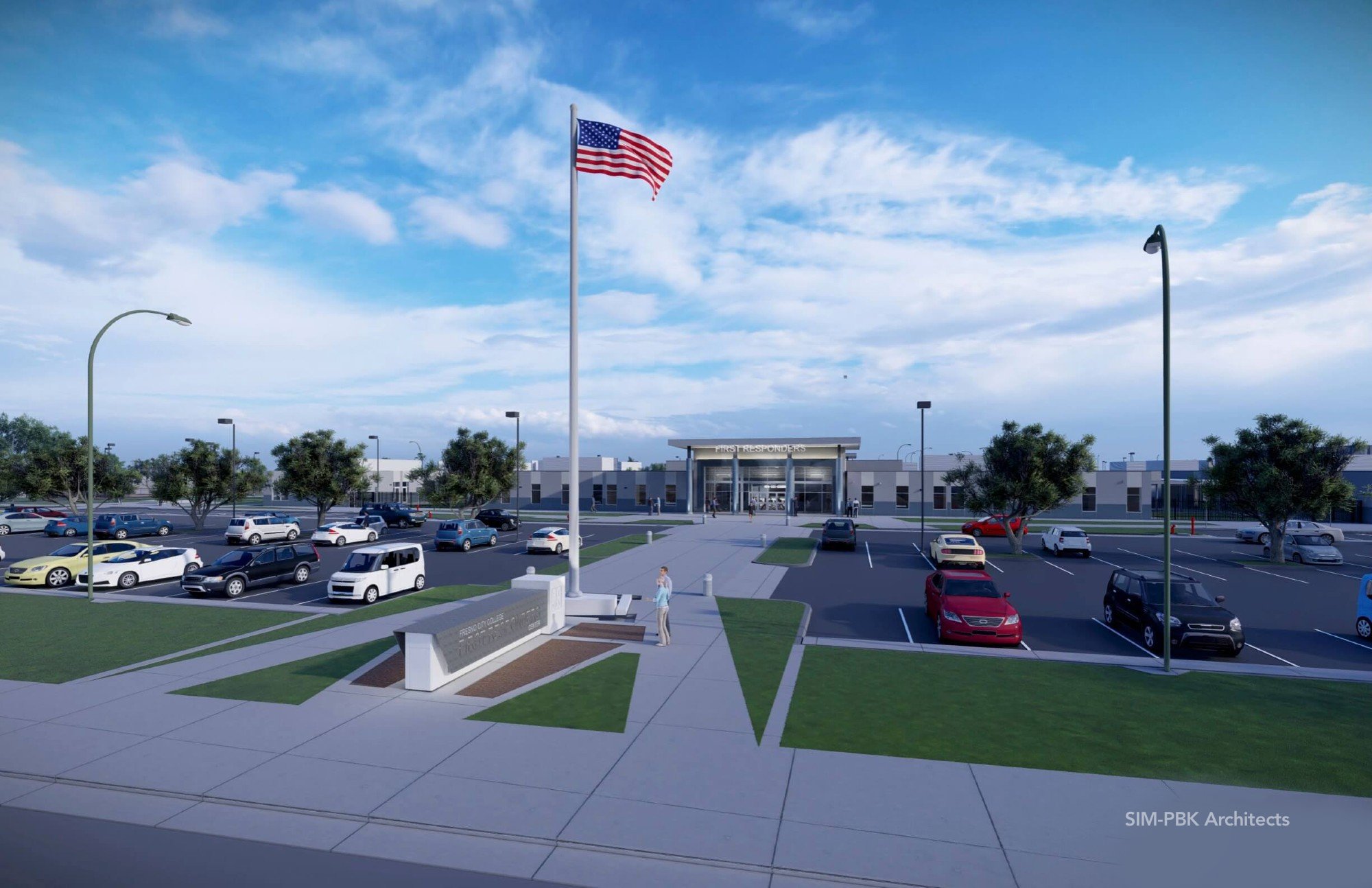 The Fire and Police Academies are two of the most in-demand programs at Fresno City College. A new First Responders Center brings the two together in a first-class campus that teaches and trains with real-world simulations.
For years, Fresno's Fire and Police Academy cadets have trained in trailer-type buildings in different parts of town. That changes next year when the new First Responders Center gives both programs a long-awaited upgrade, allowing fire, police and EMT students to train in an all-inclusive state-of-the-art facility that prepares them to respond quickly and effectively to simulated high-stress situations.
AMS worked with the State Center Community College District and SIM-PBK Architects to design and build the 44,672-square-foot campus featuring ten AMS modular buildings integrated with site-built structures. The large-scale project spans 42 acres, with 23 educational spaces custom designed to support a variety of training methodologies for hands-on public safety training and academic credentialing.
A Complete Experience for Real-Life Learning
From earliest planning, it was clear this would be a campus that defines educational spaces much differently than a typical higher education facility. The first-of-its-kind in California, the new center combines first responder training for Police Sciences, Fire Sciences and EMT certification, along with career leadership training for police and fire chiefs and department management.
The need for fully custom space made the project an ideal fit for AMS EVOLVE—a modular building solution that delivers a facility with every detail tailored to precise specifications.
Designed to maximize space, budget and functionality, the new EVOLVE campus unites two independent college-based academies under one roof while carving out unique spaces for each program. A site-built shared lobby and conference area is flanked by separate modular fire and police wings, each with its own training-specific facilities that blend classroom and experiential learning.
Lecture spaces adjoin physical training and simulation areas where instructors use advanced technology to set up emergency situations from fires to traffic accidents to active shootings, then monitor response in a controlled environment.
Fire Academy
The Fire Academy wing features a traditional classroom building supported by realistic firehouse configurations, including a driver simulation room with multiple simulators that allow trainees to virtually experience fire engine and ambulance driving in a variety of conditions.
A kitchen area is designed to mirror an authentic firehouse kitchen, where students learn to master group cooking—a critical role in the daily life of station staff.
Police Academy
The Police Academy wing is also experience-driven, with a drive-thru sally port, interview rooms, jail booking with cells and evidence storage, as well as shooting and hostage training areas. The design centerpiece is an immersion room with VR simulators that train cadets to navigate escalating scenarios from patrol to on-scene response while instructors watch how they manage each incident.
VR simulation takes training to the next level, creating immersive three-dimensional environments where response time is critical and high-pressure decision-making determines outcome.
Meeting Challenges Cost-Effectively
Project stakeholders and partners worked collaboratively to execute a unique vision while meeting challenges head-on. AMS provided vertically integrated services, helping plan and value-engineer a technology-rich modular design that delivers a premium facility in line with project budget and goals.
The highly customized design successfully addresses three key challenges:
Optimizing a Blended Site Plan
Modularizing Conventional Needs
Delivering Dual-Focus Functionality
1
Optimizing a Blended Site Plan
From the outset, the multi-faceted project centered around a core need: to maximize modular construction's economies of scale while creating a distinct identity for a high-profile campus.
To do this, the plan merged site-built and factory-built structures in a cohesive footprint that meets a broad range of needs in a series of well-defined spaces—all without compromising aesthetics.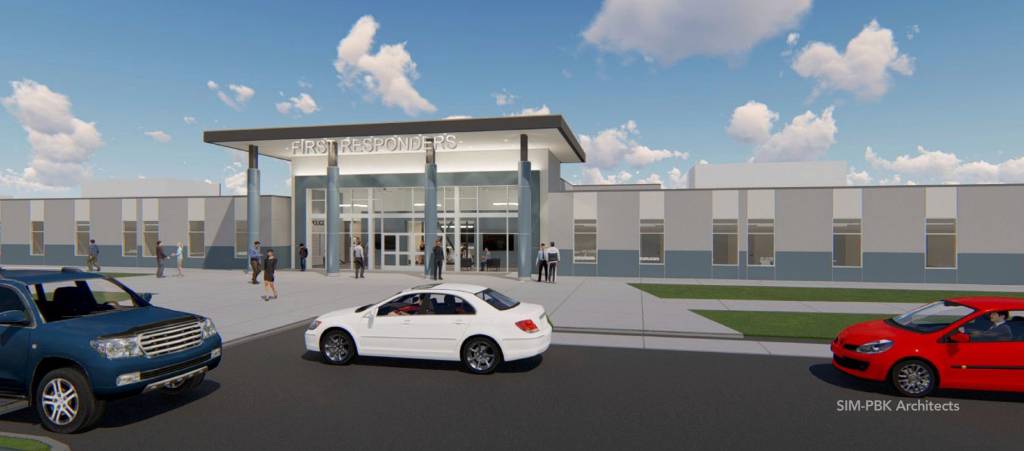 2
Modularizing Conventional Needs
While higher education facilities often require custom-engineered floorplans and layouts, designing high-level fire and police training spaces pushed boundaries beyond standard modular configurations.
AMS found creative ways to redefine spaces and realign structural parameters, modularizing conventional designs, adding innovative features and enhancing capabilities to meet clear needs within individual spaces:
High ceilings
Unconventional room sizes and layouts
Upgraded power infrastructure to support advanced technology
Connections to specialized outdoor learning areas and courtyards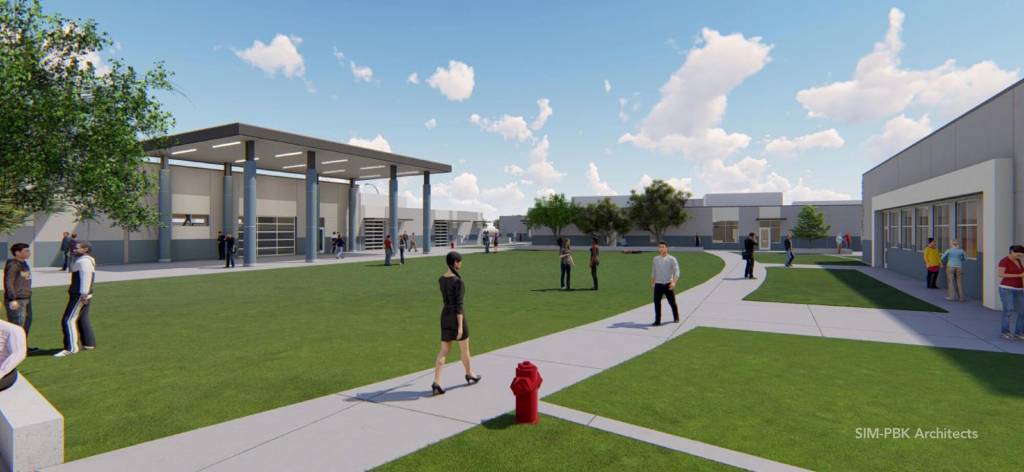 3
Delivering Dual-Focus Functionality
In addition to traditional classrooms, office/administrative space and VR simulation rooms, AMS expands functionality with an array of specialty spaces for both academies.
Fitness center
Locker room
Full-service kitchen
Breakrooms/workrooms
Computer Labs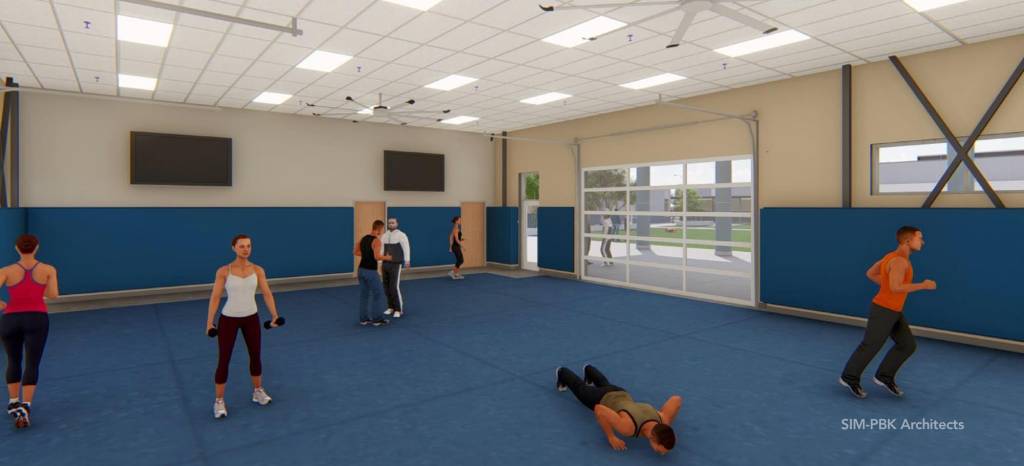 The contemporary, clean-lined modular designs complement site-built structures, unifying a multitude of indoor and outdoor spaces into a shared multi-use campus. Site-built structures include:
Fire engine and police garages
Two-story apartment complex
Burn tower for fire training
Heliport for evacuation training
Innovation that Inspires
The new First Responders Center is a visionary project—not just for State Center and higher education, but for any district that wants to integrate modular buildings at any level, customized for any type of programming or instruction.
As learning becomes increasingly multi-dimensional, modular construction continues to redefine space and stretch budgets, delivering creative building solutions that fit—and elevate—any project at significant cost savings for schools.
Get inspired by our gallery of innovative Projects.
Learn more about AMS Special Use Modular Buildings.
Explore and price custom modular solutions. Request a Quote.