Design-2GO.
Better on a budget.
AMS 2GO is an economical option for schools looking for a shorter-term solution. Built responsibly with quality materials, AMS 2GO's simplified, relocatable design meets functional requirements quickly and reliably.
KEY BENEFITS
Quality buildings at a lower cost.
Turnkey Delivery
A code-compliant building can be delivered in as little as 60 days after plan approval to meet immediate or temporary needs.
Convenient and Easy
Pre-set features and DSA pre-approved designs streamline procurement for a simple buy-and-build experience.
Relocatable
A site-built wood foundation allows the building to remain in place or be transported for use in multiple locations.
Affordable for Schools
Our lowest-cost configuration makes quality learning space a more affordable option for California schools.
AMS 2GO Features
Budget-friendly and student-friendly in one ready-to-build design.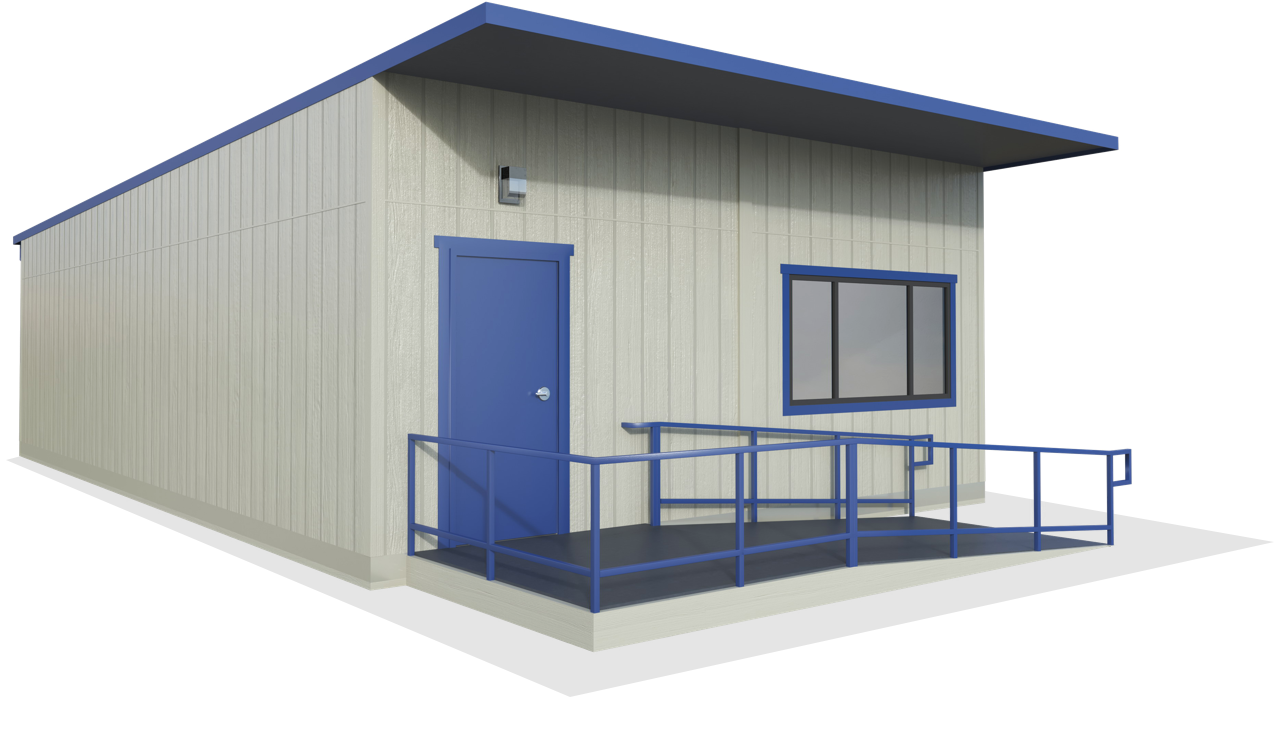 Wood Foundation and Floors
The wood foundation is quickly constructed with minimal site disruption and is easily deconstructed for removal. Wood subflooring is cost-effective for a building designed for shorter-term use.
Floorplans are well-proportioned with a standard ceiling height of 8'6".
AMS 2GO's 12' ramp meets ADA standards for pedestrian access. It's safe and stable, with a slip-resistant surface and metal handrails that withstand the elements and hold up to heavy use.
T1-11 wood siding is highly functional and durable, engineered to wear well over the building's lifecycle. Its natural, finished look can be customized to blend with existing buildings.
Our all-steel moment frame is structurally stronger than wood-framed construction and is engineered for California's strictest seismic zones, providing the strength and durability required for schools.
AMS 2GO has a monoslope galvanized metal roof with an open soffit and a deep front overhang for year-round weather protection.
A slim-profile front window maximizes glass to bring sunlight and views into each classroom. The ability to add windows in the same basic configuration is available as an upgrade.
A two-color palette allows schools to personalize each building with different color combinations for exterior walls and trim/door. Schools can add colors or create a custom palette as an upgrade.
Compare Brands
Which building is right for your project?
| | A sustainable solution for the value buyer. | A premium brand solution for the custom buyer. | A flexible brand solution for the value buyer. | A practical brand solution for the budget buyer. |
| --- | --- | --- | --- | --- |
| | | | | |
| | | | | |
| | | | | |
| | | | | |
| | | | | |
| | | | | |
| | | | | |
| | | | | |
| | | | | |
| | | | | |
Want More Info?
Find out how we can help with your next modular project.