design forward
Healthy schools, delivered.
GEN7 classrooms bring state-of-the-art sustainability to California schools, promoting health, productivity and academic success in a high-quality learning environment that sets a new standard for energy-efficiency.
key benefits
The ideal classroom for 21st century learning.
Lower Energy Costs
Smart design and efficient systems reduce energy use by up to 70%, recouping the initial Investment through lower operating costs.
Healthy and Productive
GEN7's safe, comfortable environment has a positive impact on productivity and well-being. Sick days go down; test scores go up.
Hands-On Teaching Tool
GEN7 classrooms teach by example, showing students the value of conserving resources while inspiring real-life problem-solving.
Forward-Thinking
GEN7's future-proof design is solar- ready, ZNE-capable and adaptable to evolving needs, performing responsibly over a 50-year lifecycle.
GEN7 Features
Designed for learning. Engineered for savings.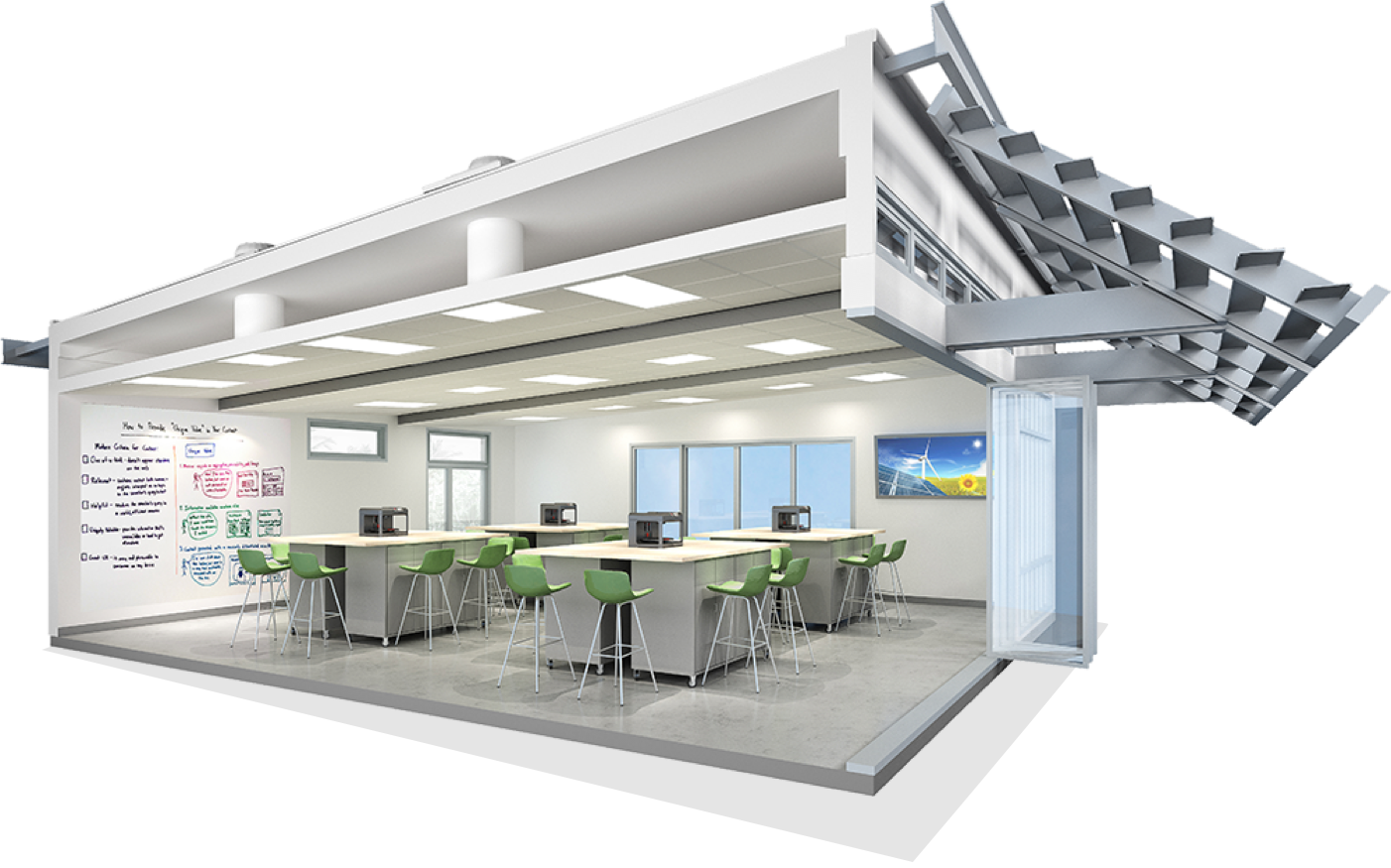 Superior Indoor Air Quality
A natural ventilation system continuously circulates 100% fresh, filtered air throughout each classroom. Safe, low-VOC materials and real-time air quality monitoring ensure clean air at all times.
High ceilings, large low-E view windows and Solatubes make natural light the classroom's primary light source, creating bright, airy, inviting spaces.
Proprietary ceiling design, acoustical finishes and ultra-quiet mechanical systems create a whisper-quiet environment that is 50% quieter than the average classroom.
Ultra-efficient HVAC with Climate Management System controls temperature and humidity with precise accuracy to ensure occupant comfort throughout the year.
Durable, Low-Maintenance Materials
The all-steel moment frame structural system with 5" concrete foundation is engineered for California's strictest seismic zones, providing the strength and durability required for high performance schools.
Infrastructure for Connected Learning
Gen7 enables collaborative learning with always-on connectivity that scales to meet the growing demands of 21st century learning.
the gen7 brand
GEN7 Product Lines
Compare Products
Which GEN7 series is right for your project?
| | A sustainable product solution for turnkey delivery. | A sustainable product solution for 21st century learning. | A sustainable product solution for complex custom projects. |
| --- | --- | --- | --- |
| | | | |
| | | | |
| | | | |
| | | | |
| | | | |
| | | | |
| | | | |
| | | | |
the gen7 configurator
Dream it, then design it in real-time.
Configure your new Gen7 classroom online, anytime, anywhere, any way you want, from your desktop or mobile device. Get started here.
Design It
Pick your palette, choose your floorplan, select your finishes and add features and technology at the click of a button.
See It
Visualize your classroom in 3D. See how your design choices affect your classroom's look and cost—in real time.
Price It
Get a project summary and price—then review it with one of our Gen7 representatives to turn your virtual classroom into a reality.
Want More Info?
Find out how we can help with your next modular project.