Our Process
Built to Plan
100% satisfaction. Zero uncertainty.
Construction has many moving parts, and AMS manages them all. We're hands-on start to finish, streamlining every step to shorten schedules and control costs across the entire project lifecycle. Our collaborative approach brings multiple disciplines together as a dedicated team project-managed by AMS leadership. We partner with architects and stakeholders to spec a project to a school's intent and vision, expertly managing all materials and services necessary to design and deliver buildings optimized for efficiency, usability and best practices. We take the uncertainty out of construction, ensuring every AMS building is built to plan and meets the highest quality, health and safety standards. Guaranteed.
AMS Buildings vs. Traditional Buildings
Traditional buildings are built entirely onsite, which means construction can't start until the sitework and foundation are finished—a process that can take months. AMS works in parallel, constructing buildings in our factory while the site contractor completes the sitework. A more efficient process allows AMS to deliver a same-spec building, built to the same codes, in less than half the time, for a fraction of the cost. Advantage: AMS.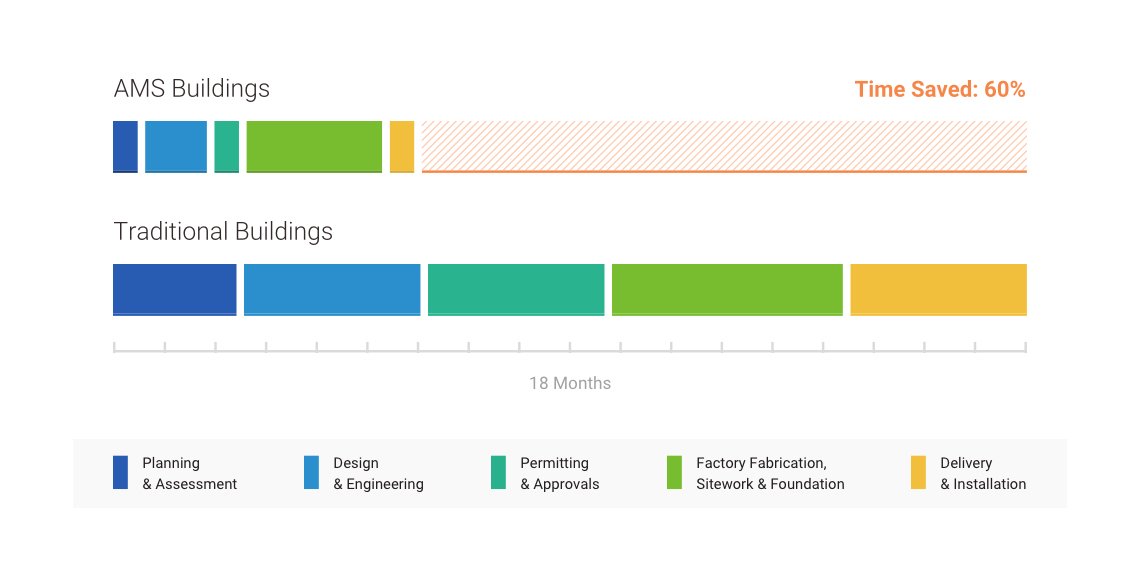 the process
From concept to completion in 5 simple steps.
Our streamlined 5-step process allows us to plan, design, permit, manufacture and deliver a superior quality building quickly, cost-effectively and customized to a school's needs.






Careful planning can translate into significant cost savings. Our expert team will meet with you, assess your needs and help identify the best building to achieve your project goals.
Factory Fabrication, Sitework & Foundation
Factory Fabrication, Sitework & Foundation
Innovation through automation
Less time. Less money. More peace of mind.
AMS' precision-manufacturing process has been perfected over decades of use, streamlining costs and delivering the highest quality building on-time, on-budget and to-plan. That's our commitment to every client—and it doesn't stop when the building is delivered. We'll follow up to make sure you're happy with your building and will be a valuable resource to you over the building's lifecycle.
AMS buildings are pre-engineered, allowing delivery in as little as a few months—60% faster than conventional construction. Our parallel process schedules factory production and onsite prep simultaneously, maximizing efficiency while ensuring quality control on even the tightest timeline.
Streamlined procurement and accelerated production allow us to provide a more advanced building at a lower cost. We negotiate costs throughout the supply chain, purchase materials in bulk and offset factory overhead with daylighting, creating cost savings we pass through to clients.
Guarantees
100% Satisfaction
We want working with us to be a wonderful experience. We're proud of our craftsmanship and select every material, system and component part with care. Our service and warranty are best-in-class. If a problem arises, we'll respond quickly and resolve any issue to your complete satisfaction.
Guarantees
100% Satisfaction
Projects & Solutions
Browse our portfolio and services.

Our Projects
Every classroom and every school is unique, which is reflected in our diverse portfolio of permanent modular school buildings.

Who We Help
From architects and designers to schools and school districts, we provide solutions across the entire building lifecycle.
Want more info?
Find out how we can help with your next modular project.