6 Sustainable Benefits of Modular School Construction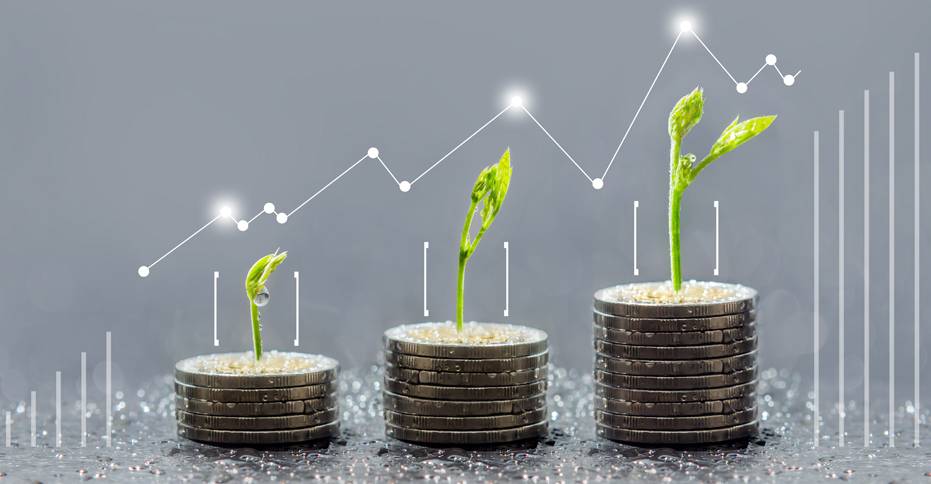 Modular construction costs less and takes less time, but the most lasting benefit might be the most overlooked: modular is a more sustainable way to build. Modular buildings are healthier for people and the planet—and that's the kind of positive change we need.
Earth-friendly. Student-friendly. Budget-friendly. Modular construction checks a lot of boxes for school districts looking to modernize facilities for 21st-century learning.
The ability to construct a high-quality building in less than half the time saves upfront, but the long-term benefit of modular construction is helping districts design sustainable schools that improve the health and well-being of students, teachers and the environment.
More than six million California students and teachers spend their days at school. Many school buildings are outdated and unhealthy, negatively affecting the ability to learn and the quality of the educational experience. Older buildings are less cost- and energy-efficient, requiring disproportionate amounts of resources to operate and maintain, claiming funds needed elsewhere and contributing to critical environmental issues.
It's a problem we all share with a solution that's already available.
How Sustainable Modular Construction is Better for Schools—and the Earth
As the world evolves toward a more sustainable future, modular construction is rising at a record pace, expected to grow by $5.6 million from 2022 to 2027—a Compound Annual Growth Rate of 5.6%. Modular school construction is experiencing strong demand, especially in California where architects foresee new school projects heading toward a 50/50 split between modular and stick-built.
Modular isn't just a more sustainable way to build; the modular process creates a more sustainable building, one that lowers construction costs and pays back in sustainable dividends over the building's entire lifecycle. School districts seeking a healthier, socially responsible option for essential facilities modernization appreciate the benefits modular can offer.
Here are 6 ways modular construction does more—and less—to reduce a school's environmental impact and bring value to districts and communities.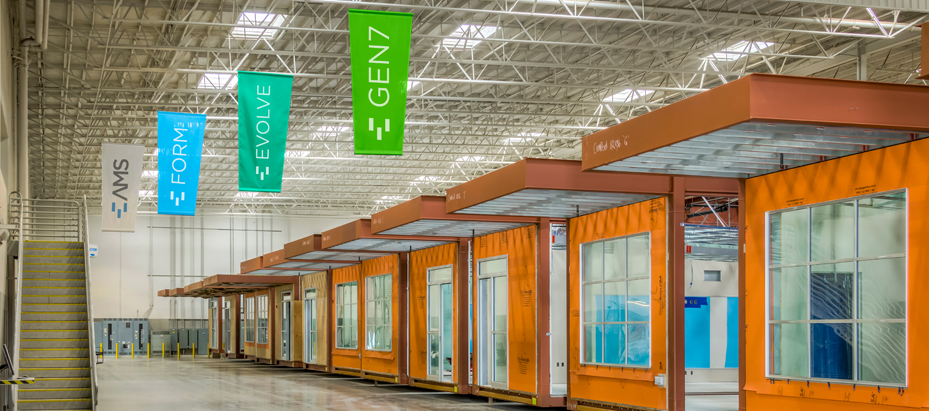 When people think "modular," they think "efficient"—and for a good reason. Modular construction can deliver buildings 60% faster for 30% less than conventional construction by fabricating modules in a controlled factory environment. Automated technology streamlines operations, using less labor and materials to preserve natural resources and reduce the carbon footprint of every modular building.
The repeatability of a precision process not only creates a more predictable product; it minimizes errors, increasing a modular structure's integrity. Indoor construction keeps materials dry, eliminating costly mold, mildew and insect damage caused by building outdoors. The result is greater quality control and a more resilient building that requires less maintenance and performs reliably over decades of use.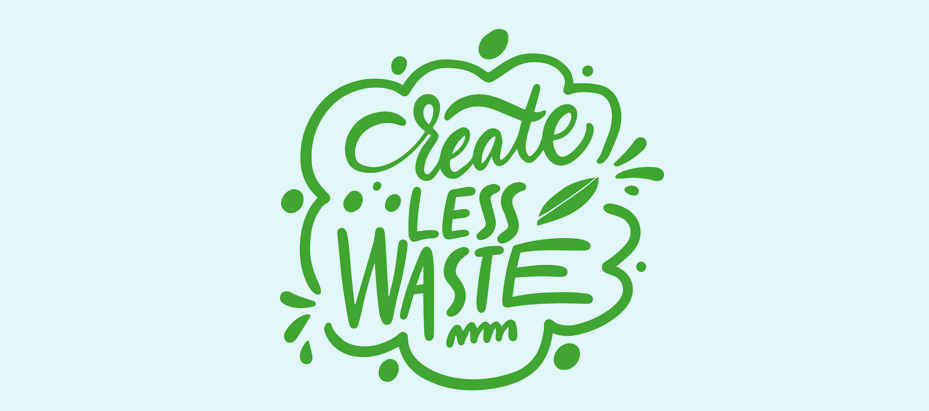 2
Less Construction Waste
California sends nearly 40 million tons of waste to landfills every year—and as much as 25% of that is from construction and demolition. Most construction waste is a byproduct of conventional onsite construction, which uses more materials less efficiently. While 30% of materials delivered to a construction site often end up as waste, modular construction reduces waste to only 5-10%.
Factory-built construction is more controllable, with precise inventory management and less material shrinkage and spoilage. Materials that aren't needed for one project can be safely stored in a climate-controlled warehouse for future use. Modular's lean production and ability to value-engineer projects for optimal efficiency diverts 90% of construction waste from landfills—an efficiency conventional construction simply can't match.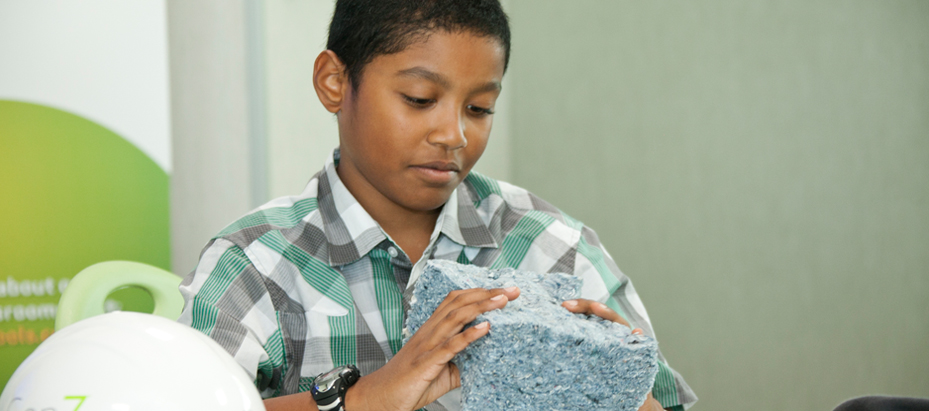 3
Highly Recyclable Materials
Conserving resources means reducing, reusing and recycling most construction materials. Yet more than 75% of all construction waste from wood, drywall, asphalt shingles, bricks and clay tiles—common traditional building products—end up in landfills. By contrast, modular buildings are constructed from highly recyclable, energy-efficient materials like all-steel frames, metal roofs, aluminum windows and steel doors that can be diverted for adaptive reuse.
At the end of their lifecycle, modular buildings can be deconstructed and modules recycled or refurbished for new use, reducing the amount of raw materials and energy required to meet new needs. Consciously choosing and sourcing recyclable materials makes modular buildings more adaptable and future-proof, sustainable throughout a building's useful life and into the next.
Carbon dioxide (CO2) levels have reached their highest point in 4.5 million years, leading to global warming and unhealthy air. Nearly 40% of global CO2 emissions are caused by the construction and operation of buildings. Emissions from frequent site deliveries and months of heavy machinery stirring up dust and debris make onsite construction a contributor to air, noise and water pollution—a serious threat to the well-being of people and the planet.
Modular construction is more environmentally sensitive, reducing onsite construction by 90-95%. Modular buildings are delivered fully built, limiting site deliveries to essential materials for site prep and foundation work. Fewer emissions from transportation and machinery, combined with less traffic from workers commuting to the jobsite, improves air quality, reducing the risk of illness from airborne contaminants.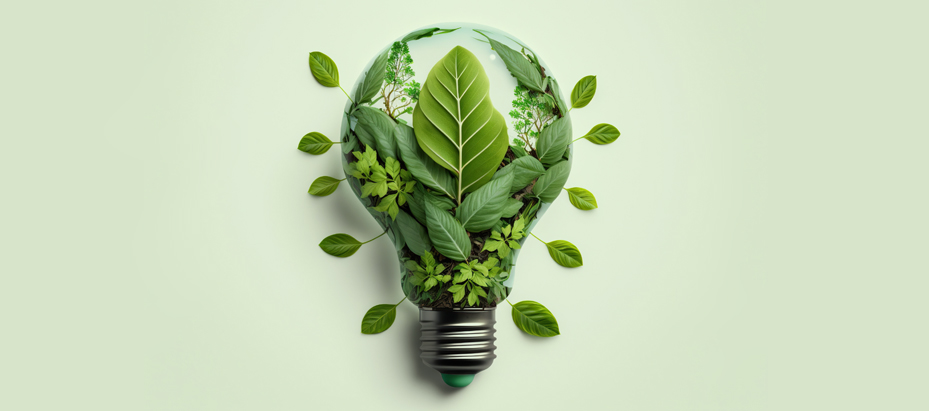 5
Increases Energy Services
School districts looking to modernize facilities quickly find that it can cost more and take longer to make an existing traditional building more energy-efficient than to replace it with a new, higher-performance modular building. Modular construction is more streamlined start to finish, taking less energy to build and requiring fewer workers onsite for a much shorter period of time.
The modular process saves energy, but state-of-the-art factory design increases savings even more. Most factories are designed for maximum energy efficiency, using daylighting to cut power usage up to 50% and automated climate control to optimize thermal performance and productivity. Increasingly, factories are moving toward renewables, powered by solar panels to operate at or near Zero Net Energy.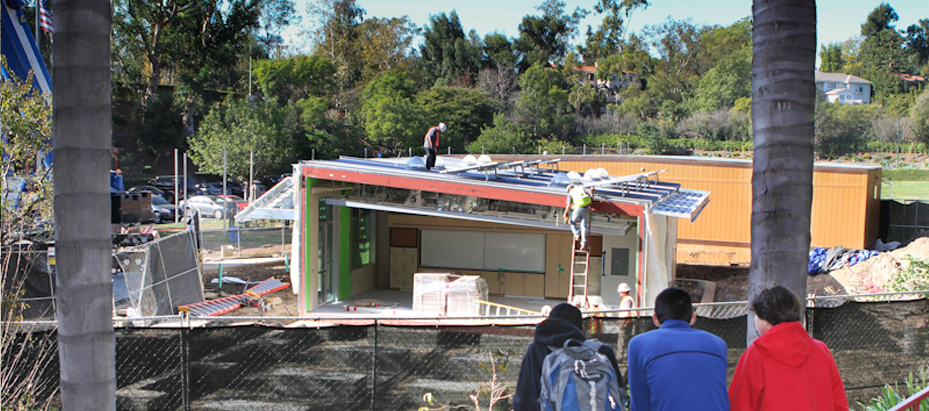 6
Minimal Disruption to Schools and Communities
Onsite construction can be loud and intrusive—disruptive to schools that operate on a set schedule and creating safety concerns for students and teachers. The construction impact spills over into the community, increasing traffic, creating continuous noise and putting added pressure on the local grid during peak demand. Modular construction shifts noise and resource consumption to the factory, softening the effect on campus and in the surrounding community.
Power needs are met, and materials kept, at the factory, preventing drain on the local infrastructure and requiring less space and security around the build site for workers, equipment and product storage. Modular construction also protects the local ecosystem. Natural habitats are preserved with less endangerment to wildlife and local traffic patterns are largely undisturbed, causing less inconvenience to neighbors.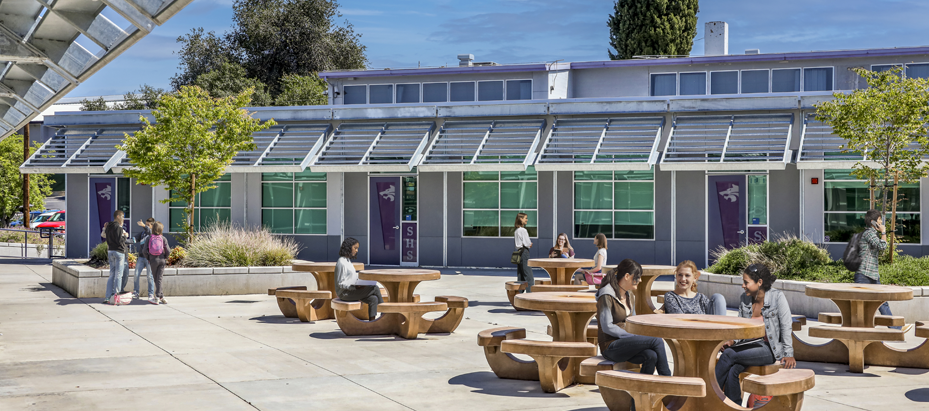 At AMS, we believe we're all stewards of the Earth. How—and what– we build has an impact.
Sustainability matters to us. We invest in sustainable innovation that helps us elevate building performance while conserving resources, saving energy and raising standards. We partner with schools, districts and architects to make a meaningful impact in our communities and create positive change that improves the quality of our schools and the quality of life for students and teachers.
While any AMS building can be customized to meet specific sustainability goals, our GEN7 high-performance line offers a turnkey option for healthy new school construction. GEN7 is the fastest-to-market sustainable solution for schools, reducing energy usage by up to 70% while ensuring the highest Indoor Environmental Quality. Sustainable features come standard with every GEN7, including: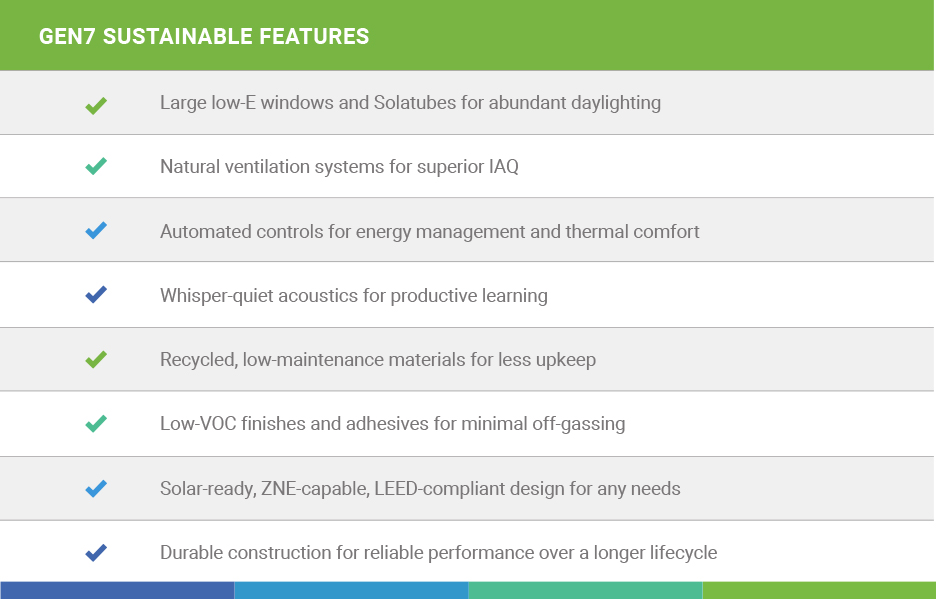 AMS buildings go beyond code to create a new model for sustainability, one that can adapt and evolve to meet the changing needs of education at all levels. Our buildings are flexible and resilient, because that's the path to a more sustainable future. A future we're all building together, for those who will someday inherit it.
Better buildings. Better future.
Build sustainably and save. Request a Quote.