Cutting Costs Not Corners: How Modular Construction Makes New Schools More Affordable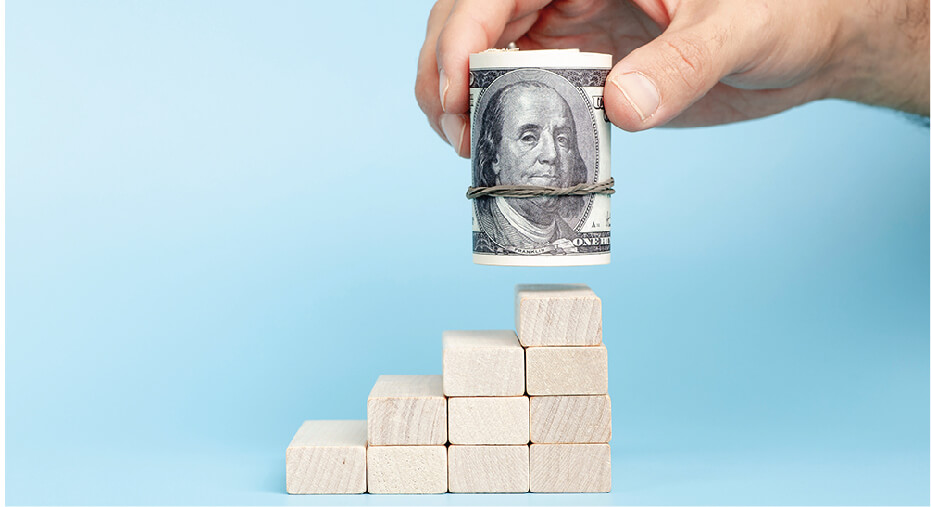 As more California schools look to modernize facilities, they're feeling the pinch of pandemic-fueled shortages. Material and labor costs are rising while supply is dwindling, forcing school districts to find a new solution. Architects have one: modular construction.
When the pandemic hit, the world slowed down. Projects were paused. Workers stayed home. Manufacturing shut down. As restrictions loosened and construction ramped back up, demand increased and prices inched upward.
A year later, prices have soared, the availability of skilled workers has plummeted and essential building materials are gridlocked, sending shockwaves through the supply chain.
More than ever, California needs safe, healthy schools that can support multiple learning methods in environments designed for 21st century learning. School districts are ready to build but confront roadblocks at every turn.
It's Economics 101: too much demand, too little supply, driving up costs and causing volatility that will squeeze schools even more as interest rates rise and infrastructure projects compete for labor.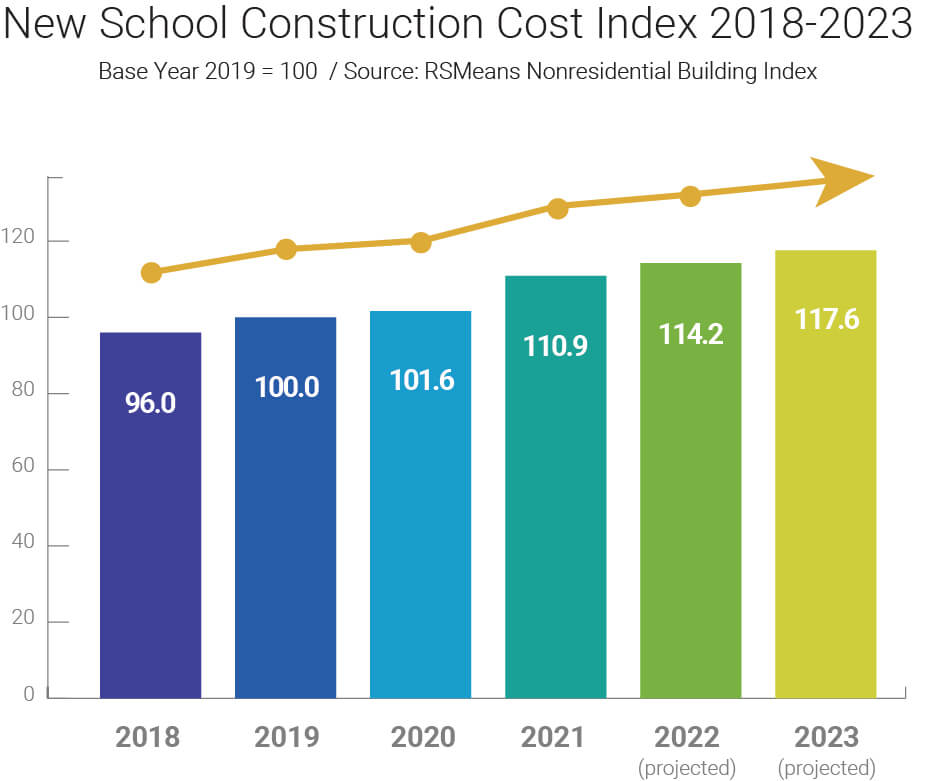 A Great Solution for The Great Disruption
The simplest of projects is suddenly complicated by a punch list of challenges that need fixing: high prices getting higher, shortages leading to longer lead times, compounded by shorter schedules—all causing costly change orders and budget overruns.
The Great Disruption is an even greater paradox: as unprecedented stimulus funding puts money in school district coffers, unprecedented upheaval in the global supply chain makes it hard to get funded projects off the ground.
No school or community is immune. Projects simply can't be brought in on budgets that were reasonable a year—or even six months—ago. Round after round of cost-cutting and downscaling plans as well as expectations isn't the answer.
Buildings can only be downsized so much. Lower quality materials cost more in the long run. Cutting features and amenities reduce functionality. And doing without spaces and updates schools need isn't doing the right thing for students who learn most productively in modern, healthy classrooms.
Instead of putting plans on hold, many school districts are opting to move forward in a new direction: modular construction.
And some of California's premier architectural firms are not only recommending modular designs to their most uncompromising clients; they're using modular to create next-level buildings that elevate the design aesthetic.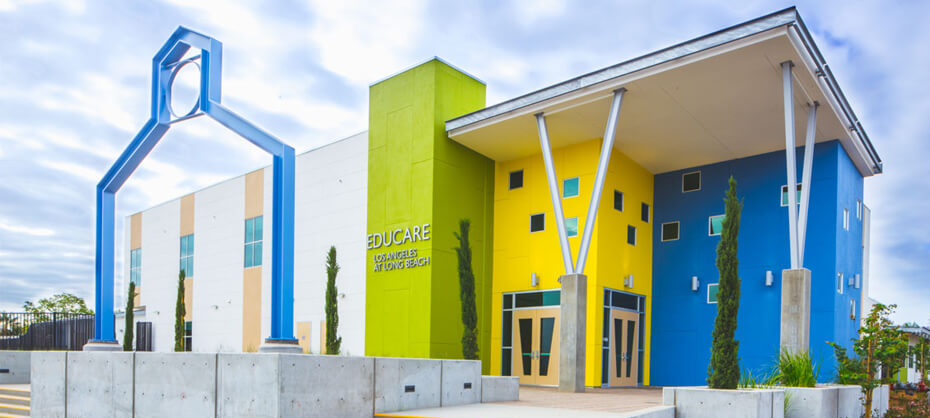 Rethinking Building Design
Isaac L. Sowers Middle School in Huntington Beach faced the challenges many California schools are facing. The Huntington Beach City School District (HBCSD) had a master plan to revitalize the entire 1970s campus, transforming outdated portables into a next-gen learning environment.
Funded through local general obligation bonds, the $72.2 million, 62,629-square-foot campus revitalization was initially concepted as all stick-built construction—a concept that exceeded the district's available funds when it came time to build.
Instead of rethinking costs, the Architect of Record (AOR) decided to rethink the design. According to Brian Whitmore, President/CEO of Studio W Architects, it was clear that modular was the optimum way to deliver the large-scale project on budget, in a way that met everybody's expectations.
What HBCSD wanted was a mix of classroom and special use buildings with a cohesive, modern identity. Studio W used a hybrid model to reconstruct the entire campus, strategically integrating a 60/40 mix of modular and traditional buildings for phased delivery in 2023-24.
The custom design arranges stick-built facilities—a gym, locker rooms, student union, STEM academy and administration building—to form a perimeter with a single point of entry. Inside, five GEN7 modular classroom buildings open to a central courtyard, creating a secure, controlled environment for students and teachers.
Replicating exterior colors and finishes for all buildings creates a unified look for the reconstructed campus.
Whitmore credits early planning and flexibility as the keys to balancing needs and budget with an aggressive schedule.
"We were able to capitalize on the cost and schedule impact of modular construction with a hybrid scenario that efficiently met both short- and long-term objectives for the district," Whitmore said.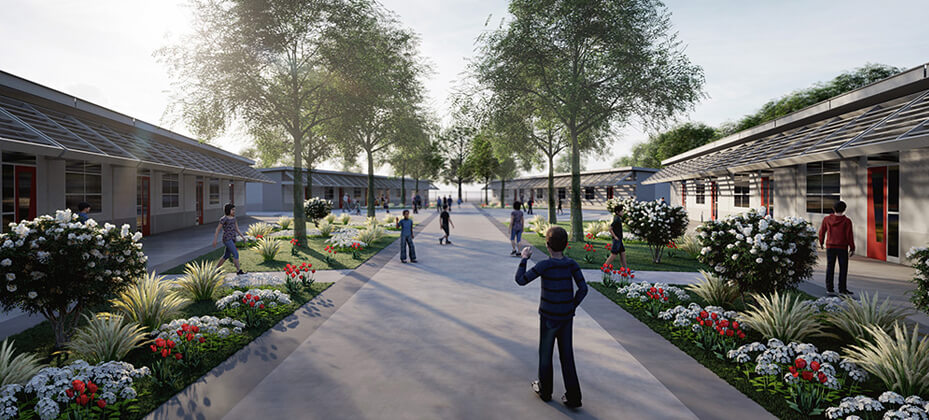 How Hybrid Design is Changing School Construction
Hybrid designs combine modular and traditional construction on a single campus—sometimes within a single building—to make the most of a district's budget. It's a creative option for districts that lack the funds, or time, for all stick-built construction, but don't want to compromise their vision —a situation the Stockton Unified School District (SUSD) confronted a few years ago.
An immediate need for a new school at Flora Arca Mata Elementary prompted TETER Architects + Engineers to mix two AMS EVOLVE modular classroom buildings and an admin/library building with a site-built multipurpose building—a hybrid solution that saved SUSD almost $10 million in costs while accelerating delivery by a year.
Architect Aya Shitanishi, a partner at TETER, said the design team locked into modular from the outset, knowing the high-profile $38.2 million project—named to honor beloved local education pioneer Flora Arca Mata—needed to be fully customized to meet the community's high expectations and the strict requirements of the neighborhood HOA.
"Our modulars were able to be customized to incorporate nearly all the design standards the owner would have realized with site-built construction," Shitanishi said. "There's a perception that modular buildings offer less because they cost less, but the users did not feel they received anything less than a facility fully responsive to their needs."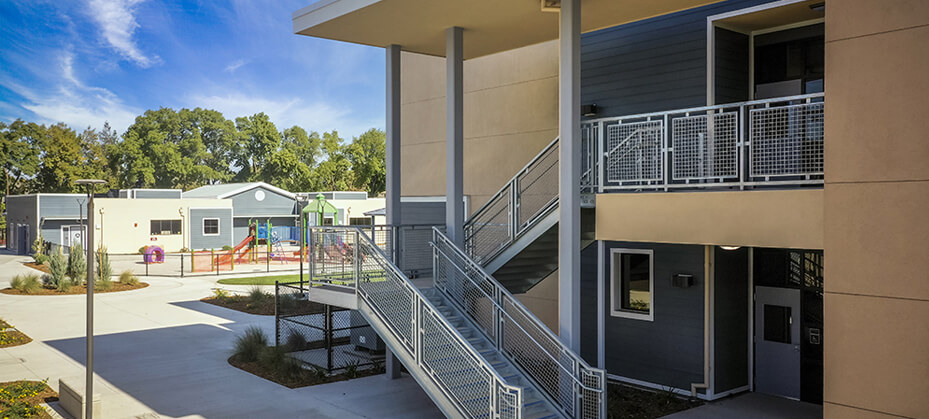 Shitanishi says the Flora Arca Mata design pushed the envelope on features and materials to deliver the buildings quickly without sacrificing the aesthetic the team wanted to achieve. Blue lap siding, white fascia and trim, privacy windows and traditional gable roofs create a residential look that's carried across modular and traditional buildings to blend the new school into its proud city neighborhood.
High-end materials reflect the buildings' quality, while the cost savings are embedded in the design and modular construction process. AMS value-engineered the design, saving thousands of dollars by using enclosed, conditioned hallways in the two-story modular classroom building and arranging modules in the administration building to maximize the utility of every square foot.
While very different, the Huntington Beach and Stockton projects underscore a commonality: modular buildings can fit in anywhere, integrating seamlessly into established campuses in upscale communities, even those that once envisioned a conventional building.
The Pluses of Modular Math
Design flexibility coupled with lower costs make modular a hard deal to beat.
If higher material and labor costs drive a building's cost up 15-20%, modular construction can deliver the same building design with the same lifespan for 25-35% less than stick-built.
Modular's economies of scale more than compensate for price spikes, allowing schools to absorb the impact of escalating material and labor costs.
Even though modular costs may be rising with supply chain adjustments, centralized procurement and reductions in material waste can lower material costs by 5-10%. Factor in process efficiencies and premium modular buildings can be delivered at a cost starting around $300 per SF, significantly less than the $500-$800 per SF for a comparable stick-built structure.
Modular construction costs for the Sowers project are projected at $390 per SF—a minimum savings of $130 per SF vs conventional. With 30,240 square feet of modular space planned, the cost savings for modular construction at Sowers will be around $3.9 million. The compensated foundations used for the modular buildings will save an additional $750,000 compared to conventional framing, bringing total cost savings to just under $4 million.
1
The Biggest Savings: Production Efficiencies
In construction, risk equals costs, and predictability reduces risk. Architects manage risk by building in a 10% contingency, which can top out quickly with the uncertainties of conventional construction. Modular reduces the need for contingency funds by fabricating buildings in a highly efficient, standardized environment where variables are carefully controlled.
Stockton's Flora Arca Mata project used less than 1% contingency, with reserve funds allocated to owner add-ons. Minimal change orders and no overtime—a byproduct of modular's precision manufacturing—kept the project on track and funneled unused funds into additional project improvements.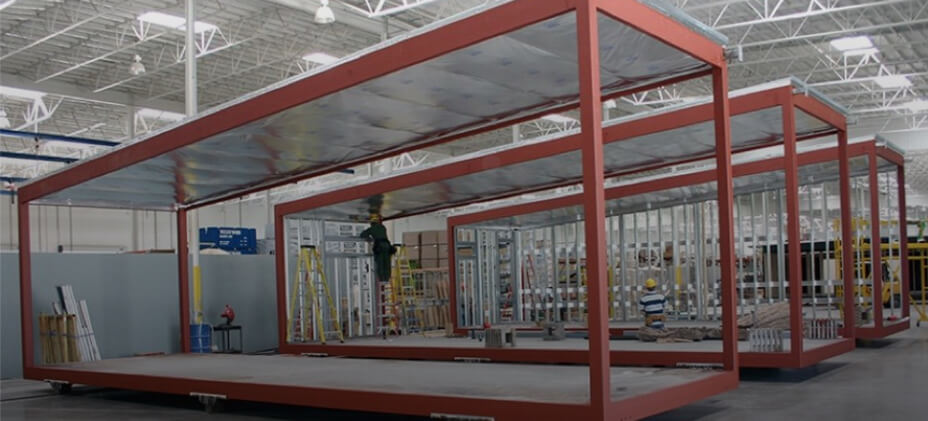 TETER's Shitanishi says the greatest savings came from concurrent scheduling—the ability to construct modular buildings offsite while the site contractor removed existing structures, completed grading and installed the foundation onsite.
2
Ongoing Savings: Lifecycle Costs
Modular savings are significant for any size project, putting money back in a district's budget or funding upgrades that address critical priorities, like enhanced security, advanced technology, increased natural light or improved indoor air quality.
High-efficiency systems, daylighting, premium acoustics and smart technology—standard features in premium modular buildings like GEN7—make the learning experience more productive, boosting academic outcomes along with the bottom line—tangible benefits schools are factoring into facility decisions.
High performance buildings can actually pay back a school's upfront investment through ongoing energy and operating cost savings throughout the building's 50-year lifecycle.
It's all about closing the gap between what students need and what schools can afford—something AMS President Dan Sarich says modular helps districts do.
"School boards quickly realize that it's faster and more practical to build a state-of-the-art modular building than to update a 50-year-old building with a long list of issues," Sarich said. "When you look at upfront costs, modular makes sense. When you look at lifecycle costs, it makes even more sense."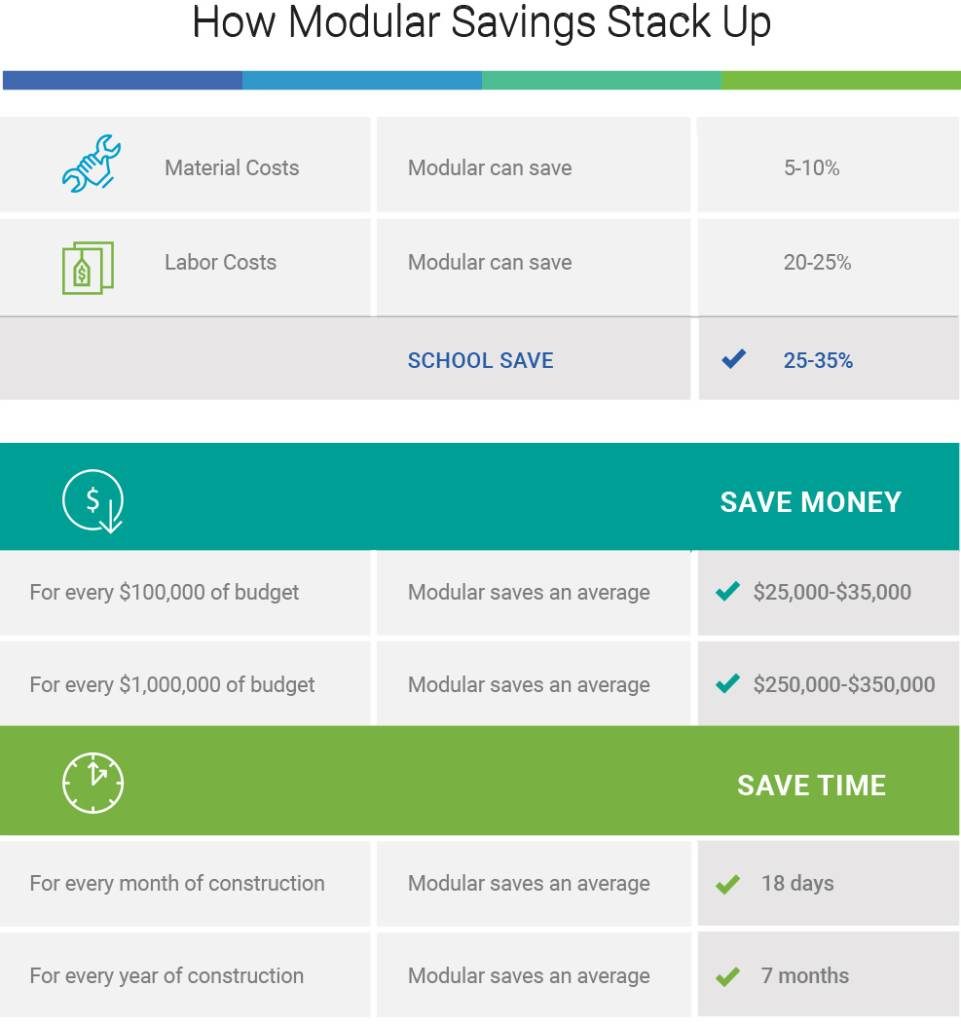 Cost vs. Value
While modular is clearly the most cost-effective construction method, it's best viewed as a lifecycle investment that creates value over time. Delivering upfront cost savings plus long-term value is the real advantage modular construction offers schools.
Belmont's Serendipity School found the sweet spot of cost and value with its new Arts and Enrichment Center. The $2.28 million GEN7 C Series building is fully custom and site-specific, with high-performance features that enrich learning while paying back every month in lower operating costs.
The high-end modular design increases built square footage by 170%, adding auxiliary spaces that support the K-5 school's social-emotional programming—a technology/innovation lab, art studio, spacious library and the centerpiece, a multipurpose room that multi-tasks as an indoor physical education space, rainy day lunchroom and auditorium.
Studio W's Whitmore, AOR for Serendipity, says the project's complex modular design counters another misperception—that modular construction can't replicate high-value conventional features like clear spans and high, open ceilings that expand space beyond standard dimensions. The column-free framing of the 60×32 multipurpose room creates a wide-open layout that acts as a space multiplier, accommodating a variety of large group activities to meet the needs of the school and community.
"The cost efficiencies of modular made it possible to create a grander gathering space with a 21' roof and a 14' floating ceiling with custom acoustic panels," Whitmore said. "We were able to elevate the design with functional upgrades like floor-to-ceiling windows and sliding glass walls that create a fluid indoor-outdoor interface ideal for learning in the Bay Area."
At 4,800 SF, the same design, conventionally built, would have added at least 25% to the construction cost. Instead, the savings fund innovative features that create long-term value for the school and the close-knit Belmont community.
It's the value that sold Serendipity on modular. The sustainability of both the modular construction process and the high performance building design appealed to Serendipity, an environmentally-minded school that didn't want to base a decision on cost alone.
Offsite construction minimized the impact to the natural landscape and shortened the construction time on campus, greatly reducing the burden to the school's neighbors. It was also important to Serendipity's owners that the modular building blend into the natural setting and create a consistent architectural expression with surrounding school and residential buildings.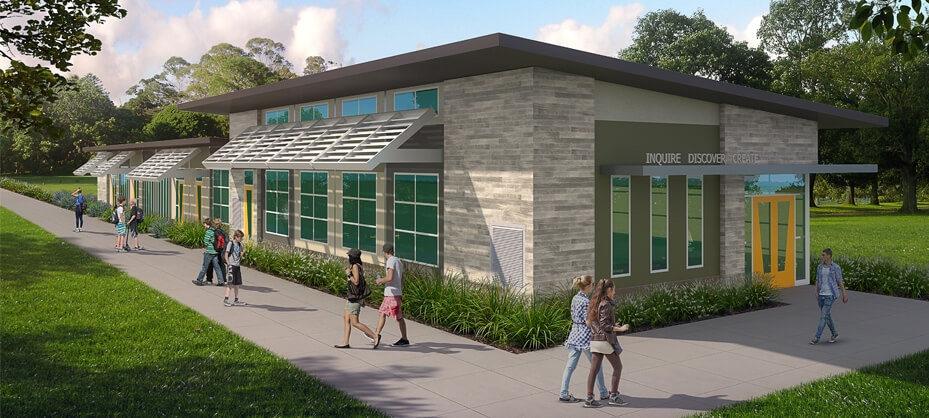 Finished in a durable tile that mimics weathered wood siding, complemented with corrugated metal wainscoting, the eco-friendly building also includes PV panels.
"The GEN7 product is LEED Silver right out of the box," Whitmore said. "The features we added, like storefront windows and operable clerestory windows, save even more, reducing energy costs and paying back in healthy benefits like natural light and fresh air."
Modular Isn't the Future; It's the Present
Balance will return. Prices will stabilize. The labor market will normalize, and shortages will become less disruptive. But architects and school districts agree: even if material and labor costs never return to pre-pandemic levels, modular has changed the dynamic.
Modular construction is no longer a backup option for cost-conscious school districts that balance too many needs with too few resources—it's the preferred construction method for many projects. Architects like Studio W and TETER integrate modular buildings into facility master plans, strategically using modular designs to deliver complex, large-scale projects at a more predictable cost.
The ability to mix modular and stick-built to meet needs quickly and reliably makes districts more nimble, able to adapt to a challenging environment and modernize more affordably.
As school needs shift and grow, modular buildings are becoming a bigger piece of a larger pie. Modular school construction could top $59 billion by 2030, delivering annual costs savings of $3 billion.
Ready to update an aging school infrastructure with new 21st century classrooms, California is experiencing what Whitmore calls "an infusion of modular." He estimates that Studio W's modular projects are around 60% stick-built and 40% modular—"but that's changing, heading to around 50/50."
Aya Shitanishi agrees.
"Most of our K-12 clients have explored modular construction, and I believe they will continue to do so," Shitanishi said. "In a typical year, we might have 1-2 major modular projects. With the new requirement for schools to provide TK facilities, many districts will look to modular construction to fulfill their TK needs."
The Great Transition
The Great Disruption is becoming The Great Transition.
While much of the migration to modular is driven by cost and speed, the final decision is increasingly based on a modular design that is structurally, technologically and aesthetically indistinguishable from a conventional building.
"It's amazing how far the customization of modular buildings has come," Shitanishi said. "Three buildings at Flora Arca Mata are modular and one is site-built, but most visitors to the site would not know the difference. The buildings exceeded every expectation, delivering our exact vision on an accelerated schedule."
Flora Arca Mata / TETER Architectural Rendering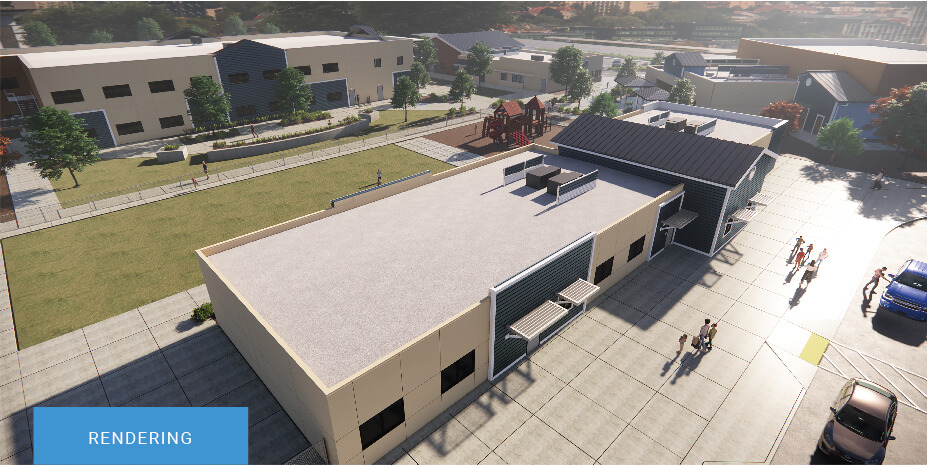 Flora Arca Mata / AMS Finished Modular Building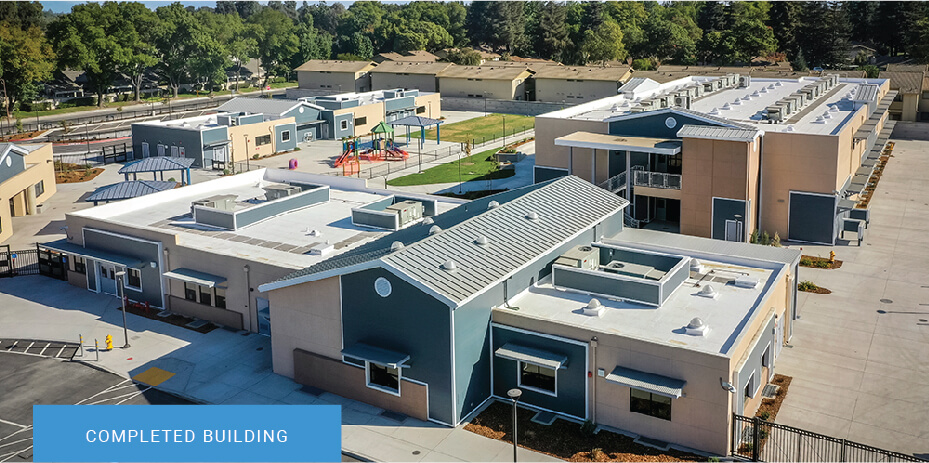 That's the end goal: a better building at a lower cost, delivered faster to meet the changing needs of a changing world.
Complex custom designs like Flora Arca Mata and Serendipity show that advances in modular technology coupled with the unlimited potential of hybrid design have opened new possibilities for schools—possibilities that make a positive, lasting impact on families and communities.
School districts like Huntington Beach don't have to look far to see how blurred the line has become between modular and traditional buildings. Premium modular buildings like GEN7 and AMS EVOLVE are in every part of the state.
"We encourage school districts to tour modular buildings close to them before making a decision," Whitmore said. "With premium modular buildings like AMS, they can't really tell a discernable difference. And the differences they see, they like."
See why architects love our innovative modular building solutions.
Browse our online gallery of AMS finished modular projects.
Save time and money with modular. To get started, Request a Quote!