5 Modular School Design Trends to Watch in 2022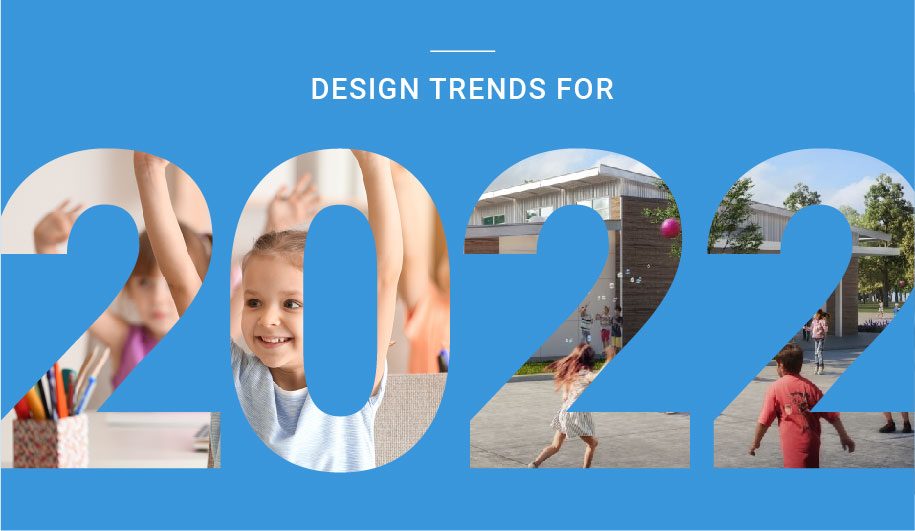 With the return of in-person learning, school design has hit the reset button, transitioning into 2022 with a clear priority: making California schools safer, healthier, more supportive and more progressive in ways that make modernization practical.
Last year brought changes that influence this year—how schools are built, how classrooms are designed and how students learn in new kinds of spaces that reflect new priorities.
Billions of dollars in new federal and state funding gives California schools an unprecedented opportunity to upgrade facilities to improve the quality of the educational experience. But schools ready to invest face a new hurdle: skyrocketing costs.
The price of many building materials has increased significantly over the past year, leaving schools and school districts looking for ways to save without sacrificing what students and teachers need.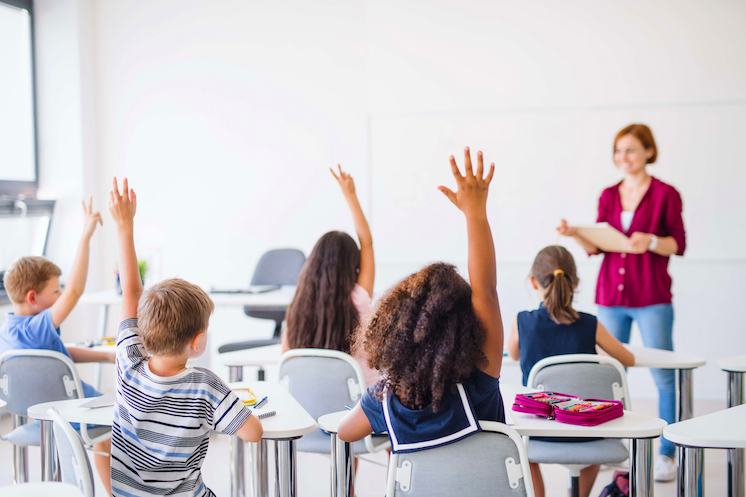 What's New for 2022
As we edge toward an endemic, new designs are tapping into themes the pandemic left behind: concern for physical and mental well-being, a connection with the outdoors, the flexibility to move about freely, the imprint of technology and gravitation toward the simple and stress-free.
And they're doing it creatively, in ways that are inherently cost-conscious.
This year's top 5 trends aren't just design-forward, they pay it forward—in higher efficiency, lower operating costs and value-added features that improve health, comfort and academic outcomes.
1
An Emphasis on Light and Air
Every year, students spend about 1,000 of their 6,000 waking hours in a school building. So it's no surprise that schools want to make these hours as healthy and productive as possible. How are builders and architects helping schools design healthier environments that are enjoyable to be in and inspire academic success? By focusing funding where it has the greatest impact: natural light and fresh air.
Natural Light
All light is not the same. Natural blue light from the sun energizes us, brightens our mood and helps us feel focused and alert. Studies show that students exposed to more sunlight progressed 26% faster in reading and 20% faster in math than students in artificially lit classrooms. That makes daylighting one of the most cost- and energy-efficient ways to increase visual comfort and cognitive performance.
New schools are looking to maximize glass, trending toward walls of windows and multi-level lighting that spread sunlight ceiling to floor. Storefront windows and doors with viewlites and sidelites daylight interiors while providing sightlines for student safety. Skylights and clerestory windows bring in extra light while protecting privacy. Clear glass partitions divide space while sharing light between rooms.
Indoor Air Quality
The EPA ranks indoor air pollution among the top five environmental risks to health. To reduce sickness and missed school days, districts are upgrading air quality monitoring and HVAC systems for healthier learning, incorporating add-ons like economizers, Demand Controlled Ventilation (DCV) and Dedicated Outside Air Systems (DOAS) that bring in and circulate conditioned outside air.
AMS and GEN7 buildings are equipped with high-efficiency MERV filters to remove contaminants and keep clean air circulating throughout classrooms. Even basic buildings are onboarding upgrades to improve IAQ, adding supplemental devices like ionic air purifiers and UV irradiation systems that kill most virus variants.
San Lorenzo and Arroyo high schools—scheduled for completion this fall—balance light and air to optimize the learning environment. AMS configured operable storefront windows to work with a zoned HVAC system, automatically shutting off mechanical ventilation when a classroom's windows are open—a custom design that integrates technologies to increase the fresh air supply while using less energy.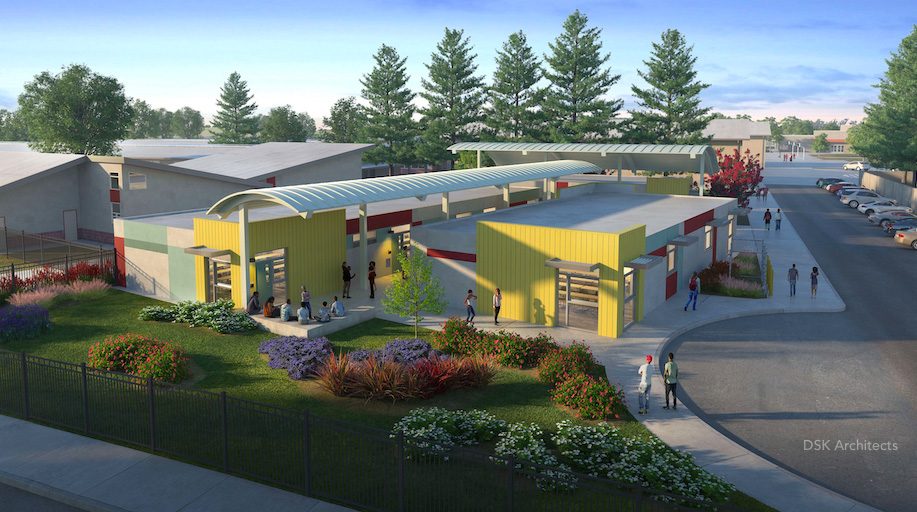 Indoor/Outdoor Learning
Schools facing capacity needs are discovering affordable, high-quality learning space outside the building footprint. The risk of virus transmission is 20% lower outdoors, where sunlight, fresh air and a connection with nature boost engagement. Schools are using sliding glass walls to seamlessly transition indoor/outdoor spaces, giving students the freedom to spread out and study alone or work in groups.
Schools like Belmont's Serendipity School are taking the trend even further, creating and connecting courtyards, gardens and learning plazas that function as open-air classrooms. Serendipity's new Arts and Enrichment Center is thoughtfully designed to create a natural flow between indoor spaces and a series of exterior environments that make exploration and discovery an important part of the curriculum.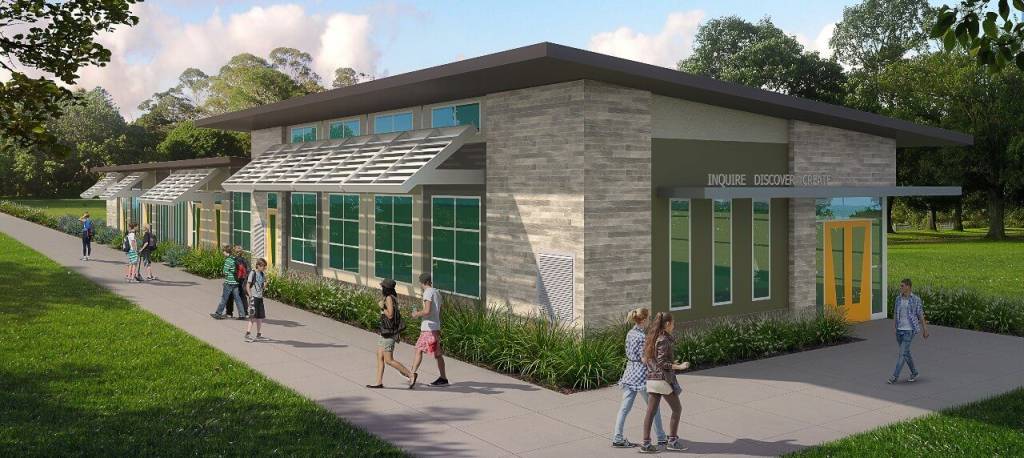 2
An Atmosphere that Calms the Chaotic
The pandemic has taken a toll on student's and teacher's mental health. After two years of chaos, four out of five students are feeling increasingly stressed and overwhelmed. While design isn't a cure-all, it can create a mindful environment that's uncluttered and pleasing to the senses, calming the mind and making students feel safe, grounded and connected, to each other and the world around them.
Natural Materials
Spending too much time indoors led to a new appreciation for nature and the ecotherapy benefits it provides. When students can't be outside, natural materials are an affordable way to bring the relaxing context of nature inside. Schools are finding value in sustainable elements that are healthy and low-maintenance, with an organic connection to the environment.
Natural materials bring a simple beauty that's safe and responsible. Ceramic tile is hygienic and easy to clean. Recycled metals and reclaimed woods are durable and refined, making classrooms feel inviting and visually appealing. Concrete floors are a practical alternative to germ-trapping carpet, in step with modern learning where students experiment in labs, furniture is on wheels and programming features robotics.
Calming Colors
The power of color is strong, affecting a person's mood, attention span and motivation to learn. Calming colors take a cue from nature, reducing stress and putting students and teachers at ease. Adding touches of sky blues, fresh greens and earthy neutrals creates a relaxed, welcoming atmosphere where students can concentrate and create, buffered from the distractions of a chaotic world.
Decorative Acoustics
Too much noise is overstimulating, interfering with students' ability to learn and manage projects constructively. Today's acoustic panels have come a long way from traditional white ceiling tiles, adding patterns, texture, shape and color while effectively absorbing sound. Metal or wallpaper-type acoustic panels are a trendy take, bringing student-friendly style to classrooms, hallways and common areas.
3
A Creative Use of Space
Built-in Flexibility
Open floorplans are a blank canvas for multiple learning methods. As class sizes fluctuate, classrooms will need to flex on demand, recalibrating for increased capacity or downsized learning. Design features like interior partitions, sliding glass NanaWalls and mobile furniture give students room to move around and make it easy for teachers to reconfigure space throughout the day.
Schools are also turning to home trends like barndoors to section off pod rooms for small group learning or create quiet corners where students have space to re-center, away from a busy classroom.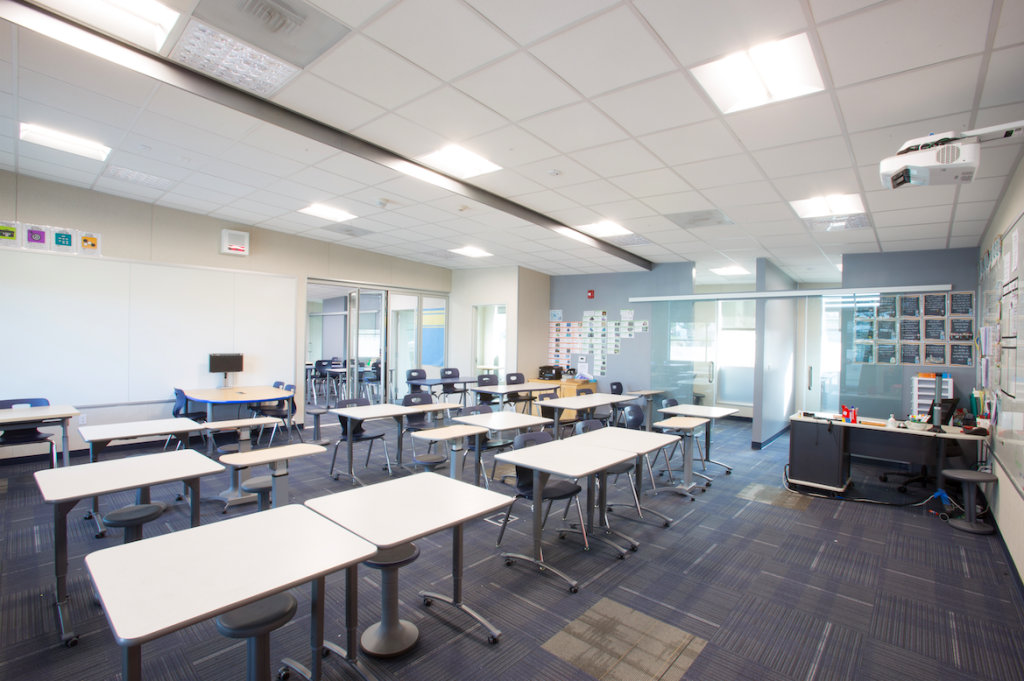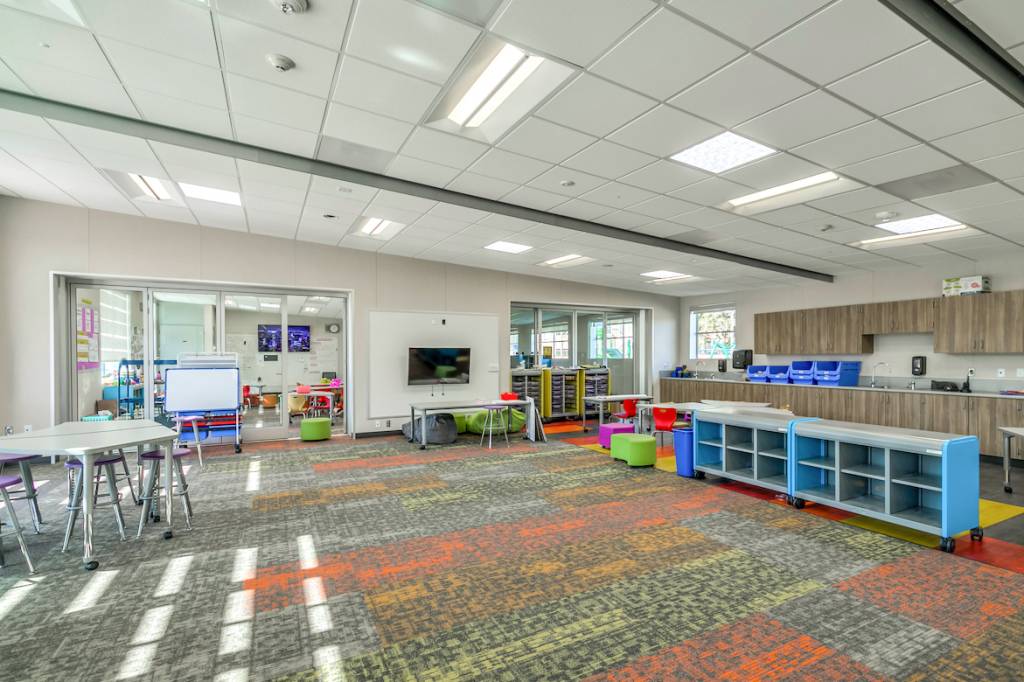 Central Hubs
As programming expands, AMS and other modular builders are creating shared spaces that can multi-task. Central hubs, like the one at Campbell School of Innovation, cluster classrooms around a multimodal space that can be used at different times by different groups for different types of learning.
AMS reconfigured a standard floorplan for the new modular science wings at Emerson Junior High in Davis. Two oversized classrooms open to a shared central prep space, creating a fluid lecture/lab environment that accommodates individual learning, group projects and experiments.
Expansive Design
Schools are retooling design to make spaces live large, adding height with tall, exposed-beam ceilings and widening hallways with bump-outs and alcoves. AMS upsized features for Stockton's Flora Arca Mata Elementary, a two-story design with enclosed 12' hallways, a double-door entry and wide exterior walkways—design updates that allow students to navigate and interact with greater distancing.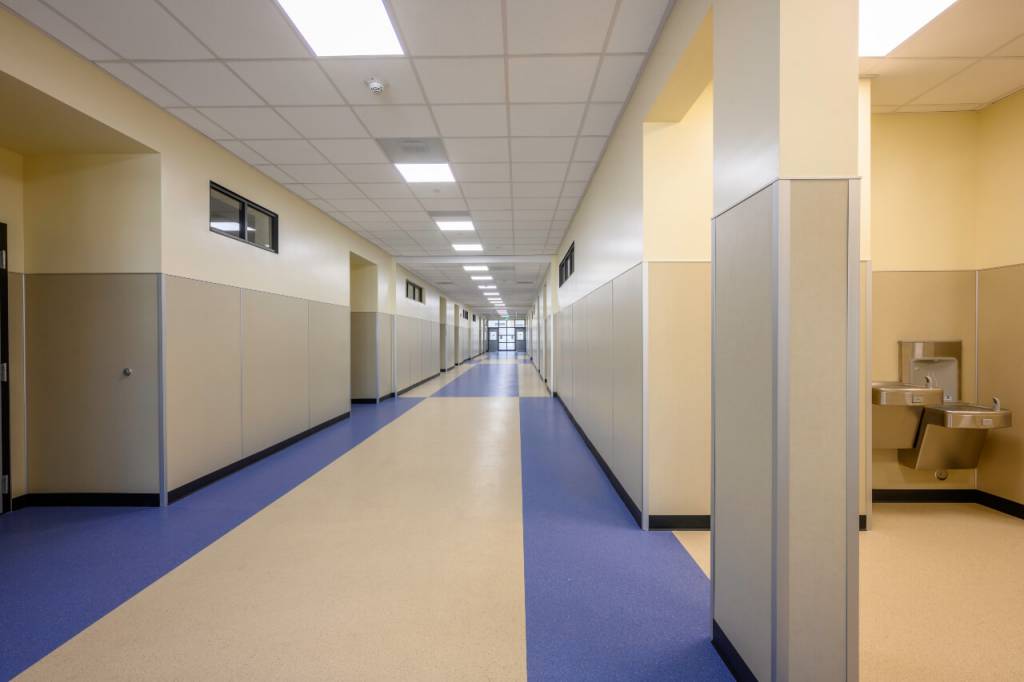 Smart homes are here, and smart schools are gaining traction. As schools augment their tech infrastructure, yesterday's technology is being replaced by intelligent systems and features that create a controlled environment that enhances productivity and makes students and teachers feel protected and secure.
Automated Systems
High-performance buildings already onboard systems that prioritize comfort and well-being. GEN7 classrooms set the standard, automating classrooms to create ideal learning conditions. Occupancy sensors automatically adjust the thermostat based on the number of people in the room. Auto-dimming LED lights respond to a classroom's natural light. Productivity goes up; energy costs go down.
Touchless Technology
The demand for touchless technology is growing 17.4% per year and projected to reach $15.3 billion in 2025, up from $6.8 billion in 2020. As touchable surfaces are phased out, sensor and voice-activated technology will shift from luxuries to must-haves.
High-frequency touchpoints, like faucets, toilets, light switches and thermostats, will become hands-free as schools look to technology to mitigate disease transmission. New technologies like hover detection will eliminate shared touch interfaces, allowing students and teachers to navigate interactive displays without contact.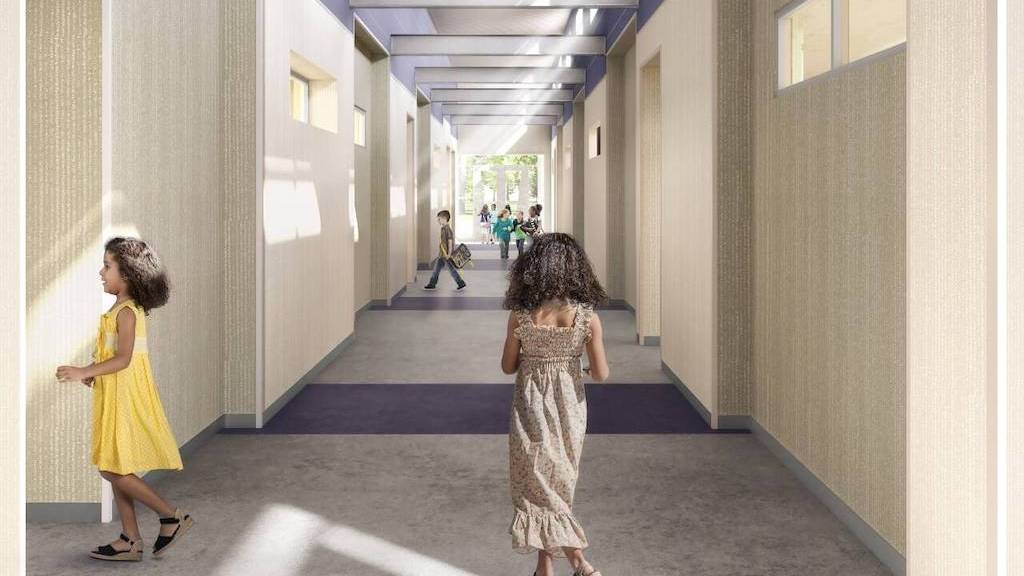 Real-time security integration
Districts are being proactive, working with builders to integrate real-time security management capabilities into modular building designs. Technologies like electronic door locks, video surveillance and visitor management systems control access and accelerate emergency response, remotely and onsite.
AMS is already designing buildings with enhanced security in mind. To control access from all entry points, AMS recently introduced an innovative single-story interior corridor design that delivers the security of a two-story building in a one-story footprint. The prototype will open at Dublin's Murray Elementary this fall.
Always-on, Anywhere, Anyway Connectivity
Classroom design is redefining interconnectivity, creating an unrestricted, technology-rich environment where teams can problem-solve and innovate together wherever they are—at home, in the classroom, in common areas or outside.
To support today's multi-device environments, architects and builders are configuring schools with a more robust power infrastructure that future-proofs designs for technology that's growing more sophisticated at every level of learning. Increased power access with outdoor Wi-Fi and outlets spaced for individual learning provides an always-on connection to school programs, data and resources.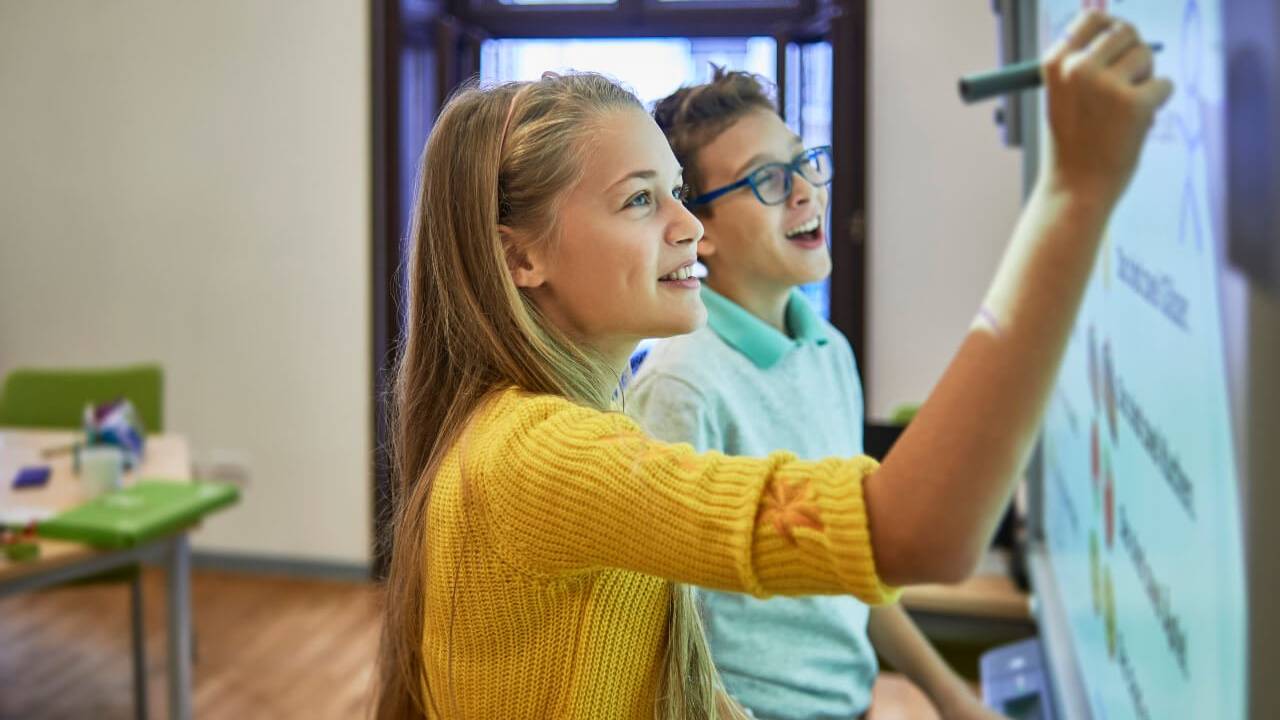 Mixing modular and traditional design saves money without compromising amenities or aesthetics, making hybrid design one of the most impactful trends this year. Schools can expand by attaching modular wings to existing stick-built structures or integrating freestanding modular buildings into an established campus.
Hybrid designs package the best of both—the speed and affordability of modular with the fully custom capabilities of traditional. The ability to match aesthetics with custom colors, finishes and architectural enhancements makes modular a chameleon, able to blend with any style, on any site.
The new First Responders Center at Fresno City College is a large-scale, high-end hybrid scheduled to open in late 2022. It connects separate modular wings for the school's Fire and Police Academies to a shared stick-built entry, lobby and conference area—a space-efficient way to cover a broad range of needs at a lower cost.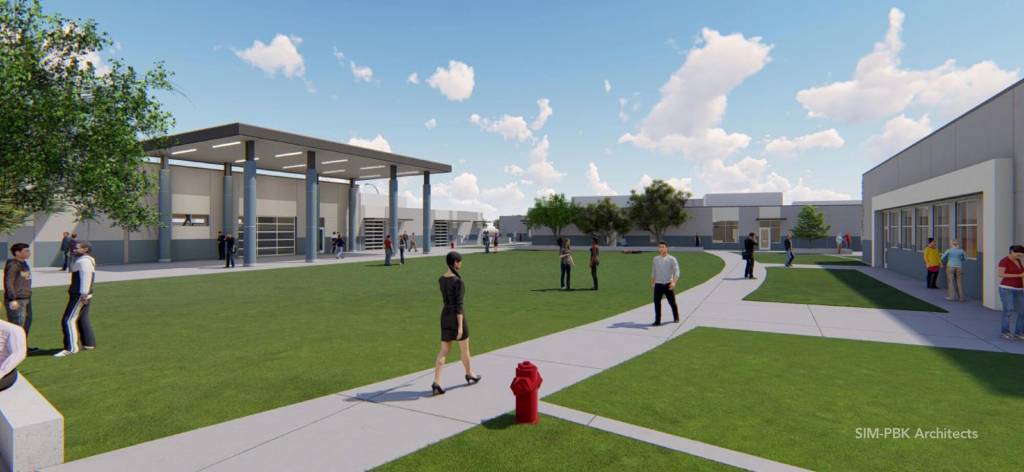 Making Modular Design Trends Affordable for Schools
As school design continues to evolve, modular makes customizing space easier, faster and more affordable than ever before.
Modular buildings can deliver high-quality space in as little as 60 days at a cost 30% less than conventional construction. And modular designs can be replicated districtwide, giving schools a customizable, scalable solution for fast-tracking modernization and expansion plans at a considerable cost savings.
Modular builders like AMS are pushing the boundaries of school design, working with architects to create innovative learning environments that integrate the latest technology, features and materials into flexible floorplans that fit today's needs—and adapt easily to tomorrow's.
See how the latest design trends integrate into our AMS and GEN7 Brands.
Partner with AMS from design to delivery with our full-spectrum of Services.
Build what you want, how you want, whenever you want. Request a Quote!