What is Sustainable School Design? Trends, Benefits & More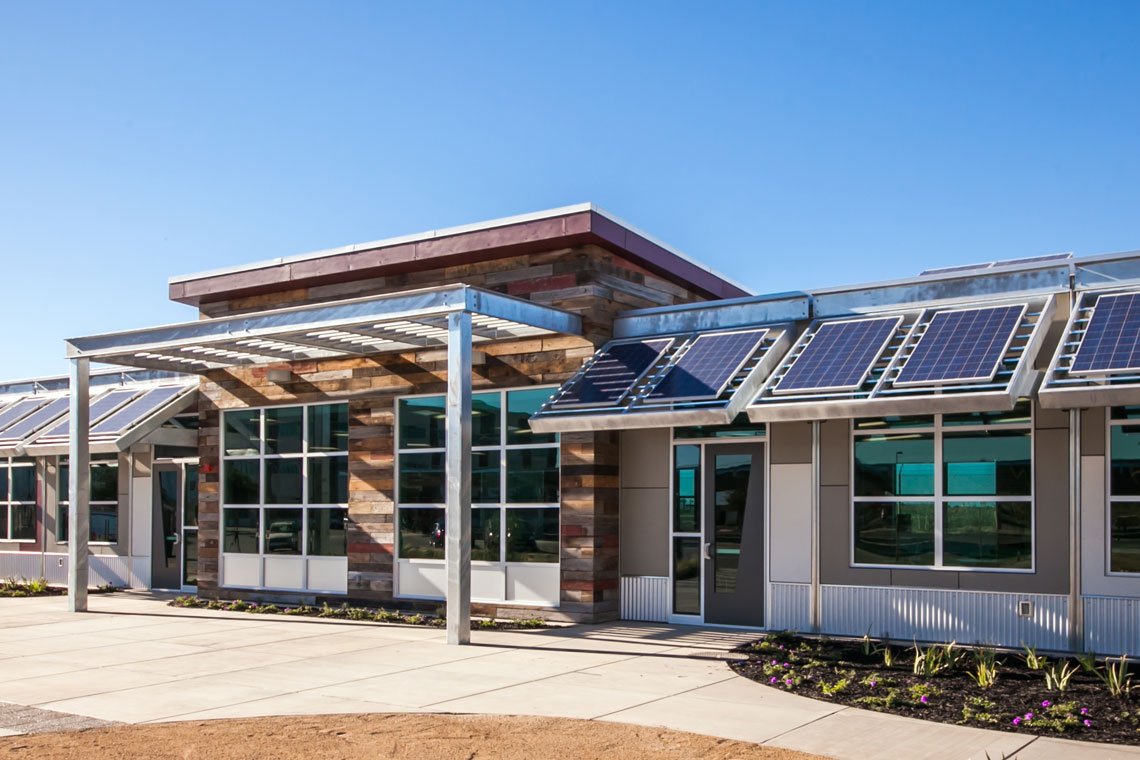 With the increased focus on health and wellness and the recognition that higher quality learning environments lead to better learning experiences, many school districts across the country are directing their attention towards sustainable school design.
Read on for more details about sustainable school design, including the latest trends and the most impressive benefits.
What is Sustainable School Design?
Sustainable school design prioritizes the health and wellbeing of students and faculty members by incorporating progressive building practices to protect both building occupants and the environment.
Also known as high-performance schools, these facilities go above and beyond being constructed from recycled materials. Sustainable design looks at the big picture, which includes everything from indoor air quality and lighting sources to mechanical systems and responsibly sourced building materials.
As K12 Facilities Forum notes, "The call to incorporate greener elements is amplifying with the recognition that learning and academic performance is closely tied to the built environment." With this in mind — and as many school districts across the country make efforts to prioritize the health and wellbeing of students and teachers, and integrate climate change topics into their lesson plans — sustainable design is a way for schools to provide hands-on learning experiences.
Why We Need Sustainable School Design
There are two major reasons why sustainable school design is so important.
Unhealthy Learning Environments
Every day, 25% of Americans go to school as teachers, students, staff or administrators. The Environmental Protection Agency (EPA) states that half of this population is exposed to polluted indoor air, chemical fumes, asbestos, mold and other toxins.

On top of daily exposure, the amount of time students and teachers spend indoors is significantly higher in the U.S. than in other countries. One study found that a typical U.S. student spends 8,884 hours over 9 years to complete primary and lower secondary school, while teachers spend 2,000 hours indoors working each year. If students and teachers are going to spend the majority of their time indoors, healthy indoor air quality is absolutely essential — especially as schools strategize reopening plans following the 2020 COVID-19 pandemic.
Climate Change
With the effects of climate change inspiring more eco-friendly practices around the world, sustainable school design is one way for school districts to make a positive impact and set an example for their students. In addition to reducing their carbon footprint, schools can also lower operating costs by implementing environmentally friendly practices.
Top 5 Trends in Sustainable School Design
Natural Daylight
Through a process called daylighting, electric lights are dimmed or turned off when there is enough natural sunlight. Sustainable schools are incorporating daylighting by installing:
Since lighting accounts for one-third of the electricity used by schools in the U.S., daylighting saves on energy and costs — yet another example of how the environment and school budgets both benefit!
Indoor Air Quality
Poor indoor air quality can cause respiratory issues that make it hard for anyone to perform at their best — whether it's a 6-year-old student or a 45-year-old counselor.
Schools can make learning environments more comfortable and less detrimental to the health of occupants by using sustainable building practices. Every school may have a different approach, since different areas of the country experience their own unique weather and climate patterns. Overall, the EPA advises the following strategies to improve indoor air quality:
Build with materials low in volatile organic compounds (VOCs), toxins and irritants
Install a properly designed HVAC system that controls temperature and humidity, and change filters regularly
Incorporate outdoor air for ventilation
Remove odors and pollutants through pressure control, filtration and exhaust fans
The focus on air quality should be ongoing. Weather, allergies, and other factors can fluctuate throughout the year, but an indoor air quality program can help schools make the necessary adjustments to maintain comfortable, healthy environments.
Responsibly Sourced Building Materials
Building with non-toxic materials can be healthier for people, while sustainably sourced materials reduce waste and lower energy consumption during the manufacturing process.
Recycled, reclaimed, and locally sourced materials, as well as rapidly renewable materials like cork and bamboo, are just a few of the many options available. Just remember that new sustainable products are developed every year, so your options can increase.
Off-site Construction
From continuously transporting materials to over-ordering, on-site construction projects produce an incredible amount of waste. As an alternative, sustainable school builders handle construction in a factory controlled environment, then transport and assemble the buildings at the final site.
This has numerous benefits. First, it shortens the amount of time that construction crews have to be at the school, which limits the disturbance. It also enables builders to better control material purchases by keeping a running inventory that can be used across multiple projects. Excess materials on a job site would be sent to the landfill, but off-site they can be used for other projects to minimize waste and reduce a school's carbon footprint.
Adaptable Classrooms
Modern sustainable schools must prioritize benefits that have a direct impact on learning environments for both students and faculty. This involves a focus on the health, comfort, and energy efficiency of the building, as well as ensuring that it is easy to maintain and operate.
One way to achieve these benefits is to incorporate versatile classroom designs that cater to just about any need imaginable. Modular designs, folding or sliding walls, furniture on wheels and open spaces are just a few ways to quickly repurpose a classroom for different uses. One period could be spent teaching English in a traditional classroom layout, and in just a few minutes the room can be opened up to better facilitate project-based activities.
Since flexible classroom design utilizes existing space more effectively, there's no need for new construction projects. And no construction means the environment can rest while your school avoids unnecessary building costs.
5 Benefits of Sustainable School Design
Higher Test Scores
Natural lighting and healthier air quality are two primary features of sustainable design. For students, these can increase alertness and learning outcomes. In a year-long study of elementary school children, students who were exposed to more sunlight during the school day had 26% higher reading outcomes and 20% higher math outcomes than students in less sunny rooms.
Higher Attendance Rates
According to the Centers for Disease Control and Prevention (CDC), students between the ages of 5 and 17 miss nearly 14 million school days every year because of asthma, and teachers have higher instances of asthmatic conditions than other worker groups.
By breathing healthier, natural air throughout the day, the effects from asthma, allergies and respiratory problems are significantly diminished. And healthier people means that schools can reduce both teacher and student absences, which can be crucial for districts that receive attendance-based funding.
Higher Teacher Retention
Teachers deal with many stressors on a daily basis, but deficient building conditions are one of the top reasons why they choose to leave their jobs. Specifically, some of the biggest complaints include hot classrooms, leaks, mold and loud air conditioning units.
Sustainable school design solves many of those complaints with features that create more comfortable working environments. In fact, schools that modernize their outdated buildings with sustainability and collaboration in mind see a 74% increase in the ability to attract and retain teachers.
Significant Cost Savings
Compared to traditional school buildings, sustainable schools cost less than 2% more to build but use 33% less energy and 32% less water. On average, sustainable schools can save as much as $100,000 a year on operating costs — that's enough to hire more staff or purchase new equipment!
Protection for the Environment
With less reliance on fossil fuels, high-performance schools release less pollution and greenhouse gases while also using less energy and water. A sustainable school leaves a microscopic carbon footprint, which is something students, teachers and administrators can feel good about.
As a leader in sustainable building practices, we believe that sustainable school design is a way to lead by example while shrinking our environmental footprint. For more information about AMS, our products or our commitment to sustainability, contact us here.