How Modular Construction Is Helping Community Colleges Change Higher Education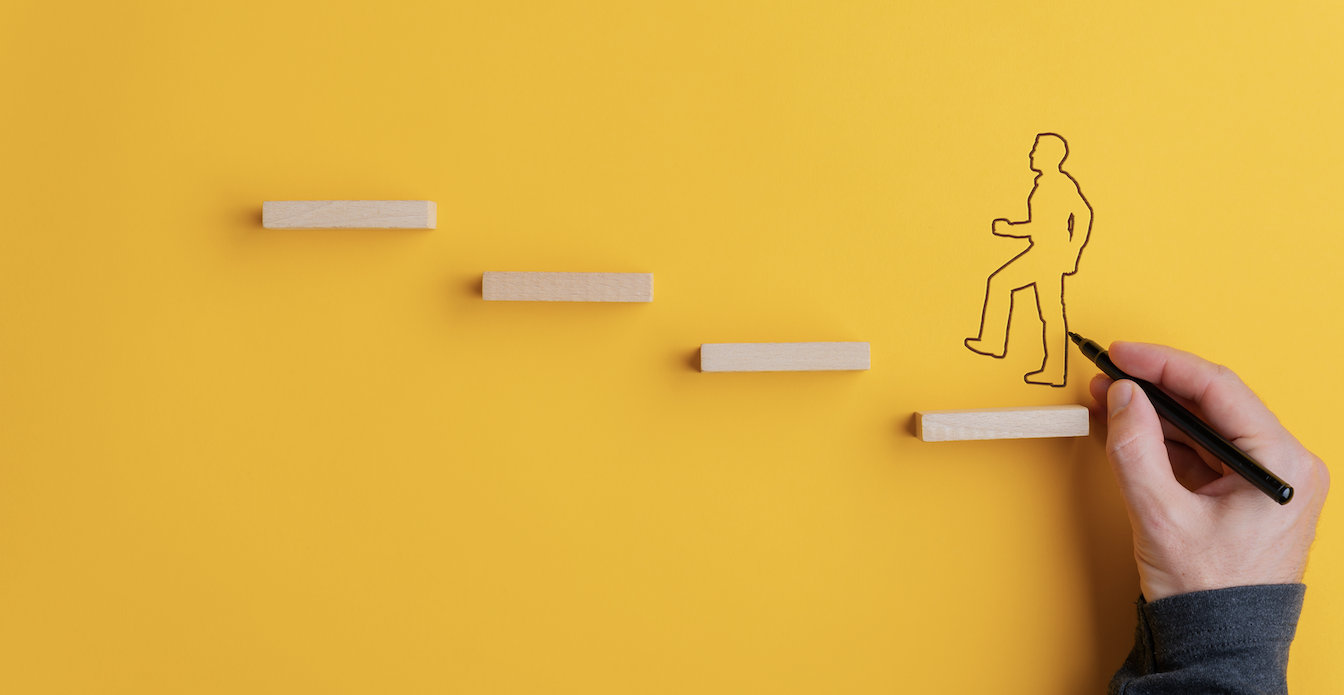 Community colleges have always provided non-traditional opportunities for students. And now, a non-traditional solution is providing opportunities for California community colleges, helping create innovative space to bring students back to campus after two years of remote learning.
Students zip along tree-lined paths on scooters. There are lines at Starry Sky Coffee. A climate change exhibit opened at the campus art gallery. Cheers ring out from a soccer game.
It feels almost like 2019 at Santa Maria's Allan Hancock College, which welcomed thousands of students back to campus for the start of fall semester.
But that's still a thousand less than pre-pandemic.
After a multi-year decline—enrollment fell around 19% in the California Community Colleges System between fall 2019 and fall 2021—districts are mobilizing to entice students back to in-person learning. And they're doing it in unconventional ways.
Community colleges have always offered an affordable alternative to four-year universities, providing technical education, vocational training and local workforce development in addition to traditional career paths. But now community college districts are rethinking what they can offer and reshaping campuses to provide what today's students want and anticipate what future students might need.
Some, like Allan Hancock College, are expanding popular programs like MESA/STEM, creating resource centers to promote academic success and adding student services like food pantries, laundromats and campus health centers.
Other community college districts are introducing new career pathways and increasing leadership development programs for older, working adults—even building new tech-driven campuses to provide college-based training for high-demand fields like emergency response and sustainable agriculture.
But it's not enough to offer the program or add the service; community colleges have to create the space to support additional programs and services. They need new facilities, and they need to get them up and running as quickly as possible.
Historic Funding for California Community Colleges
California community colleges make up the nation's largest higher education system, enrolling 1.8 million students at 116 campuses. They train the workforce that sustains California's economy, yet many campus buildings are outdated, unable to provide the technology infrastructure for modern learning. Structures meant to be temporary are still in use decades later. And some newer programs require hands-on training in specialized spaces that colleges don't have.
The 2022-2023 Five-Year Capital Outlay Plan acknowledges the need, allocating $9.0 billion for new facilities construction for California community colleges between 2022 and 2027.
While this creates unprecedented opportunities to modernize and expand, it falls short of the $9.3 billion required to build the 4.9 million square feet of new space California community college districts estimate they need to accommodate current and future enrollment. With inflation driving up build costs, the projected shortfall—around $300 million in today's dollars–could be even greater.
Instead of deferring projects or leaving critical needs unmet, community college districts have another option: modular construction—a budget-friendly solution that can reduce build costs 25-35% while delivering the same facility design.
Four Ways Modular Construction Benefits Community Colleges
The pandemic has changed education, creating new challenges and expectations. Today's students want more out of higher education. They're looking beyond lecture halls, textbooks and computer screens to innovative spaces and amenities that provide a more robust college experience.
They want inspiring, tech-friendly environments that support hybrid learning and comfortable spaces where they can relax, socialize and study. They want on-campus services that help them balance work, life and school and resources that advance their personal and professional growth. They want to feel safe in healthy buildings that make a positive impact on the environment and their local community.
And they're choosing schools that offer what they want college life to be.
To attract and retain students, colleges must adapt and evolve. Modular buildings help facilities evolve with them, benefiting community colleges in four essential ways.
Fastest-to-Market Construction with Minimal Disruption
Flexible Space and Amenities at a Lower Cost
Specialty Spaces Customized to a Variety of Needs
Sustainable Design That Enhances Health and Well-Being
1
Fastest-to-Market Construction with Minimal Disruption
Conventional construction takes years to design and construct buildings that community colleges need now. Labor shortages and stalled supply chains have slowed conventional construction even more, leading to long wait times to start projects, with completion often years away.
Onsite construction is disruptive, interfering with school activities and increasing air and noise pollution—a significant issue for a system that averages 8,211 students per campus, 10-20 times higher than a typicalK-12 school. And college students are on campus day and night year-round, intensifying safety risks on a busy site.
How modular construction helps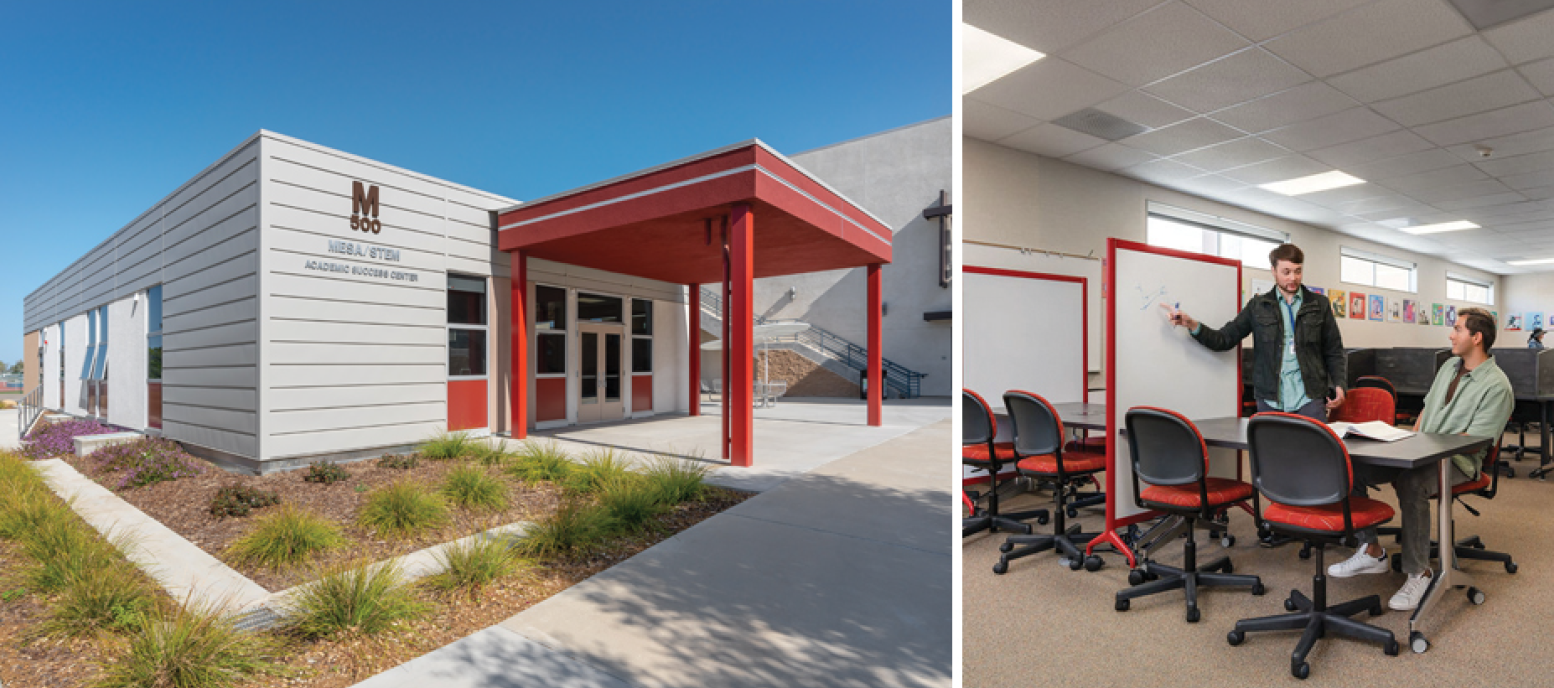 Allan Hancock College | Academic Success Center | Santa Maria, CA | 19Six Architects
A factory-built AMS FORM building was installed in a day onsite, adding
2,880 SF of state-of-the-art MESA/STEM space.
2
Flexible Space and Amenities at a Lower Cost
Today's students want options for how, where and what they learn. As learning becomes more flexible, learning spaces need to flex, too, accommodating different programs, activities and teaching methods in multifunctional environments with the infrastructure to support hybrid learning.
Community colleges looking to meet the multi-faceted needs of a diverse student body are finding that needs often exceed budgets. New facilities are funded primarily through the state's Prop 98 General Fund, with the balance derived from state and local general obligation bonds and local property taxes. To create dynamic designs on a limited budget, districts must maximize the utility of every square foot.
How modular construction helps
Modular's ability to fast-track projects with greater cost predictability favorably positions community colleges as construction-ready prospects for priority funding. Once a contract is in place, factory costs are fixed, assuring districts of on-budget, to-spec delivery with minimal change orders.
AMS' streamlined process saves money at every phase of project delivery. A large library of DSA-PC designs can be replicated for multiple buildings or sites, each individualized with project-specific features and aesthetics. Using Prop 98 funds (instead of OPSC/SAB funds) allows community college districts to accelerate procurement with piggyback contracts. Production efficiencies reduce labor and material costs, ensuring delivery of higher quality buildings at a cost 30% less than conventional.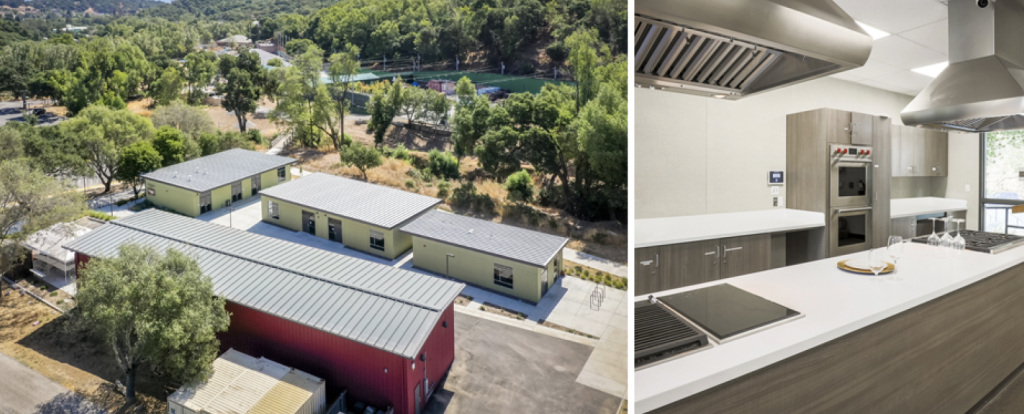 College of Marin | Organic Farm | Novato, CA | LPAS Architecture + Design
COM cut costs with a piggyback contract and DSA-PC adapted for three
AMS FORM buildings customized with flex-space and a teaching kitchen.
3
Specialized Spaces Customized to Needs
To resonate with students, community colleges are looking to create what their name implies: a community that fills a majority of needs within an all-inclusive campus environment. They're expanding beyond academics, offering essential services and resources that support the whole student in auxiliary facilities that advance personal, social and career development.
Community colleges are also looking to modernize career education, reconcepting learning spaces to align with new opportunities and a heightened focus on hands-on learning. Cutting-edge fields require immersive, tech-driven training that can simulate real-life experiences in highly custom environments—new spaces that must be designed and built before programs can be added.
How modular construction helps
Modular simplifies complex projects, giving districts the option to add a single building, multiple buildings or a complete campus, built to their unique specifications. Virtually any conventional plan can be modularized, with different module configurations assembled into a fully custom building that fits seamlessly into the overall campus aesthetic.
In addition to classrooms and labs, special use spaces can be configured and fitted out to support specialized career tracks, as well as help students manage every aspect of their daily schedules.
Healthcare and Medical
Kitchen and Concessions
Laundry Facilities
Libraries and Resource Centers
Lobby and Office/Administration
Sports Facilities and Locker Rooms
STEM Buildings/Science Labs
Student Unions/Student Services
Study and Lounge Areas
Gyms and Workout Rooms

Fresno City College | First Responders Center | Fresno, CA | SIM/PBK Architects
A hybrid AMS EVOLVE campus for emergency response training features separate
fire and police wings with 23 high-tech spaces, VR training and fitness.
California colleges are progressive, making sustainable practices part of building design—to soften the environmental impact on their local communities and provide a safer, healthier environment that makes students feel comfortable returning to campus.
Many community college districts are committed to lowering their carbon footprint with sustainable innovation, exploring energy alternatives, choosing natural materials and integrating sustainable technologies that pay back in lower operating costs. As community colleges prepare a new generation of workers for fast-growing green careers, they're finding that their best teaching tool is the building itself.
How modular construction helps
Modular buildings are more eco-friendly than traditional buildings. Efficient construction and transportation methods conserve resources and reduce waste, significantly lowering a modular building's environmental footprint. Modular buildings are not only built more responsibly, they can be optimized to achieve a district's desired level of LEED certification at a more economical cost.
GEN7 high-performance buildings are a turnkey sustainable solution, adding value with high-end features, recycled materials and advanced technologies that prioritize the well-being of students, teachers and the earth. They're highly energy efficient, filled with natural light and fresh, filtered air to create a healthy, comfortable environment that increases student satisfaction and productivity.

MiraCosta College | Science Building | Oceanside, CA | MJK Architecture
The ZNE, LEED Platinum building is solar-powered, site-optimized to generate
enough electricity to power the 3,360 SF GEN7 building year-round.
Modular Student Housing: An Affordable Option for Community Colleges
Most California community colleges were built as commuter schools so it's no surprise that only 11 of the 116 offer student housing. Recognizing the unmet demand for low-rent housing on or near campus, the 2022 state budget earmarked $1.4 billion to build or expand student dorms, with billions more potentially on tap for housing development grants and interest-free loans over the next few years.
Modular buildings address the student housing problem head-on, giving community colleges fast, affordable housing options responsive to need. Renovating older buildings to provide housing units is more expensive and disruptive to campus life than installing new factory-built housing units ground-up—an option that allows colleges to increase capacity rapidly at a lower cost per bed.
AMS modular housing designs are fully customizable, with student-centered layouts and modern amenities tailored to the personal and educational needs of 21st century students. Modular concepts can be configured for any site and style—traditional dormitories, shared suites or apartment-style housing—fast-tracked to help districts reduce student housing insecurity in their communities.
AMS modular buildings create a home away from home, with the flexibility to include:
ADA-compliant shared or en suite baths
Digital interface with conveniently-placed outlets
Energy- and water-efficient fixtures
Indoor/outdoor spaces for socializing and studying
Kitchens, kitchenettes and snack rooms
Lobbies, lounges and study areas
Laundry rooms/mud rooms

Modesto Junior College | West Campus Housing | Modesto, CA | LPAS Architecture + Design
Seven ranch-style residential buildings create a campus neighborhood, each with
four bedroom suites, two bathrooms, kitchen, living/dining area and laundry.
Modular Solutions Help Community Colleges Create Positive Change
In times of uncertainty, community colleges are becoming more important than ever. So is modular construction—a cost-effective way to help community colleges support new kinds of learning in innovative new spaces that offer educational opportunities, economic advancement and essential real-world skills for students.
Students and community colleges don't just want options—they want better ones. AMS provides them with four branded building solutions that meet a full spectrum of needs, from turnkey to design-build.

Flexible space, sustainably built, customized to need, delivered 60% faster for 30% less—that's positive change we can build on.
Ready to build? We make it fast and easy with a library of DSA-approved designs and streamlined procurement options, including piggybacks, for every AMS and GEN7 building.
Learn more about our AMS and GEN7 Brands.
Browse our gallery of Community College Projects.
See how much you can save — Request a Quote.