Piggyback Update: SAB Takes Action to Restrict State Funding for Some Piggyback Projects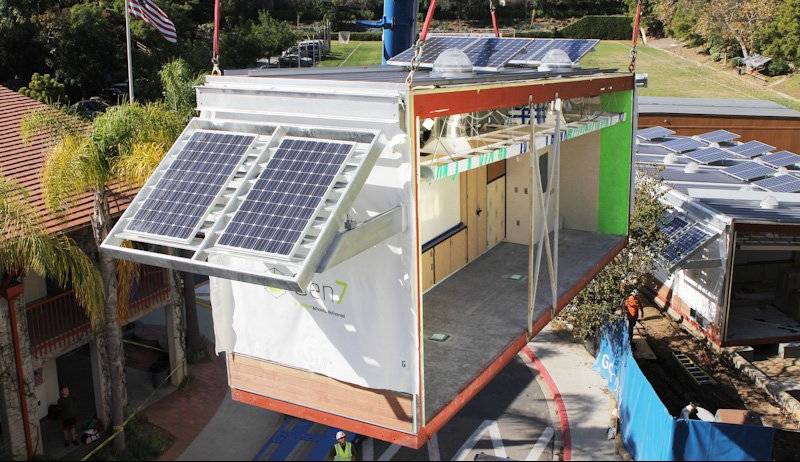 During its June 22, 2022 meeting, the State Allocation Board (SAB) clarified the future use of piggyback contracting for modular building projects in California. Despite school districts' overwhelming support for piggybacks, SAB voted to prohibit their use for permanent modular buildings seeking state school facility funds. SAB approved a 60-day grace period from June 23 – August 21 before transitioning to the new policy, which will affect capital funding for school districts statewide.
While the situation is still evolving—and is expected to include legislative updates as well as a formal opinion from the Attorney General—we wanted to keep you informed on the latest developments and let you know how the SAB action will impact current and upcoming projects, both near- and long-term.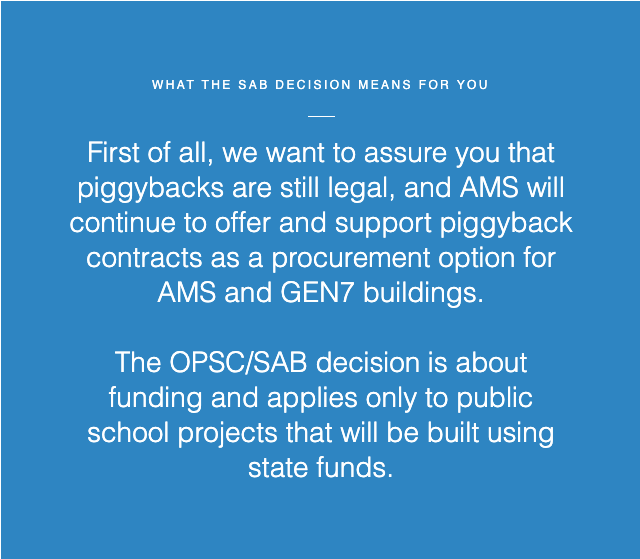 Projects Impacted by the OPSC/SAB Decision
SAB-administered funding will not be approved for modular buildings on concrete foundations purchased using a piggyback contract after the 60-day grace period ends. Effective August 22, 2022, permanent modular buildings must be competitively bid to receive state funding.
Projects NOT Impacted by the OPSC/SAB Decision
OPSC/SAB funds can be used for portable and relocatable buildings on temporary wood foundations purchased using a piggyback contract. This includes AMS Rapid Response and AMS 2GO buildings.
Piggyback contracts can be used for all modular construction/installations that are funded by non-SAB-administered sources, including GO Bonds, Developer Fees and General Fund monies.
Applications for Funding for projects with piggyback contracts signed on or before August 21, 2022 will continue to be processed. Construction contracts signed after August 21 will be reviewed under the new policy, currently under development.
Other Procurement Options for Schools
AMS appreciates SAB efforts to bring much-needed clarity to a complex issue and will continue to work with school districts, CASH and other organizations to advocate for piggybacks. Now, more than ever, districts need a full toolkit of options to modernize and build facilities quickly and affordably.
Our goal is to make it as easy as possible for all school districts to procure the safe, healthy facilities needed for students and teachers. Our AMS Sales Team can advise you on the procurement options appropriate for your projects and help you find the best solution for your needs.
We'll keep you up-to-date as we navigate these changes and will be providing more information and guidance in the upcoming weeks. SAB's actions have raised many concerns, so please consult your legal counsel about the contractual and financial implications—and reach out anytime with questions.