Innovate Forward: How Creativity and Collaboration are Transforming Modular School Design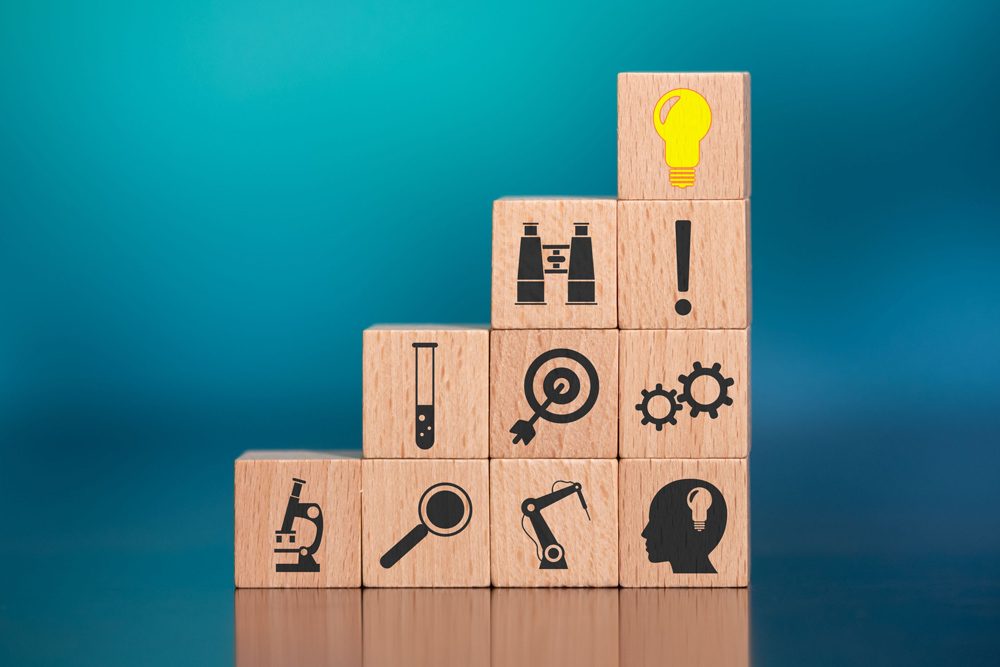 A new year is a chance to embrace new ideas and forge ahead with a bold vision. Three progressive new projects show how AMS is innovating forward, partnering with schools to create transformational environments that empower a new generation of innovators.
Innovation.
It's more than a word; it's a pivotal part of The AMS Core Four—key values that guide our business forward, driving us to provide a better experience for our students and teachers and achieve better outcomes for our schools and communities.
While the pandemic was a quiet break for some, we used it as a time to push ahead, to approach challenges as opportunities to create new kinds of buildings that meet the demands of a future that's ever-evolving.
We challenged each other to make things better in ways that matter, improving our buildings in meaningful ways and creating new designs by pivoting in a different direction—adding features, reducing costs, shortening schedules, expanding capabilities and exploring new technologies to bring greater value to every project.
Innovation opens us to new possibilities. Inspires us to take risks, create a tomorrow better than today.
It all starts with a great idea.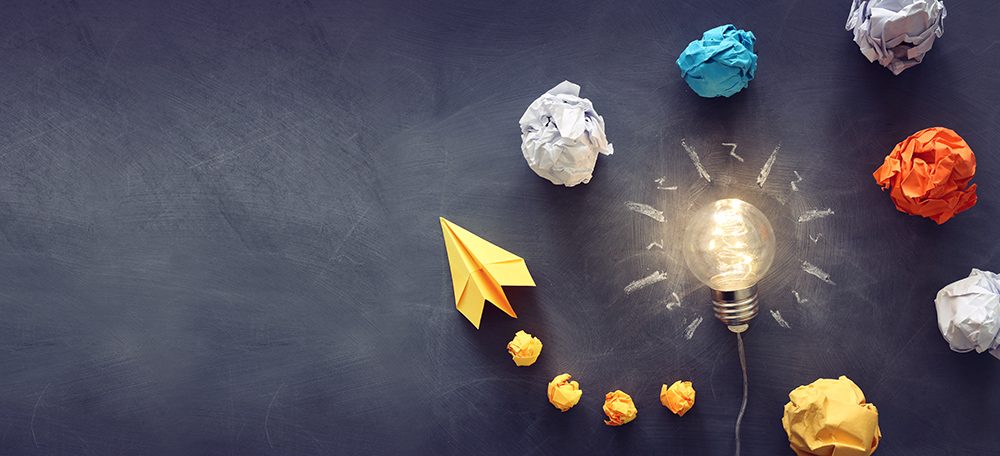 Turning Great Ideas into Great Buildings
Great ideas are transformative. We ask, "what if…?"and nurture a simple question into a vision of what could be. AMS creates a roadmap to get from here to there, turning a bold vision into a building that holds the hopes, dreams and future of a community within its four walls.
In 2021-2022, we're introducing three forward-thinking projects that innovate to fulfill a clear vision. While the projects are very different, all three embrace a people-centric philosophy. Each design began as a shared vision focused on the people we're building for and offers a solution that fulfills a core need, one that enhances quality of life—and learning.
These projects represent innovation at all levels of education, from pre-K to college. They approach learning in new ways, with imagination, purpose and a fresh perspective on what students need, how they learn and how the learning environment can make the experience more rewarding.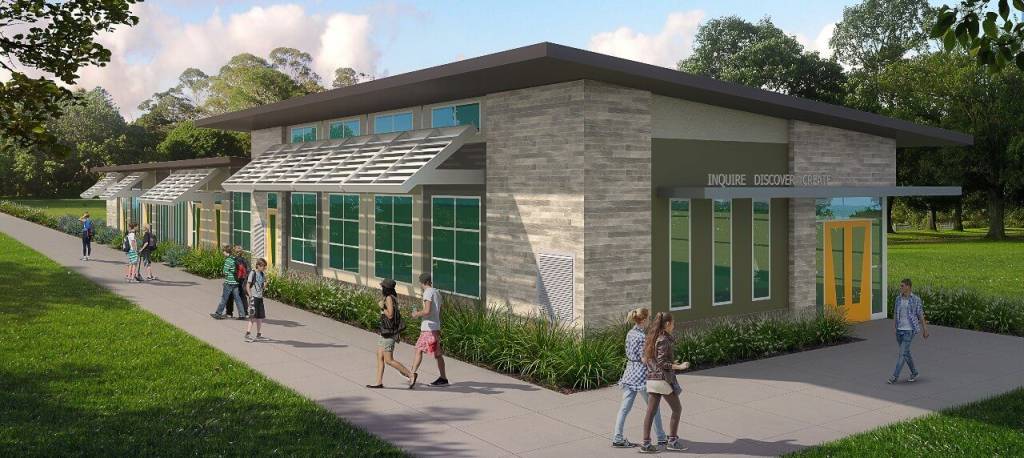 1
Serendipity School
Belmont, CA
Though the terms are used interchangeably, they're two different things. Prefabricated is a broad category of factory-built buildings, while modular buildings are a specific building type. Modular construction uses a prefabrication process but not all prefabricated buildings are modular.
Health. Well-being. Staying connected and kind—to each other and our environment. Priorities have refocused in the past two years, and school buildings are actualizing the trend.
Serendipity School's Arts and Enrichment Center reflects the renewed focus on a healthy, wholistic approach to learning. The school's vision is baked into the building's name—enrichment. Serendipity wanted to enrich the educational experience by providing an inclusive, creative atmosphere that promotes healthy learning while offering multiple touchpoints for engagement—indoors and out.
Partnering with Studio W Architects, AMS used high ceilings and expanses of glass to create airy, sunny spaces for art, music, language and PE. Solatubes and walls of windows daylight the building. Recycled materials and high-efficiency systems maintain a clean-air environment with smart controls for year-round comfort. Warm earth tones and sustainable accents blend with the natural beauty of the setting.
Everything is mindful, soothing and balanced—the antidote to a chaotic world—with thoughtful design connecting inside to out, people to people and people to the environment in mutually productive ways.
The GEN7 C series is a sustainable design fully customized to specific needs and goals. Serendipity's 4,800 SF building is configured to include a large multipurpose room, technology/innovation lab, art studio, library and kitchen, in addition to office space, separate student/staff restrooms and storage.
Design Highlights
The space, like the school, promotes creativity and innovation in a supportive, encouraging environment that's healthy and comfortable for Serendipity's K-5 students.
Sustainable design connects students, teachers and the environment.
Fluidity between indoor and outdoor learning areas invites exploration.
A dynamic layout provides multi-use space for enrichment activities.
Natural ventilation and high-efficiency air filtration ensure superior IAQ.
Innovative Features
Safe, low-maintenance materials and an earth-friendly aesthetic create engaging spaces filled with fresh air, natural light and outdoor views—all beneficial to learning.

Storefront and clerestory windows that maximize sunlight
Steel doors with viewlites and sidelites for clear sightlines
Corrugated aluminum wainscoting on façade
Woodgrain ceramic accent tiles on end walls
Elevated TK' roof with tall TK' ceilings
Solar-ready metal shade overhangs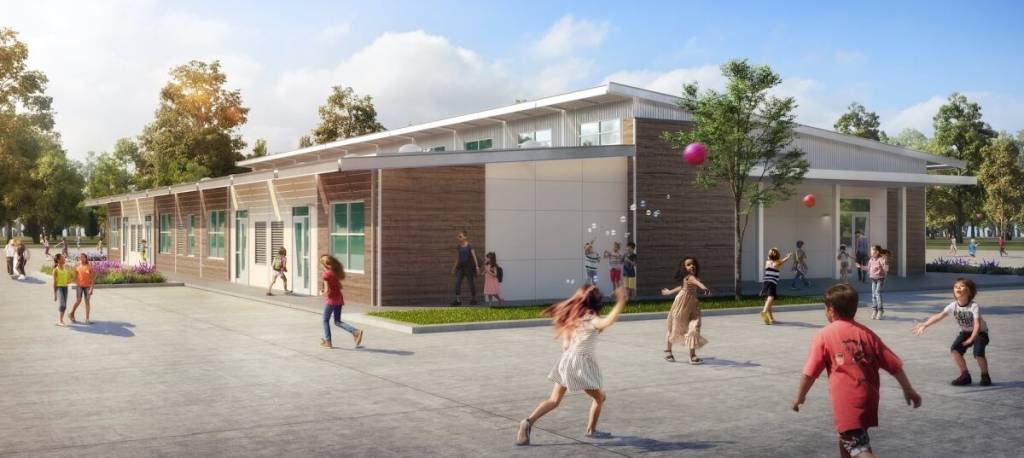 2
Murray Elementary School
Dublin Unified School District
Dublin, CA
Making schools safer is on everyone's agenda, but with it comes a design paradox: finding ways to make learning spaces open and inclusive for students and teachers while secure from outside threats.
Schools can increase security with safety technology like a central locking system, surveillance cameras, intercoms and alarms, but a controlled access building provides a higher level of protection—a priority for Dublin's Murray Elementary and AOR, Lionakis Architects.
An interior corridor design with classrooms opening to an enclosed central hallway is a secure solution for two-story buildings, but community restrictions locked Murray into a single-story addition. DUSD's vision—delivering the enhanced security of an enclosed corridor design in a single-story building—came with another challenge: delivering it on the District's schedule and budget.
Traditionally, a single-story enclosed corridor design required conventional construction, which would have taken years to build a facility DUSD needed immediately. By modularizing a conventional design, AMS significantly reduced the timeline, affordably delivering a student-friendly classroom building that manages access by funneling visitors into a main entrance.
GEN7 C is ideal for complex projects like Murray, which require premium buildings customized to exact specs. The multi-building project features 28 elementary classrooms in four enclosed corridor building wings, with a separate four-classroom kinder wing—a total of 48,216 SF of 21st century learning space.
Design Highlights
The fully custom design strikes a balance between a free-flowing interior and a restricted access exterior in a single-story building that looks and feels like a two-story.
Two-story conventional design is re-concepted as a single-story modular building.
Streamlined entrance naturally minimizes threats with a single point of access.
Spacious lobby accommodates multiple safety and health screening checkpoints.
Open interior is warm and welcoming, with space for students to circulate freely.
Innovative Features
High-end features are both functional and aesthetic, creating an urban Silicon Valley feel that's appealing to students and conducive to productive learning.
Steep 21' pitch roof—40% taller than a standard GEN7
19' open beam ceilings with exposed ductwork
Conditioned 11' wide hallways with decorative acoustic panels
Clerestory windows for extra daylighting and privacy
Hallway bump-outs and alcoves for study and gathering
Large hallway skylights that naturally light central corridors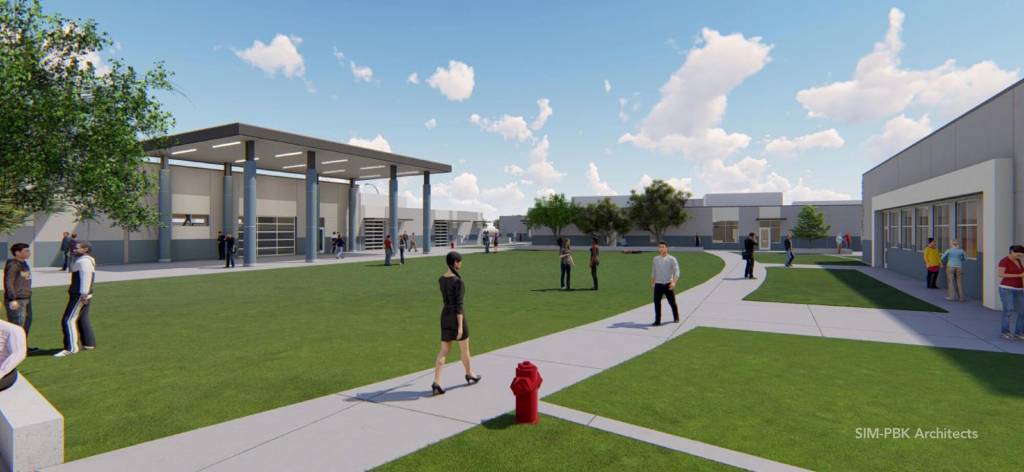 3
First Responders Center
State Center Community College District
Fresno, CA
Typical K–12 layouts aren't designed for adults in a continuing education environment. Emergency response training adds another layer of complexity, requiring sophisticated technology integrated into high-impact spaces that simulate highly specialized working conditions.
State Center had an ambitious vision for its new First Responders facility: to both unify and separate the school's Fire and Police Academies, connecting individual technical training spaces in a cohesive design that supports simulated real-life experience as well as classroom learning—all in a single complex on the Fresno City College campus.
Working with SCCCD and SIM-PBK Architects, AMS created a variety of unique modular configurations that fit micro-specific emergency response programming for each academy, using shared common spaces to maximize utility while bringing costs in line with budget.
The hybrid design features independent modular fire and police wings flanking a conventionally-built central entrance that opens to a spacious lobby and conference area. Classrooms, user support spaces and administrative areas meet the specialized needs of cadets, trainers and staff, accommodating different teaching and training methodologies in a space-efficient footprint.
AMS Evolve offers a collaborative design-build delivery method that maximizes flexibility for large-scale projects needing full customization. Ten modular buildings provide 23 teaching and training spaces that integrate advanced technology for hands-on learning in a series of indoor and outdoor venues.
Design Highlights
AMS found creative ways to redefine spaces to meet multiple needs and serve multiple programs in "beyond the classroom" environments for learning, training and conditioning.

Integrating modular and site-built structures creates a unified campus identity.
Program-specific spaces are fully customized to support two distinct curriculums.
A shared entry, lobby and conference area makes the most of space and budget.
Specialty spaces include fitness center, locker rooms, kitchen and computer labs.
Innovative Features
The user-centered design emphasizes accessibility and connectivity within a high-tech infrastructure that promotes positive outcomes for a variety of emergency response scenarios.

A variety of unconventional room sizes and layouts tailored to use
High ceilings designed to fit the functionality of each space
Upgraded power infrastructure to support sophisticated technology
Connection between indoor and outdoor learning areas and courtyards
VR simulation for real-life learning in a safe, monitored environment
Individually controlled climate and lighting for comfort and performance
Innovation Empowers Innovation
Building great schools requires a culture of innovation, a commitment to not just challenge ourselves but to challenge the status quo and move beyond it.
At AMS, we look for innovation from everyone, bringing educators, architects and builders together in a collaborative process where all input is appreciated and the entire team is committed to welcoming new ideas and working collectively to activate a shared vision. Our projects are stronger for giving everyone a voice.
In today's learn by doing world, everything is connected. Reimagining the environment where we learn shapes how we learn, removing barriers and teaching students to embrace technology, explore possibilities and find new solutions to real-world challenges.
Our creative thinking creates environments that inspire students and teachers to think creatively—problem solving, ideating and learning from each other, in the classroom and for the future.
Innovation empowers innovation. And innovation moves us all forward.
Get inspired! Browse our gallery of innovative modular Projects.
Partner with us. See why you'll love our best-for-you building Solutions.
Let AMS integrate the latest design trends into your next project. Request a Quote!