Top 5 Modular Classroom Design Trends for 2021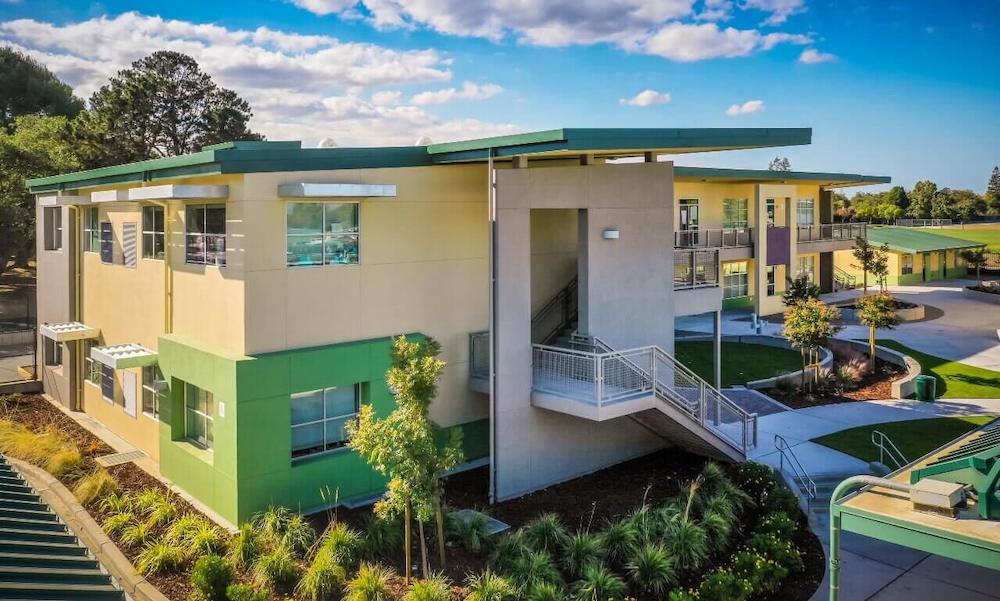 The pandemic has been a disruptive trendsetter. Schools are already moving in a new direction with innovative, future-proof classrooms that transition learning environments for a new era of learning.
For a long time, new schools looked a lot like old schools. Change was gradual as learning evolved with technology and design shifted to support 21st century programming. But 2020 kicked evolution into overdrive, introducing new ways to learn and new protocols to keep our communities safe.
There's no going back now—only forward.
Where students learn is just as important as how they learn. As much as 25% of a student's progress is influenced by classroom design—a cumulative effect that can advance or hold back academic success.
Faced with tight budgets and even tighter timelines, school districts realize the need to make good design choices. And modular builders like AMS are working with them to create innovative learning environments that maximize the performance and potential of buildings, students and teachers.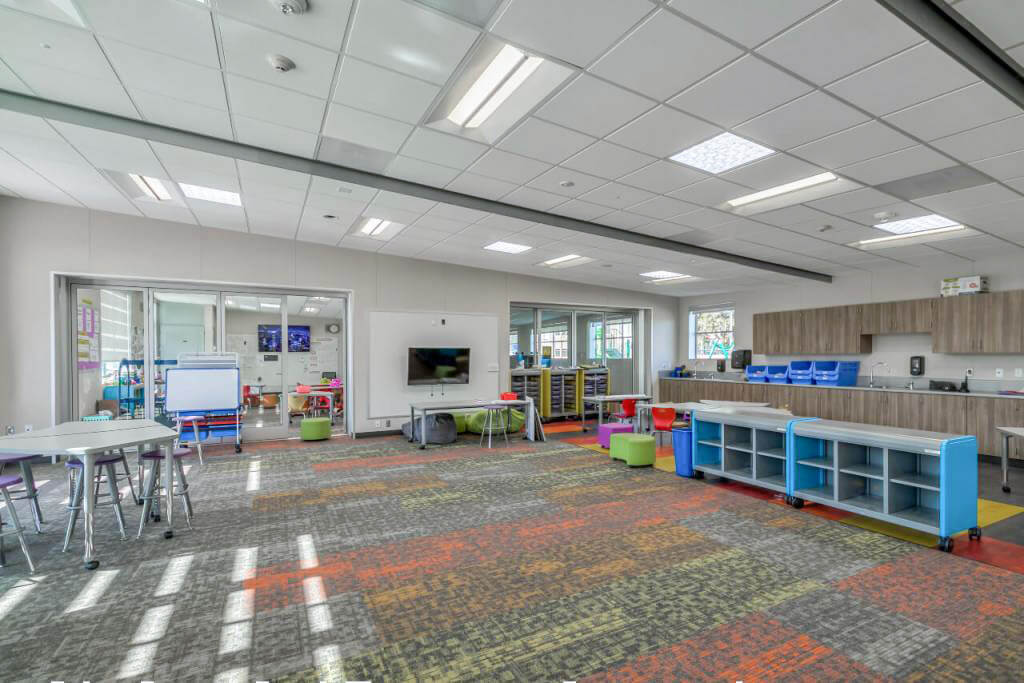 Modular Classroom Trends:
Doing More with Less
With school needs growing faster than budgets, spaces have to work harder. Schools are getting inventive in how that space is defined and used, shifting from programmed to unprogrammed environments that optimize the efficiency of each space. Trending designs anticipate change and are agile in adapting to a wide variety of users and activities.
Built-in Flexibility
Open floorplans are a blank canvas for multiple learning methods. As class sizes fluctuate, classrooms will need to flex on demand, recalibrating for increased capacity or downsized learning. Design features like interior partitions, sliding glass NanaWalls and mobile furniture give students room to move around and make it easy for teachers to reconfigure space throughout the day.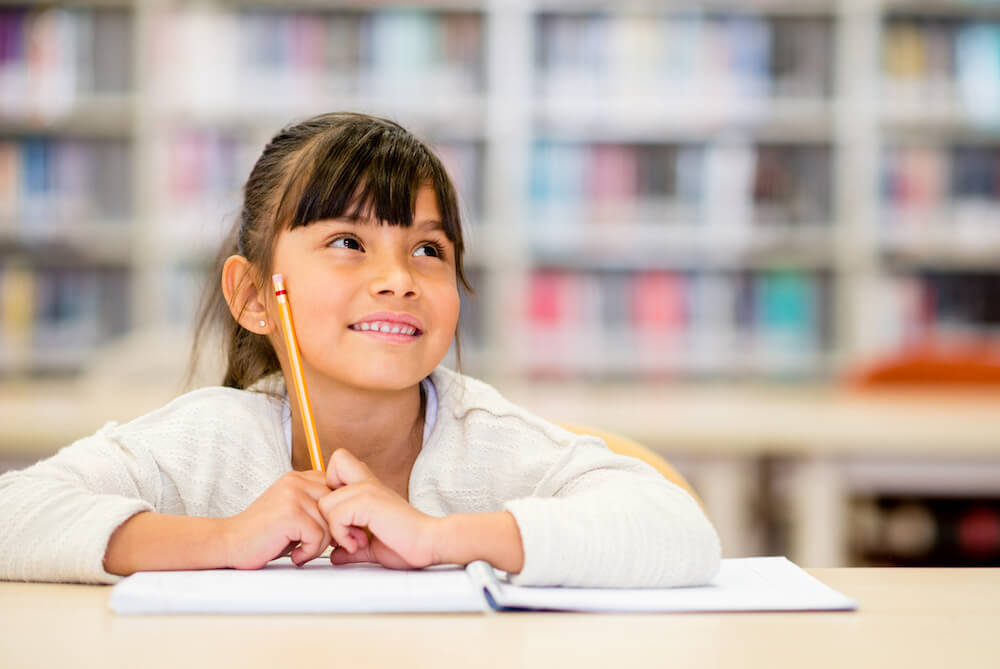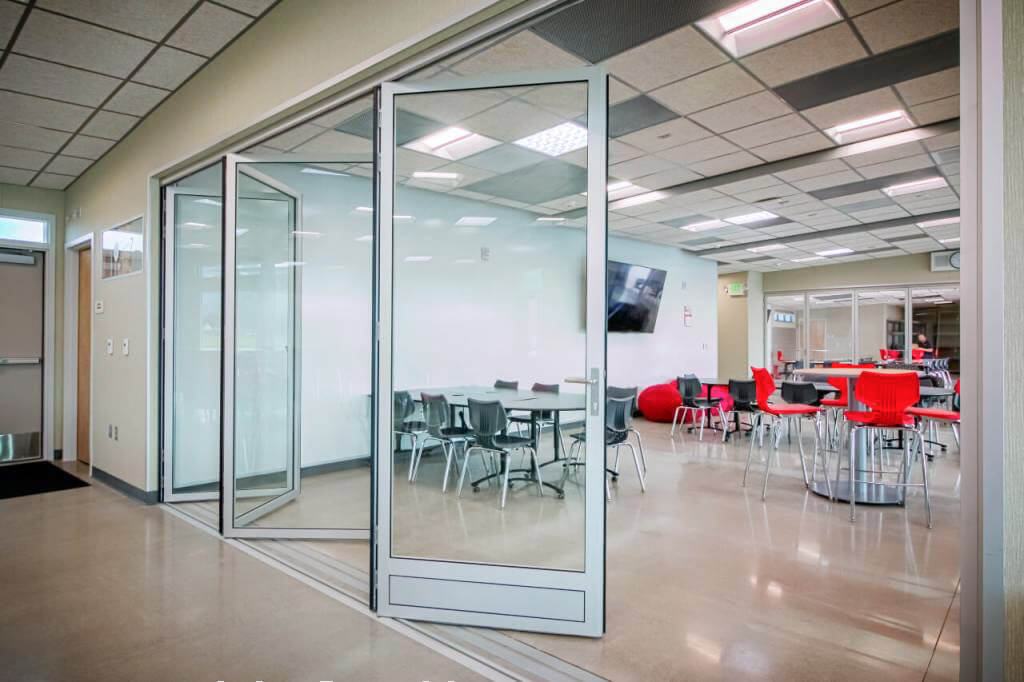 Central Hubs
As programming expands, AMS and other modular builders are creating shared spaces that can multi-task. Central hubs, like the one at Campbell School of Innovation, are going mainstream, clustering classrooms around a multimodal space that can be used at different times by different groups for different types of learning.
Social Distancing
What started as precautions for a pandemic are now a blueprint for the post-pandemic. CDC guidelines are influencing school design, prompting new schools like Flora Arca Mata Elementary to expand lobbies and widen hallways, walkways and entries for safe social distancing. AMS floorplans allow multiple configurations to support socially distanced learning with desks, tables or project-based seating.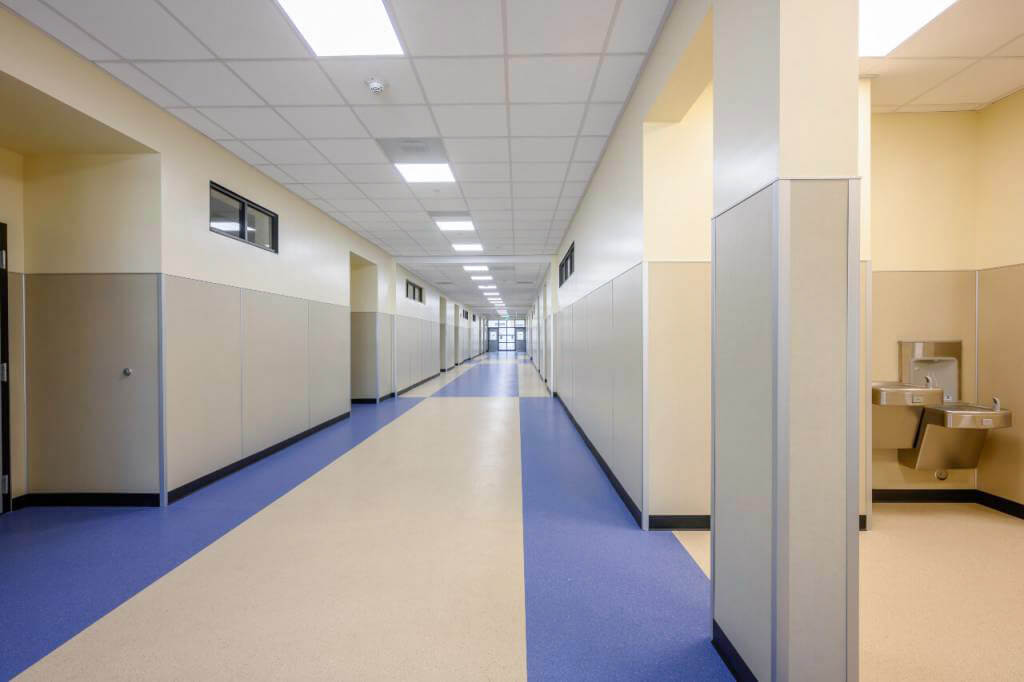 Health and Wellness Stations
To help schools transition to new health protocols, AMS is integrating wellness features at the factory, offering design options that rough-in handwashing and sanitation stations in classrooms and provide extra space for health screening at school entrances. Some schools are taking it a step further, adding health and wellness suites near the front door.
Smart homes are here, and smart schools are gaining traction. As schools augment their tech infrastructure, yesterday's technology is being replaced by intelligent systems and features that create a controlled environment for enhanced safety and productivity.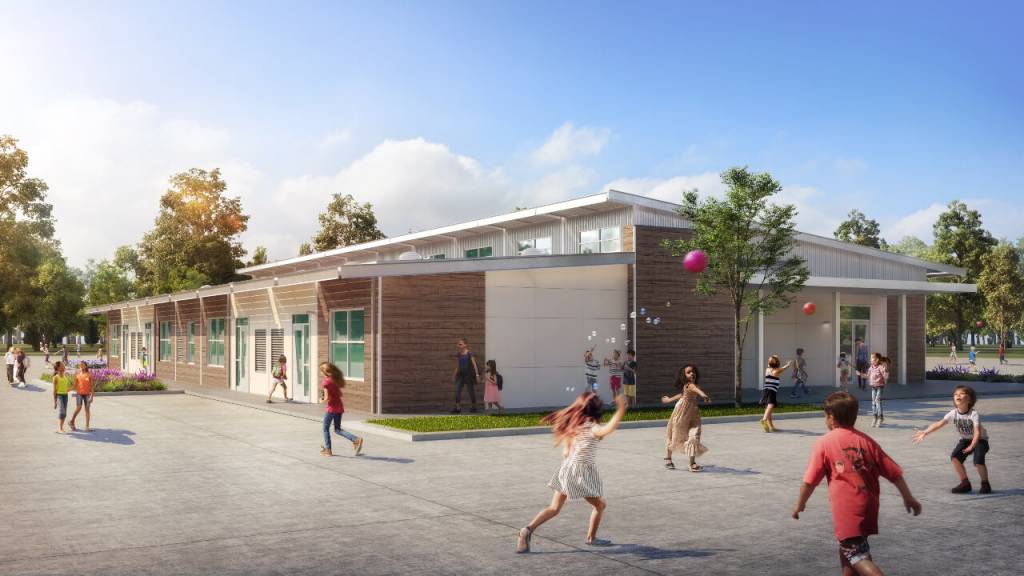 Automated Systems
High-performance buildings already onboard systems that prioritize comfort and well-being. GEN7 classrooms set the standard, automating classrooms to create ideal learning conditions. Occupancy sensors automatically adjust the thermostat based on the number of people in the room. Auto-dimming LED lights respond to a classroom's natural light. Productivity goes up; energy costs go down.
Touchless Technology
The demand for touchless technology is growing 17.4% per year and projected to reach $15.3 billion in 2025, up from $6.8 billion in 2020. As touchable surfaces are phased out, sensor and voice-activated technology will shift from luxuries to must-haves.
High-frequency touchpoints, like faucets, toilets, light switches and thermostats will become hands-free as schools look to technology to mitigate disease transmission. New technologies like hover detection will eliminate shared touch interfaces, allowing students and teachers to navigate interactive displays without contact.
Indoor Air Quality Controls
The EPA ranks indoor air pollution among the top five environmental risks to health. To reduce sickness and missed school days, districts are upgrading HVAC systems and air quality monitoring for healthier learning.
AMS' GEN7 buildings are ahead of the curve, equipped with carbon monoxide and humidity sensors that work with continuous ventilation systems and MERV-13 filters to remove contaminants and keep fresh, clean air circulating throughout classrooms. Schools are also adding supplemental devices like portable air purifiers and UV irradiation systems that kill viruses like COVID-19.
Real-Time Security Integration
Districts are being proactive, working with builders to integrate real-time security management capabilities into modular building designs. Technologies like electronic door locks, video surveillance and visitor management systems control access and accelerate emergency response, remotely and onsite.
AMS is already planning buildings with enhanced security in mind. To control access from all entry points, AMS recently introduced an innovative single-story interior corridor design that offers the security of a two-story building in a one-story footprint.
3
Always-On, Anywhere, Anyway Connectivity
Technology is revolutionizing learning as well as the learning environment. Perhaps the greatest impact on classroom design is the rise of e-learning. A necessity in 2020, it's becoming a preferred option for 2021 and for good reason: e-learning increases retention by as much as 60%— six times the retention rate of face-to-face learning.
Schools are trending toward a blended approach that combines in-person and online learning in a single classroom. Modern learners can choose their path, and design is evolving to offer more options, engaging students and teachers in a dynamic environment designed to optimize academic outcomes.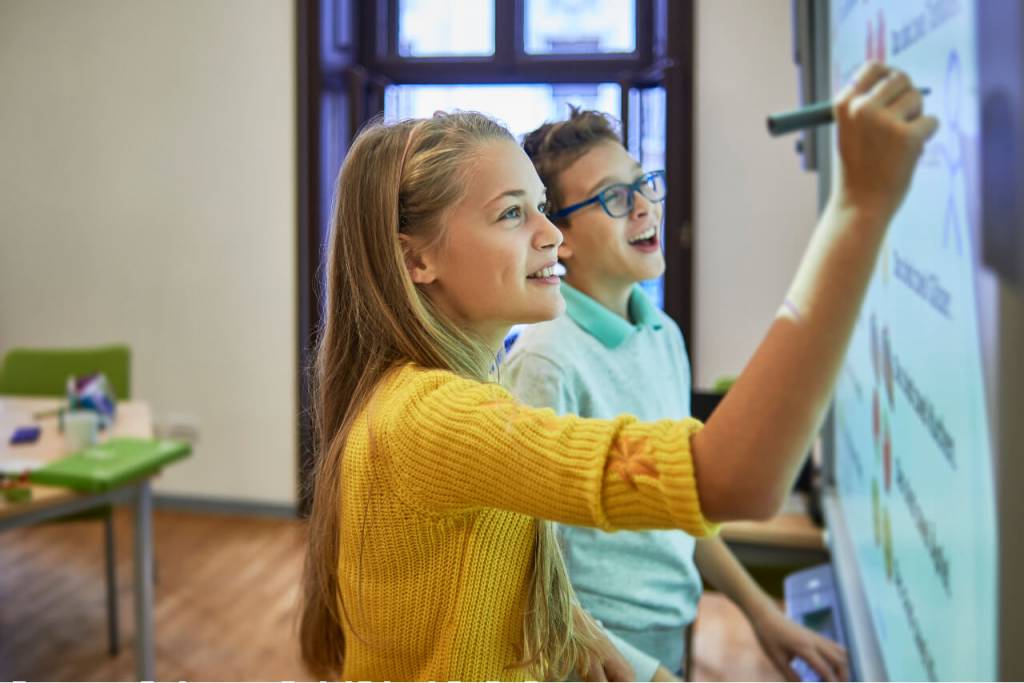 Digital Infrastructure
Digital devices and high-speed internet are the new whiteboards and colored markers. To give all students access to technology, schools need to be fully networked, with a robust power infrastructure that supports a multi-device environment.
Updated classroom design increases power access, with outlets spaced for individual use and indoor-outdoor Wi-Fi providing an always-on connection to school programs, data and resources.
Seamless Collaboration
Classroom design is redefining interconnectivity, creating an unrestricted, technology-rich environment where student teams can problem-solve and innovate together wherever they are—at home, in the classroom, in common areas or outside.
Collaborative software, mobile apps, video conferencing platforms and virtual and augmented reality kits give students and teachers the tools to be face-to-face virtually without sharing physical space.
Personalized Learning
While content is shared, learning is becoming more individualized, giving students the freedom to choose how and where they learn. AMS is reconfiguring floorplans to carve out quiet spaces where students can learn at their own pace, using their own devices. Locating writable surfaces and shared technology further apart enables independent, socially distanced learning within a learning community.
4
Low-Maintenance Materials
As our world becomes more complex, school design is becoming more streamlined, with a focus on utility and durability. Less maintenance means less stress and expense for administrators and staff and a safer environment that makes students and teachers feel protected and secure.
New design trends favor simple, clean lines and tough, long-lasting materials and finishes that resist germs and are easy to maintain, holding up to heavy use and frequent disinfecting.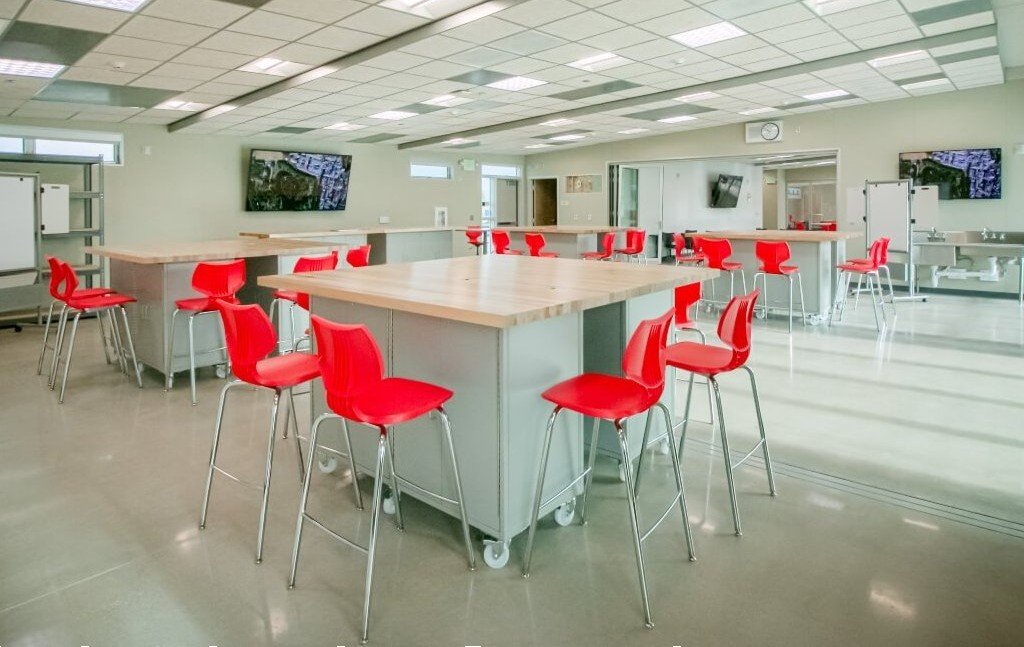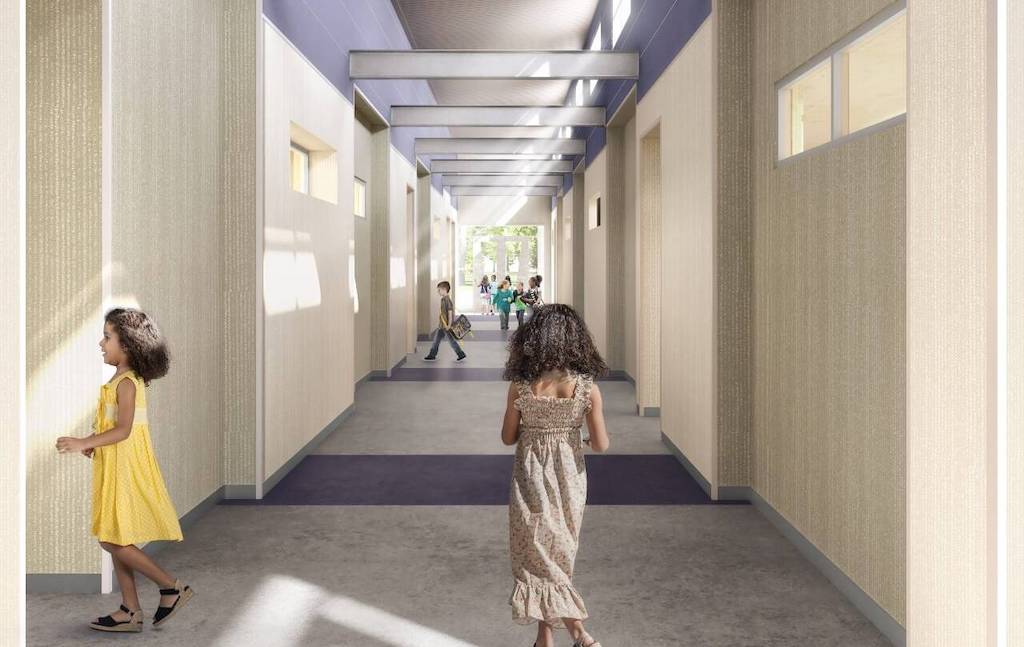 Easy-to-Clean Surfaces
Hard surfaces, like concrete and ceramic tile, and composite materials, like LVT and Corian—often used in hospitals– are hygienic choices to replace porous germ- and odor-trapping materials like carpet and wood. Smooth, stain-resistant flooring is more in-step with modern learning where students experiment in labs, furniture is on wheels and programming features robotics.
Antimicrobial finishes inhibit the growth of bacteria, mold and mildew on high-contact surfaces like door and window hardware and handrail systems.
Double-Duty Products
Progressive design is making savvy use of new products that bundle style and function. New campuses like Murray Elementary have upgraded acoustical performance with metal plank ceilings and fun, textured wall panels that absorb sound while giving spaces an urban-cool vibe students love.
5
Thinking Outside the Classroom
Schools facing capacity needs are discovering affordable, high-quality learning space outside the building footprint. The risk of virus transmission is 20% lower outdoors, where sunlight, fresh air and a connection with nature improve engagement and mental health, adding joy to learning.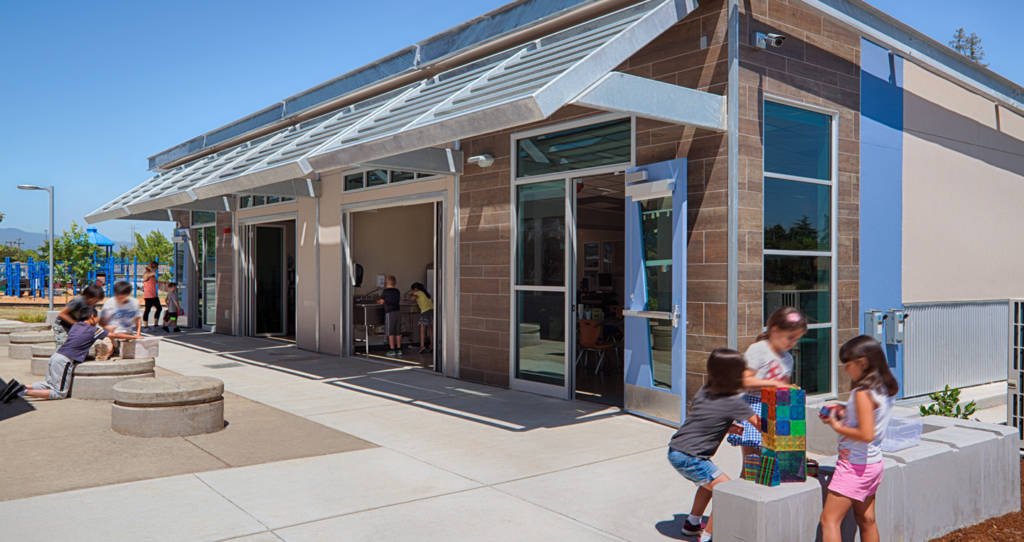 Indoor/Outdoor Learning Spaces
Schools are increasingly blurring the lines between indoors and out, incorporating courtyards, quads and learning plazas that function as open-air classrooms. Sliding exterior glass walls seamlessly transition indoor/outdoor spaces, giving students the freedom to spread out and study alone or work in groups.
Open Sight Lines
When students can't be outside, design can bring the outside in. Looking at green views through a window can reduce stress and improve concentration, and operable windows increase ventilation, as well.
New designs are visually expanding space with storefront windows, multi-window configurations and floor-to-ceiling glass walls that bring natural light and nature views into learning spaces that lack direct outdoor access.
Scalable
Modular Solutions
Schools need more space, and modular buildings can deliver high-quality space in as little as 60 days at a cost 30% less than conventional construction. And modular designs can be replicated districtwide, giving schools a customizable, scalable solution for fast-tracking modernization and expansion plans at a considerable cost savings.
Modular builders like AMS are nimble, pushing the boundaries of school design to create innovative learning environments that integrate the latest technology, features and materials into flexible floorplans that fit today's needs—and adapt easily to tomorrow's.
See how AMS modular solutions help school districts, architects, students and teachers succeed.
Learn more about our healthy, high-performance GEN7 classrooms.
Let AMS integrate the latest design trends into your next project. Request a Quote!