The Top 5 School Architecture Features for 2020 [+ What the Future Holds]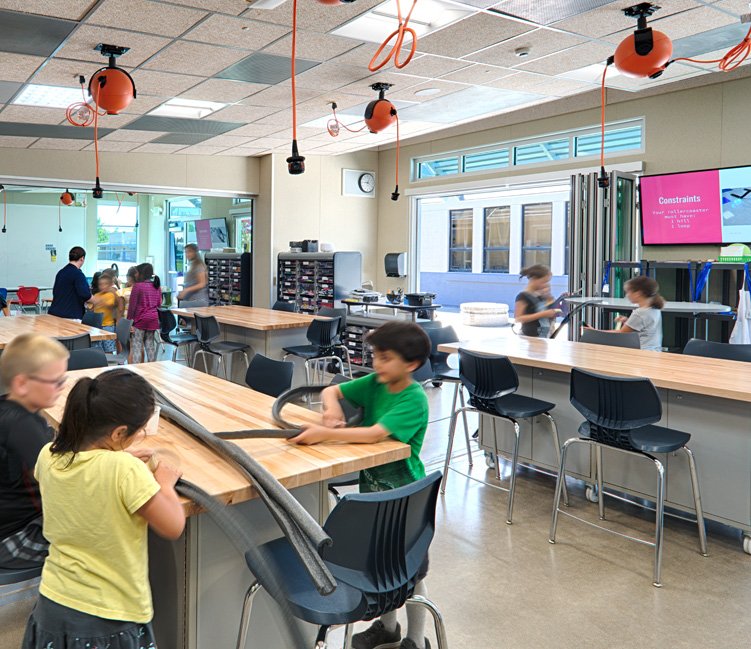 What are the top school architecture features for 2020? We used our modular construction expertise and insights from a seasoned architect to compile a list of priorities that districts across the country have implemented or plan to implement in the coming months.
Table of Contents
5 School Architecture Features for 2020
1. Connectivity
Once upon a time, schools had one or two bulky television sets on wheels that were shared across the campus, and desktop computers were kept in their own separate lab. This didn't affect the school's architecture, since the TVs were typically stored in a utility closet and computers were all kept in one room. Today, you'll find display screens in hallways, tablets and laptops in every classroom, and cutting edge devices like 3D printers and virtual reality headsets in specialty programs. This always-on connectivity means students are no longer restricted to the four walls of a certain classroom. As long as there's a network to connect to and devices available, students can collaborate with their peers in the cafeteria, catch up on
homework in a common area, or check out school announcements on the display screen in front of the administration building. Both present and future students will never know a world without the internet, so modern-day school architecture needs to prioritize current and future technology trends. Mobile devices will require flexible and reconfigurable seating arrangements, specialty devices like 3D printers will need secure storage, and the school's network will need to be accessible to everyone — no matter where they are on campus.
2. Collaboration
Gone are the days of identical, closed-off classrooms, hallways, and communal spaces. School architects are migrating toward features that encourage collaboration, like:
Connected flex spaces
Reconfigured layouts
Interactive whiteboards
Humans are social creatures, and many of us learn best through collaboration, peer-to-peer teaching, and problem solving. Open classrooms make these learning techniques easier by enabling students to work together to share ideas and use their creativity. Modern school architecture design must thereby support these efforts with group seating arrangements, moveable furniture options and open spaces where students can explore their ideas.
Architects are also adding small spaces between connected classrooms and breakout spaces in individual classrooms. This provides space for individual student testing, small group collaboration, and one-on-one teacher and student work.
3. Safety & Security
By far the most important architectural element for any school involves the safety of students, teachers, administrators, and visitors.
Open layouts and glass walls are an integral architectural element for student safety, as Edutopia reports that stairwells and hallways are where the majority of students experience bullying. By making these spaces more open, teachers and administrators have more transparency into what's happening in the halls, which can reduce instances of bullying.
In the past few years, preventing the worst from happening has been at the forefront of school architecture. Layered security measures that prevent intruders are now the standard for both new construction and retrofits. Facilities Net lists the following as the most common security features schools are implementing:
Single entry points
Automatic door or gate locks
Secured entrance vestibules for administrators to screen visitors
Security and surveillance systems
Metal detectors
Controlled access points
Emergency communication systems
Bulletproof or shatterproof materials
Jamie Hickman, Senior Partner and Architect at Teter, says that window heights are another factor of safe school design. "By making the bottom of the window panels opaque and keeping the tops clear, intruders can't see inside. But you'll still get the benefit of natural lighting."
4. Durable, Long-Lasting Materials
Materials matter, especially when ease of maintenance for both interior and exterior features is a top priority. There may be higher up-front costs for certain long-lasting materials, but schools can end up saving money in the long run.
Skimping on roofing or flooring options can lead to repetitive maintenance or costly replacements, so the initial investment in higher quality materials is often the most cost-effective route. It's not uncommon for a 60,000 sq.ft. campus to only have one or two maintenance workers. Schools can reduce the maintenance burden by asking their architects to incorporate easy-to-maintain materials.
5. Creative Layouts & Mobile Furniture
In California, there is a policy that standard classrooms must be 960 sq. ft. When you add in traditional bulky desks, chairs, storage pieces, and other furniture, 960 sq. ft. can quickly become cluttered.
But architects are getting creative. Classrooms are being designed long and narrow or wide and squared. The location of the teaching wall varies from classroom to classroom. And, most importantly, architects are ditching the conventional layout of rows of heavy desks facing the teacher.
Hickman calls mobile furniture "the most evolutionary part of school architecture." Lightweight tables, desks, and chairs on wheels are quicker to move, making it easier to rearrange furniture for group breakout sessions and lectures. And since it's difficult to move anything on carpet, architects are opting for concrete or vinyl flooring for easier mobility.
The Future of School Architecture: COVID-19 Considerations
When considering the future of school architecture, Hickman is a firm believer that COVID-19 will have a lasting effect.
Modular Construction
"I think we're going to have to add square footage to existing campuses," he said. "Because of this, we're going to see more modular school designs since we can easily build and deliver a modular 960 sq. ft. classroom in just a few months."
While conventionally constructed schools involve months and months of on-site disruptions and wasted materials, modular schools are constructed at an off-site location. Because of the more controllable building schedule and process, modular schools can be constructed and delivered in nearly half the time with very minimal disruption.
Browse modular school design images and project details here.
Better Air Quality
Hickman also says that indoor air quality will be an important part of school architecture in a COVID-19 world. "Stagnant air is unhealthy in general and when you add COVID-19 concerns into the mix, air quality quickly becomes a top priority for school design," he said.
Modular school construction using materials low in toxins, irritants, and volatile organic compounds (VOCs) is the first step for creating a comfortable, healthy atmosphere. The next step is installing an HVAC system that controls temperature and humidity, and making filter changes a regular part of maintenance. Exhaust fans, enhanced filtration, access to fresh filtered air, and pressure control systems can also remove odors and pollutants. As weather patterns and seasonal allergies change throughout the year, schools will need to make ongoing adjustments to air quality systems to maintain a healthy atmosphere.
AMS has reimagined what modular construction means for modern schools. We're on the cutting edge of sustainable and technologically advanced modular school designs, and are continually pushing the limits to build smarter and quicker schools. Contact us to learn more.