Navigating COVID-19: A Better Path Forward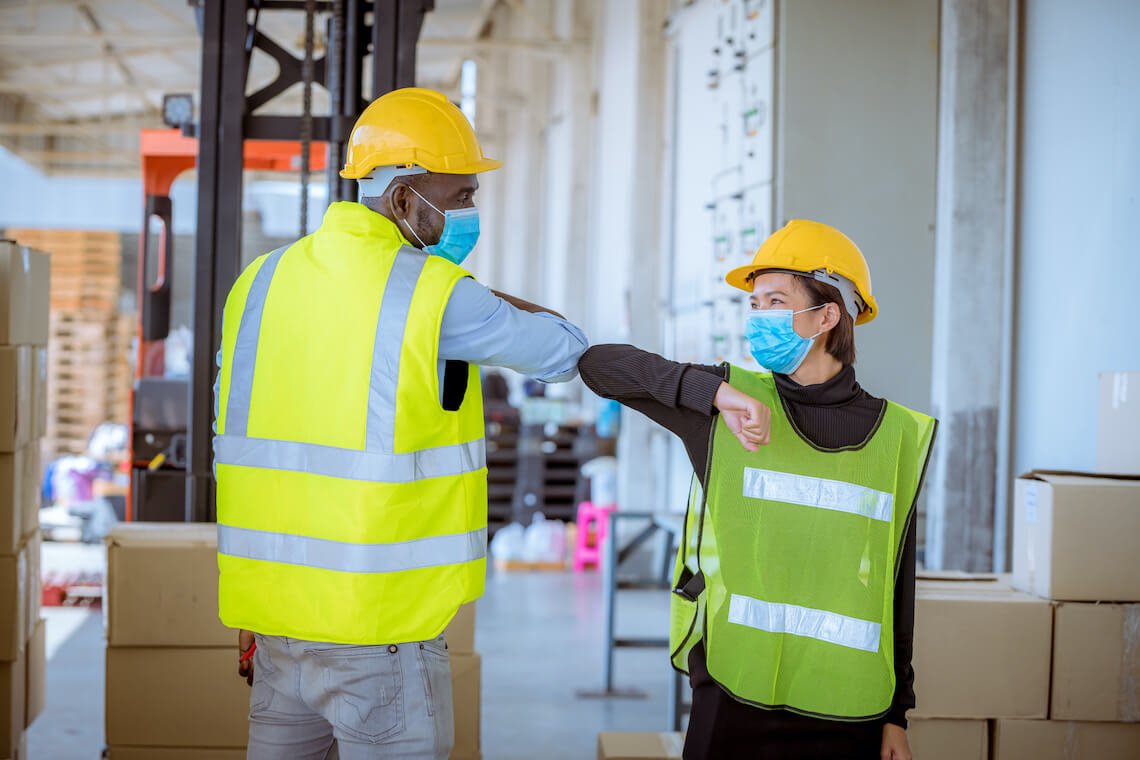 None of us are sure what recovery will look like or how long the road to recovery will be, but AMS leaders Dan and Tony Sarich share the steps AMS is taking to position the company, schools and communities for future success in a world that's changing day by day.
It's been a year of reflection for AMS, a time to assess our purpose and ask ourselves how we can best meet the challenges of the recovery to come. We've adapted how we operate and interact, to protect our employees and to continue the high level of customer service you've come to expect from AMS.
But that's just the start. While we've adapted how we do business now, we're already looking ahead to a post-COVID world where we have the opportunity to make schools safer, healthier and more empowering than ever before.
Health and Safety
As always, our goal is to build safely and responsibly, delivering buildings that are safe and responsible for students and teachers.
Putting People's Health First
As an essential business, our AMS factory is fully operational, with six feet social distancing and mask requirements for all workers. With more than 300,000 square feet of manufacturing space, we're able to keep assembly lines running safely at the capacity necessary to meet client needs and schedules.
Touchless and health-screening technologies ensure safe practices for the office, factory and field. We use thermal imaging to monitor worker health before every shift and installed hands-free sanitizer dispenser stations at clock-in points. Sensor-controlled lights and restroom fixtures reduce germs at high-contact touchpoints.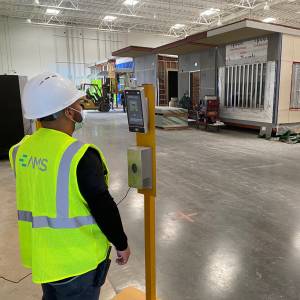 Integrating Sustainable Disinfecting Solutions
We've significantly amplified our cleaning protocols, adding EPA- and CDC-approved disinfecting technology that's highly effective against COVID-19 with no adverse environmental impact.
All AMS facilities, equipment and service trucks are sanitized daily, using EMist backpack and handheld electrostatic disinfectant sprayers. The proven electrostatic process, used by airlines to disinfect aircraft, releases positively charged particles into the air, evenly coating and disinfecting all surface areas. We use the same process to sterilize completed buildings onsite before handing over the keys.
After researching disinfectants, we selected PURTABS, an EPA List N, hospital-grade tablet disinfectant that kills COVID-19 and other pathogens on contact, while maintaining healthy indoor air quality.
Few modular manufacturers provide this added level of protection, reflecting our long-term commitment to the health and safety of everyone who works, learns and teaches in AMS buildings.
Communication and Client Support
Our clients have been tremendously supportive as we work together to keep projects moving forward, and we thank you all.
We're conducting business as normally as possible, with all due caution. Though our office remains closed, we've created an infrastructure to work remotely, allowing our team to collaborate seamlessly with each other and our clients. We're conducting meetings virtually and remain committed to working safely while being accessible and responding quickly to needs.
All AMS personnel are available by email and phone. We can be reached at:
AMS main office: 209.825.1921
Sales questions: sales@americanmodular.com
General questions: support@americanmodular.com
For fastest response, clients can call or email their AMS sales rep directly. Our website offers live chat, along with resources about our buildings and brands, making it easy to find the information and support you need at any time.
Project Scheduling and Delivery
On-time delivery is incredibly important to us. Our clients rely on us, and that's a responsibility we take very seriously. AMS has an established supply chain, a veteran full-time workforce and indoor material storage areas to keep our factories running. Unfortunately, material shortages affecting vendors are passed along to us and can cause delays beyond our control.
DSA Approval
COVID restrictions are causing bottlenecks in receiving state approval for some projects. DSA's over-the-counter process, which typically takes a day, can now take up to four weeks. We've successfully expedited approval for some projects by taking advantage of DSA's pre-application review process, but we're advising clients to build extra time into scheduling to accommodate uncertainties.
Though timelines may be slightly longer on some projects, you can expect the same high quality and attention to detail that AMS has always provided.
A 60-Day Solution
Our turnkey AMS 2GO line is a time-saving option for schools with immediate needs. We can submit plans to DSA within 30 days of contract and deliver a finished building in just 60 days.
Innovation in Design and Technology
As schools navigate a new reality, building design will be transformed. Critical needs will emerge, social contact will be redefined, learning paradigms will shift and classrooms will center around student and teacher health and well-being.
AMS is already ahead of the curve, in how we design our buildings now and how we're innovating for the future.
What We Do Now
We spent years researching and developing the technology to make our GEN7 line the healthiest, most sustainable modular buildings available. Our adaptable design expands options, allowing schools to integrate some of GEN7's advanced features into other AMS buildings to create healthier learning environments tailored to need.
1. Maximize Design Flexibility
Space utilization is evolving as schools recalibrate classroom sizes and configurations for social distancing and multiple learning methods. Non-load-bearing walls make our classrooms highly versatile, allowing oversize, wide-open floorplans to be flex-designed for physically distanced group and individual learning. Wide corridors give students room to walk together and pass at safe distances.
2. Improve Indoor Air Quality
Good ventilation is key to good indoor air quality. Efficient HVAC systems circulate fresh, filtered air throughout AMS classrooms. GEN7 buildings include Green Mode technology, allowing occupants to increase a classroom's natural air at the touch of a button. Optional sliding glass NanaWalls bring in extra outside air, adding another source of ventilation—a high-value upgrade for any building.
3. Add Essential Health and Safety Features
New health protocols will change schools forever as risk reduction practices become the norm. Increased focus on hand hygiene, health screening, surface disinfecting and contactless operation all impact classroom design. AMS is working with school districts to assess needs and partnering with suppliers to develop and integrate new need-based features into our building designs.
Turning Challenges into Opportunities
As schools struggle to reopen safely, change is inevitable. But it can be positive change, accelerating improvements for the greater good.
Disruption of the status quo gives AMS a chance to respond creatively and collaboratively. In the months ahead, we'll continue working with our partners, industry experts, clients and colleagues to understand and adapt to the long-term effects of COVID-19, finding new solutions and making better options accessible and affordable for schools.
Out of adversity and challenge can come new opportunities. We can come together to pave the way for the next generations—and we believe we will.
Best,

Tony Sarich
VP of Operations
American Modular Systems