Building Change: AMS Celebrate Women in Construction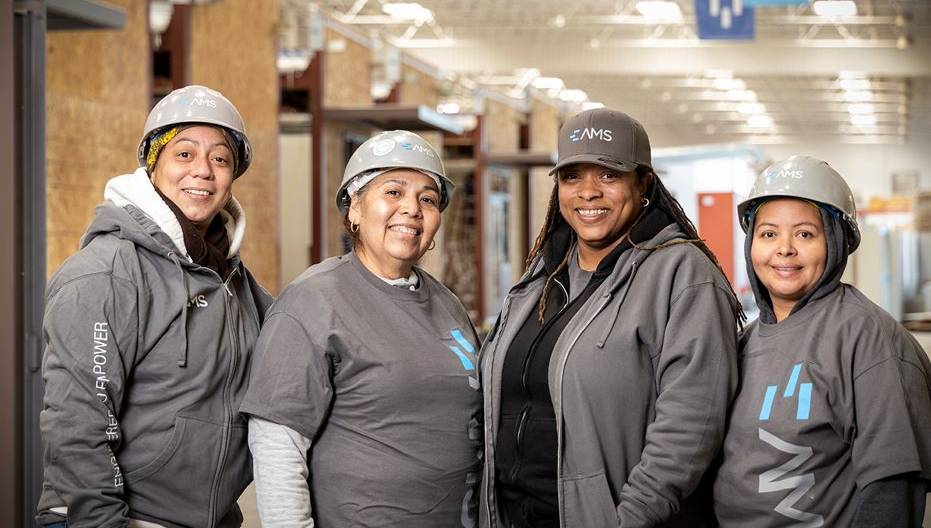 Women in the workplace wear many hats—including hard hats. As we celebrate Women in Construction Week, we want to recognize the achievements and contributions of the many women who help plan, design and build some of California's most innovative schools.
Instead of breaking the glass ceiling, today's women are building it.
Construction has always been a male-dominated profession, but that's changing. The percentage of women employed in the construction field has increased 52.9% in the past decade, from 840,000 women in 2012 to 1.28 million in 2022.
Not only are more women seeking out construction jobs, they're changing the face of the workplace while doing it.
There's plenty of room for growth. While almost half of the U.S. workforce is female, only 10.9% of construction workers are female. That's trending upward across California. Women comprise 23-26% of the construction workforce in Burbank, Ventura, Roseville and Oceanside—more than twice the national average.
With school construction projects on the rise, California is primed to offer golden opportunities to more and more women interested in building a career in construction.
Women are the Solution to Filling the Labor Gap
Construction is a driver of the American economy, accounting for more than 4.1 percent of the U.S. gross domestic product—more than agriculture, mining, transportation and arts and entertainment. Construction is a growth industry… but to grow, it needs a stable workforce.
The pandemic created a demand for workers at every level, in every facet of construction. As infrastructure needs continue to expand, so does the need for qualified construction professionals. The limited availability of skilled workers has created a multi-year labor shortage—a gap women can fill.
The labor gap is an opportunity for women to carve out successful careers in an industry that needs, and rewards, skilled workers.
At AMS, they're already doing it.
Meet AMS Women in Construction
Throughout our 40-year history, we've been privileged to work with many women, within our company, in our partner companies and in our local communities. They're project managers, sales reps, marketing execs, administration and finance professionals, engineers, architects, designers, contractors and skilled tradespeople. They come from all different backgrounds, offering a range of experiences and a wide variety of skillsets.
They work in offices… at the factory… on the job site.
Some are just starting promising careers; others are veteran employees who bring decades of experience to our AMS projects.
They're a vital part of our industry and make a positive impact in our communities. We're proud to have them on our team.
If you haven't met them, we're honored to introduce the women who share our vision and play a pivotal role in helping AMS grow.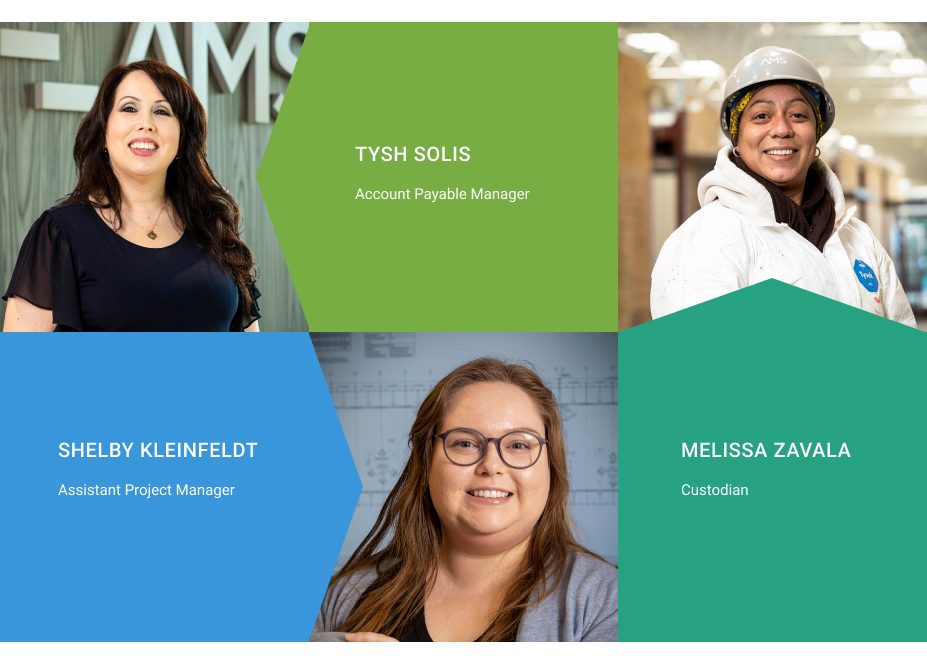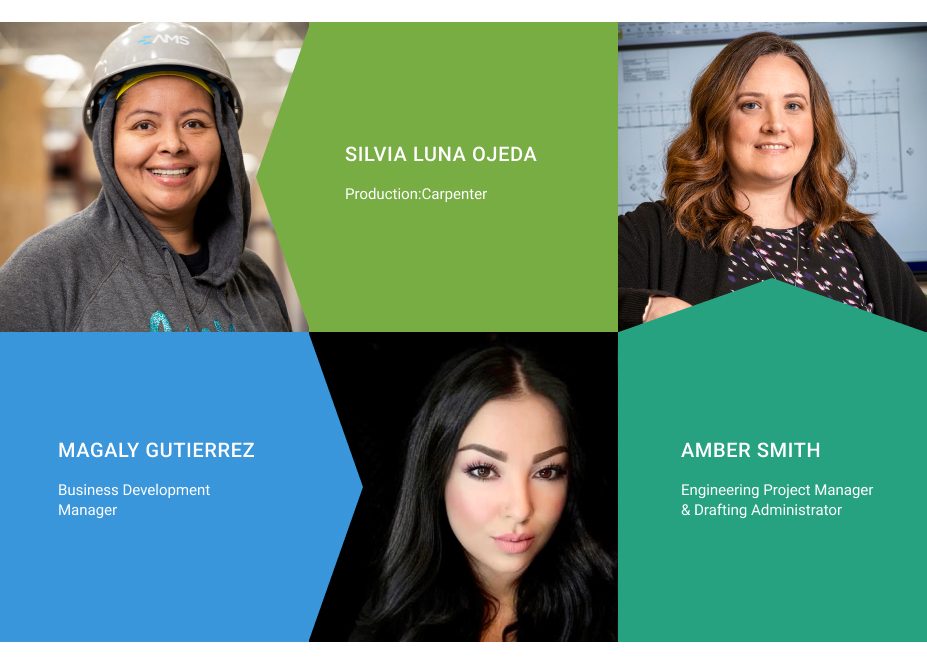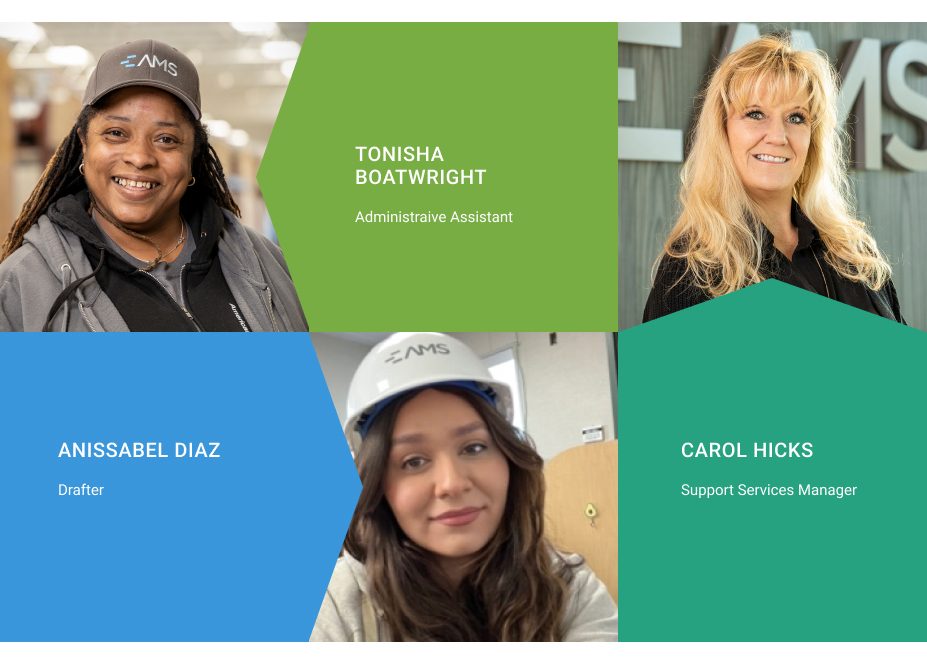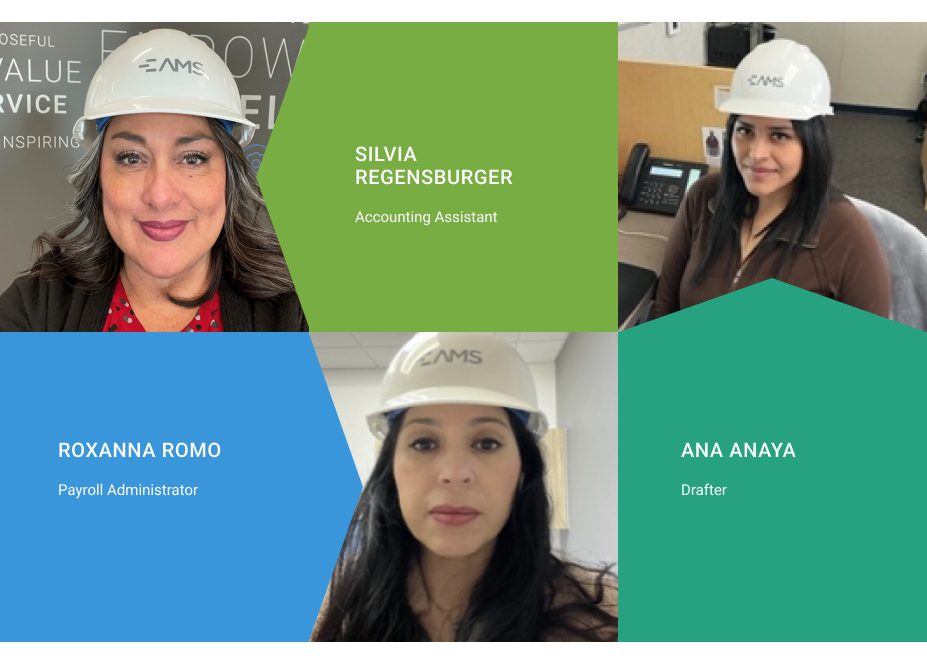 Build Your Future at AMS
Construction offers many career paths and cultivates many interests. From high school graduates with on-the-job training to college graduates with advanced degrees, construction needs, and benefits from, a skilled workforce that brings a variety of talents to the table.
At AMS, we're building that workforce and creating opportunities for women whose skills and talents are, and always have been, integral to our success.  
Our people are our greatest asset. We have more than 300 talented people working full-time at AMS, and we're always looking for more. We're a diverse work community with an inclusive culture where everybody contributes, every person matters and every voice is heard.
We look forward to continuing to support voices from a diversity of backgrounds and are committed to encouraging and shaping the next generation of female leaders. AMS has women working in every department and contributing to every project.
Developing talent to lead at every level is the key to building the future we want—and investing in, supporting and mentoring women is a big part of that future.
Building a better future starts with building change—meaningful change that empowers people, improves lives, creates success and leaves the world better than we found it.
Let's build!
We're hiring! Grow your Career here.
Join us in celebrating 40 Years of AMS.
Build with us. Request a Quote.