Introducing the AMS Blog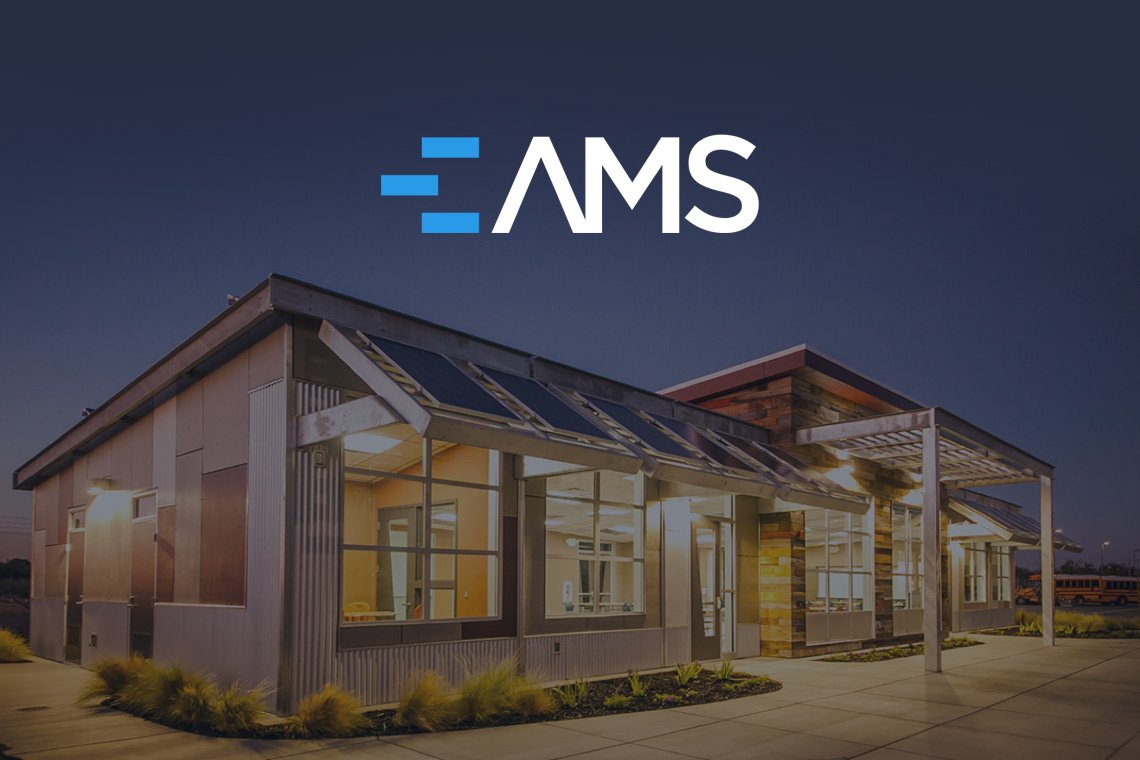 Hello and welcome to The AMS Blog! We've been wanting to create a blog for a while, and our new website gives us the ideal opportunity. We'll be blogging about emerging trends and topics of interest—things we care about that others care about, too: better schools, modular construction, healthier classrooms and a healthier environment and how all of that helps all of us build a better future. To start, we want to share the thinking behind our rebrand. Why we rebuilt the AMS brand from the ground-up, what that means and why it matters. Our story is about a small company, a big idea and a shared vision for positive change. It's a story 37 years in the making, and today, we begin an exciting new chapter.
The Next Chapter in Our Brand Story
Build a better building.
Back in 1983, that seemed like a lofty vision for a small startup.
But as we've grown, our goals have grown, too.
We visit our schools and we see how much a truly innovative learning space means to those who learn and teach in it every day. We're inspired by the difference our buildings make in people's lives… the positive impact they have on communities… the ways they influence our children's future.
And we realized—we've evolved beyond our original brand. What we build isn't defined by four walls and a roof. To us, higher quality comes with a higher purpose.
We want to build more than a better building. We want to help build a better future.
Empowering Others
A school is the heart of a community. It holds the dreams, hopes and aspirations of generations of people who want more for those who follow.
The right environment is an empowering experience. Teachers tell us a higher quality environment correlates to higher quality learning. Students say a better environment makes them want to try harder… inspires them to do their best. It empowers them to explore, create, chase their dreams and achieve their full potential.
The more we saw, the more we heard… the more we knew empowering others was the keystone of our company.
Empowering students and teachers… schools and school districts… architects and designers… families and communities to come together to create opportunities for the next generations.
Empowering our employees to build with passion, taking pride in what we build and ownership in what our buildings can accomplish.
Empowering ourselves to be our best empowers others to be their best. Empowerment connects us, brings us full circle. It drives continuous innovation, success and progress. Empowerment propels us all forward.
The New AMS
It led us here, to a new AMS. We've reimagined every single aspect of our brand, recreated every single touchpoint to provide a more empowering experience for everyone who interacts with our company, our buildings and our brands.
We asked ourselves how we could do more, be more, help more.
"How can we create more value for our clients and communities?"
"How can we more closely align what we build with what schools need?"
How can we use our voice to make lives better and help others achieve and succeed in a world that's changing faster than any of us ever thought possible?
The answers are right here, in our new website, our new brands and our new brand identity. We've redesigned the entire AMS experience to be more relevant and responsive. We've adapted how we connect and contribute in a digital world, bringing our new identity to life across web, mobile and social platforms.
We have new brands that meet what our clients and communities need, and we have a fresh, modern look that captures the company we've grown to be:
– Transformative
– Trusted
– Dynamic
– And empowering.
A New Brand Identity
We're a California company, and our branding reflects that. Our new colors are California colors—blues, grays and greens that go from sky to sea, mountains to grass. Our colors are organically us—clear and confident, authentic and real, true-blue. They connect us to our communities and to the environment—things we care deeply about.
Everything from our modern typeface to our vibrant photography sends a message: we're a forward-thinking brand that's open, approachable, positive and inclusive.
A company you feel good about doing business with. A company that puts people first. A company that invests in the future.
Our new logo system brings it all together, creating a memorable face for our brand. It's cohesive and expressive, linking our heritage with our future, creatively bridging what we stand for and what we aspire to become.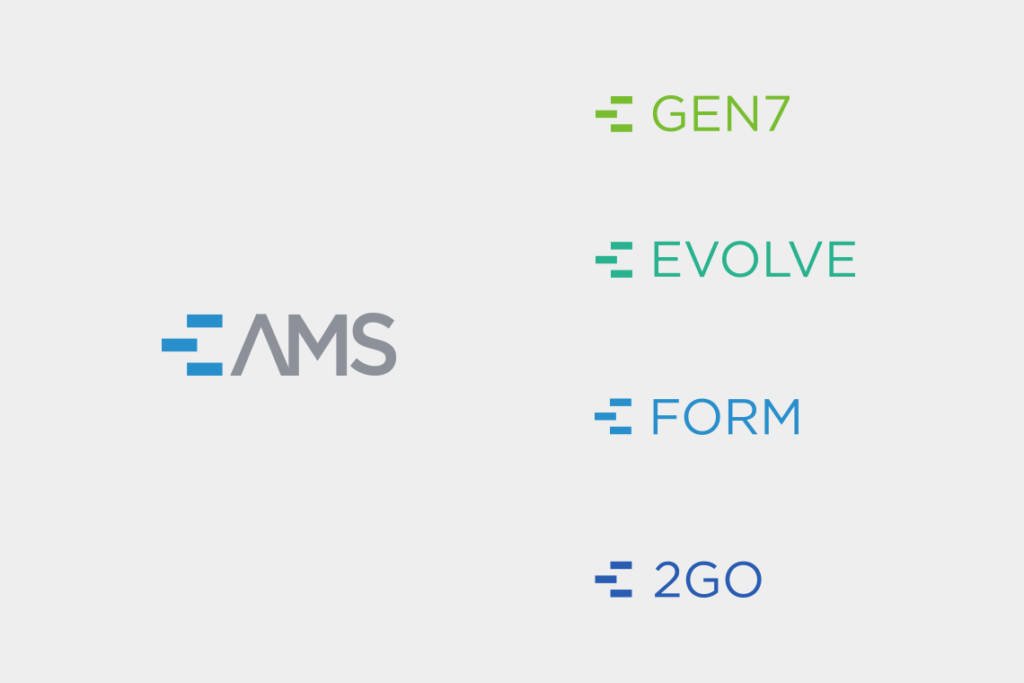 Meet the Family
For decades, we had only one brand—the original AMS brand.
In 2010, we added our GEN7 line of sustainable schools.
We grew. The demand for modular schools grew.
Two product lines no longer served a fast-growing market with many different needs. We needed more buildings that could do more things, all backed by the superior quality and service that has always been the AMS hallmark.
So we expanded our brands from two to four and moved all four brands under a revamped AMS parent brand. We're now a family of brands, each created to fill specific needs and backed by the trust the AMS name inspires. Our new structure makes us agile and more versatile, able to deliver highly customized buildings faster than ever to meet the changing needs of our schools and communities.
Four brands. One goal: to give schools what they need when they need it.
Some schools are progressive, needing state-of-the-art sustainability in a high-tech design.
We added three GEN7 product lines, giving them the healthiest, most energy-efficient learning spaces available.

Some schools have a strong vision they need translated into a fully custom, high-end building.
We created AMS EVOLVE, giving them design without limitations and collaborative Design-Build delivery.

Some schools need a go-to solution that combines value and flexibility at an affordable cost.
We created AMS FORM, giving them a portfolio of cost-effective designs easily configured to a wide range of preferences.

Some schools need a practical solution that meets short-term needs on a tight budget.
We upgraded our relocatable line to create AMS 2GO, giving them a spacious, fully functional building at a lower cost.

Different needs. Different buildings. Different brands. One AMS.
One AMS
But it's about more than logos and colors and buildings and brands.
It's about people—the experiences our buildings create and the lives our buildings touch. It's about connections—the partnerships we build, the relationships we cultivate and the commitments we form. It's about a shared vision of building a better future by building better schools to empower the next generations.
The idea of One AMS goes beyond our brands into our communities. In a world that seems increasingly divided, our vision is to do more together. Coming together makes us stronger. It's empowering.
Together, we're all one. One AMS.
Reimagining the Future
The world is changing. And we're not just changing with it, we're taking a new path, moving modular forward in a new direction that makes innovative learning environments accessible to more students by making them affordable for more schools.
Our brand, like our buildings, is visionary. It looks forward to what we can be. It's also evolutionary. It adapts and grows. It pushes forward. It improves, elevates, touches and transforms. It empowers.
We're excited about what the next chapter holds and the role we play in bringing positive, meaningful change to a world that's reinventing itself day by day. A world full of possibilities and futures yet to be written. A world with promise among the chaos… new challenges that can be shaped into new opportunities.
Build a better building.
We do that and so much more.
See why we're more than a building. Watch our AMS vision video.
Find out which AMS modular building is right for you.
Explore the possibilities of our AMS projects.
Want to know more? Reach out.